With the New Year comes new adventures. Broaden your horizons, get off the beaten path and explore Georgia's Golden Isles like a true local. Whether you're visiting for the first time or making your annual trip to our stretch of the gorgeous Georgia Coast, discover unique and exciting
activities that will quickly become new traditions.
1.  Hunt for Treasure on Jekyll Island
Beginning from January 1 through February 28, handcrafted glass floats called Island Treasures will be hidden all over Jekyll Island and will be waiting for you to find them! Spend a day (or a few) roaming the island in search of your very own Island Treasure and you'll soon discover that Jekyll Island is a gem in and of itself.
2.  Conquer the Tallest Bridge in Georgia
Is one of your New Year's resolutions to lead a healthier lifestyle? Participate in what has been coined as "the toughest 5K in Georgia," otherwise known as the Southeast Georgia Health System Bridge Run. Join the hundreds of runners as they cross all 7,780 feet of the Sidney Lanier Bridge not once, but twice!
3.  Spend Valentine's Day in America's Most Romantic Town
Known for its moss-laden oak-lined streets and laid-back lifestyle, it's no wonder Travel + Leisure ranked St. Simons Island as America's Most Romantic Town. And what better way to pay homage to this accolade than by experiencing it for yourself? Your significant other can thank us later.
4. Step Back in Time on a Plantation
Before the Golden Isles became a renowned getaway destination, it was once a successful agricultural area dotted with rice and cotton plantations. Brunswick's Hofwyl-Broadfield Plantation produced rice until 1913 and is open to the public today. Recently acquired and preserved by the St. Simons Land Trust, Cannon's Point Preserve boasts 19th Century plantation ruins as well as shell middens dating back to 2500 BCE.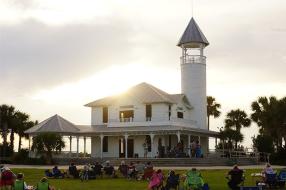 5. Relax Island-Style
Each summer, sounds of talented local musicians accompany the calm, coastal breezes. Pack a picnic dinner, chairs, and blankets, and enjoy several waterfront live performances as part of three summer concert series in the Golden Isles: Jazz in the Park, A Little Light Music, and Rhythm on the River. Check our Festivals & Events page for upcoming performances.
6. Kayak or Paddleboard through the Golden Isles
Get a fish's eye view of our serene marshlands, rivers, and estuaries on a kayak or paddleboard tour. Stumble upon an egret feeding in the marsh grass, red drum and whiting swimming through the tides, or witness a pod of dolphins playfully passing by.
Jekyll Island is home to Georgia's only sea turtle rehabilitation, research, and education facility. Learn about some of Georgia's most loved endangered marine animals and tour the state-of-the-art hospital. You may even be able to witness a procedure through the Center's observation window.
8. Discover Small Town Fun
Each month, the streets of Historic Downtown Brunswick come alive at First Friday celebrations. Immerse yourself in the historic and cultural character of Brunswick by visiting the shops, galleries, and restaurants lining Newcastle and Gloucester streets.
9. Enjoy the Ride
Did you know there are more than 50 miles of paved bike paths on St. Simons and Jekyll islands combined? Take time to stop and smell the roses and you may discover things you've never noticed before. BYOB (bring your own bike) or choose from a wide variety of rentals available on both islands.
10. Savor Southern Cuisine
We're known for more than just our southern hospitality. Food is a way of life in the Golden Isles and we like to celebrate our culinary traditions as much as possible. Foodies flock to our area each fall to attend the Wild Georgia Shrimp & Grits Festival, Saint Simons Food & Spirits Festival, and Brunswick Rockin' Stewbilee. You won't leave hungry!
11. Spend a Day on a Private Island
One thing you won't find in the Golden Isles is crowded beaches. On Little St. Simons Island, you could walk the beach all day and not run into another person. Day trips include round-trip transportation, a guided island tour led by an experienced naturalist, a l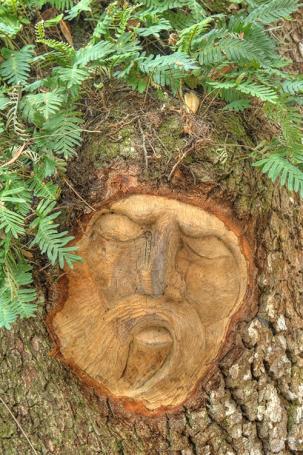 unch of low country specialties and an afternoon on seven miles of private beach.
12. Find the St. Simons Island Tree Spirits
Hidden among the majestic live oak trees on St. Simons Island are several hand-carved tree spirits. Spend an afternoon on an island-wide scavenger hunt searching for the carvings and take pictures along the way.
13. Discover a Whole New World
Tucked away on Jekyll Island is Driftwood Beach, a weathered maritime forest that has eroded over time. The remaining gnarled oak trees resemble a tree graveyard and make a beautiful place to watch the sunrise.
14. Dine at Georgia's Only Forbes Five-Star Restaurant
Located on privately-owned Sea Island, the Georgian Room is known for its "Refined Southern" cuisine and world-class wine list. The opulent dining room is embellished with a carved stone mantel, and gold and crystal chandeliers. Reservations required.
15. Decorate the Community Holiday Tree
Around any given holiday, you'll notice a small driftwood tree at East Beach adorned with festive ornaments and décor. Whether you're visiting during the Christmas season, St. Patrick's Day or the 4th of July, bring an ornament and leave your mark in the Golden Isles.
16. *Bonus: Watch our Webcam
For those who are unable to visit our exquisite area this year, or for those whose souls long for the beach, the Golden Isles is never too far out of reach. Our state-of-the-art webcam offers views of the St. Simons Pier Village and Lighthouse and allows viewers to control the direction of the camera. Just don't get caught daydreaming at work!