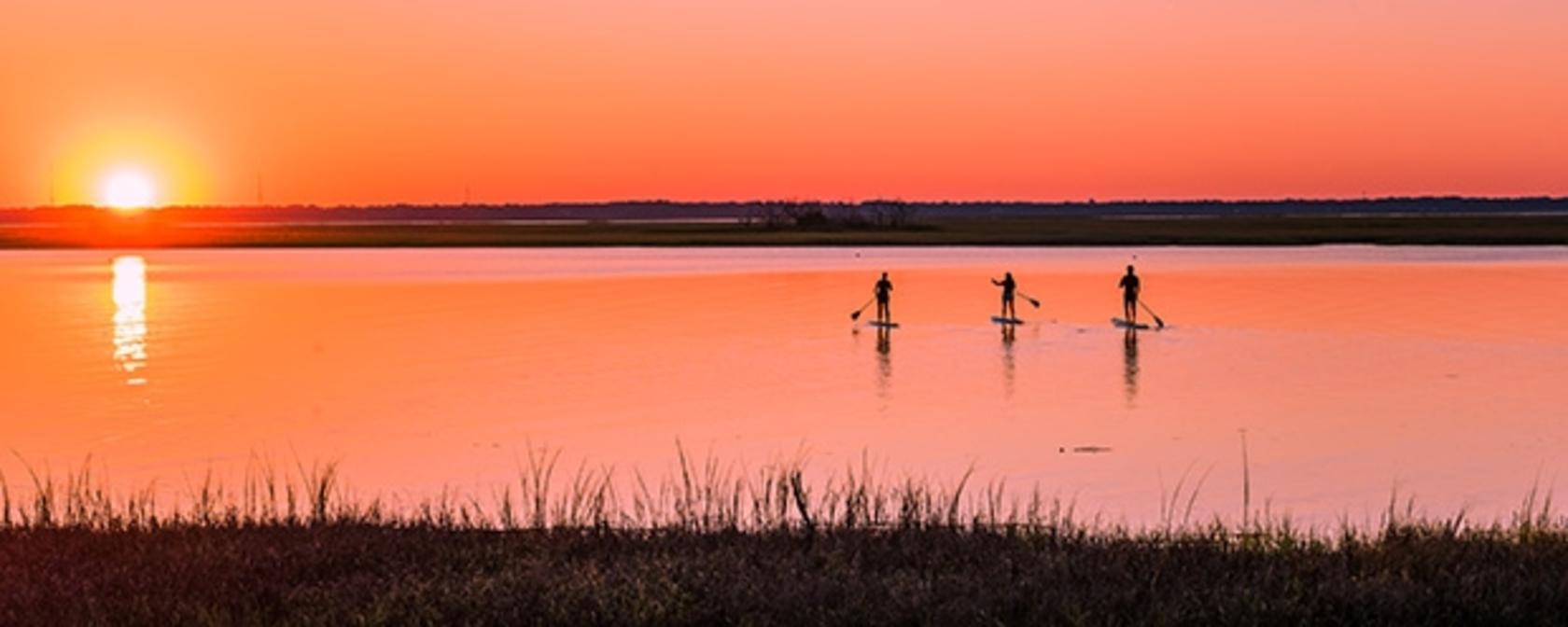 The Golden Isles is more than just beautiful sandy beaches; it's a magical seaside retreat with new adventures around every bend, with another waiting each time you return. Explore our top 15 things to try in 2018!
1.  Saddle Up – Take a guided horseback tour through maritime forests, salt marshes and even along our vast beaches. Or sit back, relax and enjoy a horse-drawn carriage ride through Jekyll Island's historic district.
2.  Go Treasure Hunting – If you look closely at certain majestic oak trees that cover St. Simons Island, it's possible to find one staring back at you! Spend a day with your family and friends searching for St. Simons Island's favorite treasures: Tree Spirits.
3.  Camp Out Under the Stars – From tent and RV camping on Jekyll Island or Brunswick to multi-day kayak and camping excursions, the Golden Isles is the perfect place to get outside and sleep under the stars in a beautiful seaside setting.
4. Become a Naturalist – Accessible only by boat, Little St. Simons Island offers the perfect opportunity for a unique getaway, from guided naturalist tours of the undeveloped island to a 7-mile-long beach perfect for escaping the everyday.
5. Visit a Tree Graveyard – Venture to the north end of Jekyll Island to see Driftwood Beach for yourself. Bring some coffee, pack a breakfast and enjoy a picnic at sunrise for our favorite way to experience this beautiful and unique setting.
6. Get a Bird's-Eye View – Climb 129 steps to the top of the St. Simons Island Lighthouse to get a bird's eye view of St. Simons Island, Brunswick and Jekyll Island. Around here's it's almost a rite of passage, and it's the perfect family-friendly challenge for 2018!
7. Catch a Show at a Historic Theatre – The Ritz Theatre is located in Historic Downtown Brunswick, and, although restored in the early '80s, it maintains its original elegance from when it was built in 1899. The theatre features year-round live performances, films, exhibits and more.
8. Experience Marsh Madness – Explore the beautiful waterways that wind through our marshes on a stand up paddleboard or on a kayak. Visit in the fall for gold and amber colored grass, or in the spring and summer to paddle through lush greenery.
9. Participate in a Summer Camp – Every year, the Golden Isles offers a variety of daytime and overnight activity camps for kids and teens of all ages. Enroll in a summer program that will foster your child's interest in sports, nature, cuisine and more.
10. Make a New Friend – The Georgia Sea Turtle Center is a can't-miss activity for those visiting the Golden Isles. Learn about sea turtle rehabilitation, research and education; catch a glimpse into the hospital where turtles are treated; and meet the turtle patients on your visit!
11. Take a Sunday Drive – From the mainland to the islands lie 198 holes of golf on some of the country's most spectacular and widely acclaimed golf courses. Traveling with young kids? Even our two miniature golf courses deliver family-friendly competition. Try out a round or two of Foot Golf at Sea Palms, another perfect option for families with kids.
 12. Experience Southern Hospitality – Try local dishes like Brunswick stew, fresh oysters, snapper or grouper and our signature Wild Georgia Shrimp at one of our restaurants. They're always served with generous portions of Southern hospitality, and you're sure to come back for seconds!
13. Get Off the Beaten Path – The Golden Isles offers more than 50 miles of paved bike paths that wind through St. Simons Island and Jekyll Island. Or ditch the sidewalks for our hard-packed sand beaches and nature trails, and there's plenty of opportunity for outdoor adventure on two wheels!
14. Step Back in Time – Visit Hofwyl-Broadfield Plantation in Brunswick to experience the history and culture of Georgia's rice coast. Interactive guided tours take you through life on an early 1800s rice plantation turned dairy farm.
15. Enjoy a Signature Event – From treasure hunts to food festivals, PGA golf tournaments to holiday celebrations, the Golden Isles hosts a variety of annual events all year long. Find your favorite, whenever you visit next!
No matter which activities you choose to check off your bucket list, your visit to the Golden Isles is bound to be a slice of heaven. See you soon!