This St. Simons Island creative welcomes Golden Isles visitors with pottery-painting experiences that preserve their travel memories
Erica Gillman has called many places home, but few inspire and excite her like St. Simons Island. Gillman, the founder of the island's Tinted Tide Pottery & Art Studio, found her way to the Golden Isles after her husband completed his military service in 2017. From mesmerizing ocean views to oak forests draped in Spanish moss, Gillman knew the Golden Isles were the perfect backdrop for her dream creative business: a paint-your-own-pottery studio in the heart of St. Simons Island. 
Gillman launched Tinted Tide Pottery & Art Studio soon after moving to St. Simons Island in 2017. From the get-go, she saw the studio as a family-friendly venture. "I started working at a paint-your-own-pottery studio in college, and my boss was a family-oriented 
person," Gillman said. "She raised her family in her studio, so when I was pregnant with my son, I knew I wanted to do the same."
When Gillman launched Tinted Tide, her son was two months old. "As our customers watched the store grow, they also watched him grow," she said. "It was just such a nice and personal experience."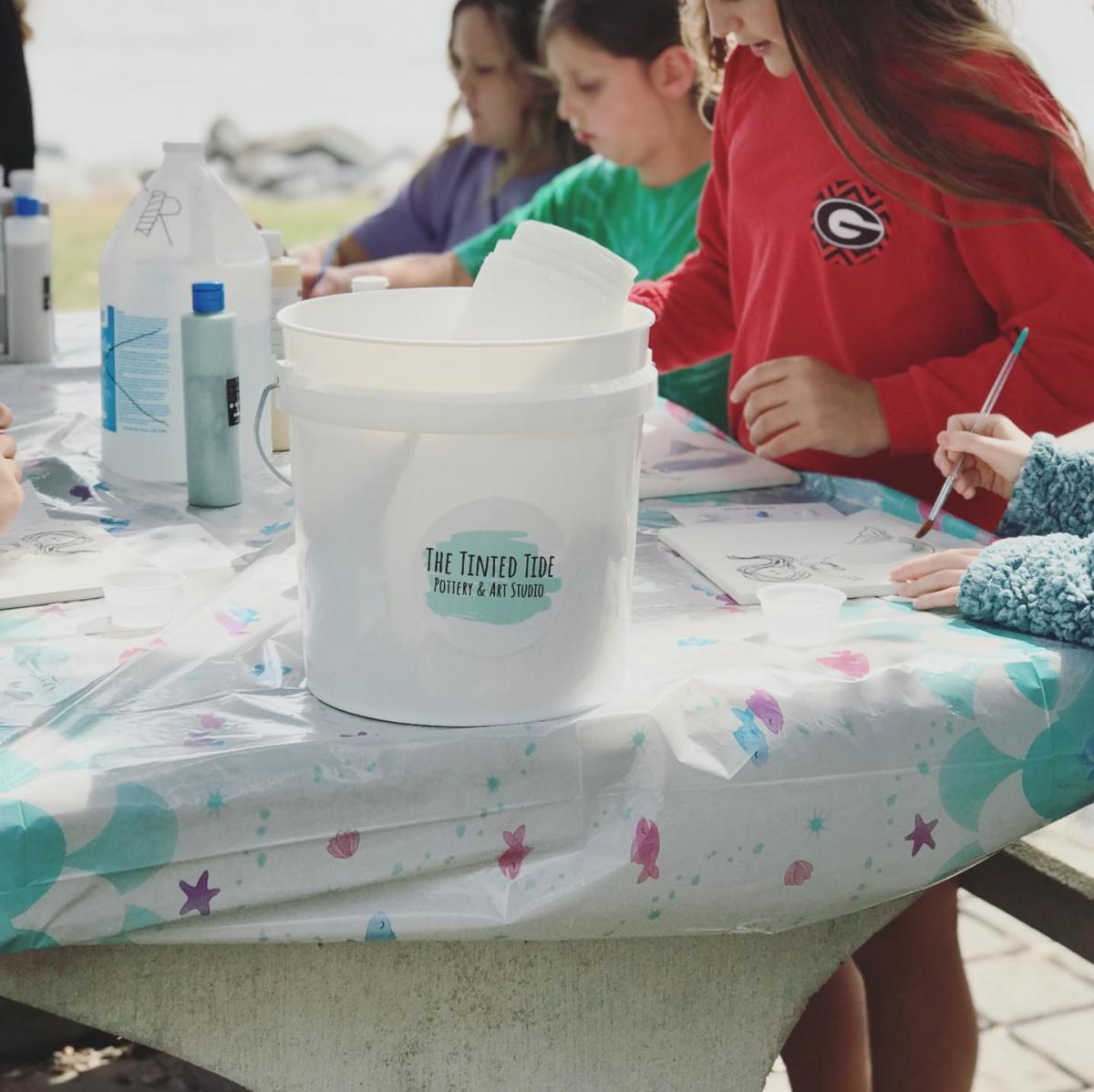 This kind of personal relationship hints to one of Tinted Tide's keys to success: repeat customers. Gillman said Tinted Tide's client base is half Golden Isles residents, half visitors —but oftentimes those travelers end up feeling like locals, too.
"We find there are a lot of repeat visitors because people just love this area," she said, noting that even as tourist numbers grow, St. Simons Island has found a way to stay true to its small-town charm. "The community manages to keep this small, humble, home-grown feeling, Everybody's close-knit here. We love that about our community."
Like many businesses, this tight-knit St. Simons Island community was key for Tinted Tide during the Covid-19 pandemic. Gillman closed Tinted Tide's Redfern Village storefront at the beginning of the pandemic, but fellow Redfern Village neighbor, Viola's Market, stepped in, giving Tinted Tide space to store their kiln and supplies.
With no official storefront, Tinted Tide switched to pop-up experiences and painting-to-go kits. "When we first decided to go mobile, we wanted our customers to still have the Tinted Tide experience," Gillman said. "We created an online offering where they can pick pieces and colors just like they would if they were in the studio. Then we pack it into a bucket with their name on it for pickup at Viola's Market."
Even as Tinted Tide works on a new St. Simons Island storefront, it plans to continue painting-to-go kits, not to mention its popular lineup of public events like summer camps, well into the future. Another popular experience—private painting events—will remain the bread and butter of Tinted Tide as well.
These festive private events, from ladies' paint nights to family get-togethers, occur at local restaurants, condos, or even St. Simons Island parks—wherever the painters decide.  
"As long as the group has eight people, we'll bring pottery to them, and they can paint it however they like," she said, noting a recent event took place at Neptune Park, and many restaurants aren't just open to Tinted Tide events, but excited to host them—especially given Tinted Tide's paint is water-soluble and easy to clean. The painting experience usually takes about two hours, and Tinted Tide does offer shipping so travelers don't have to worry about pottery firing time or packing those precious new keepsakes.
"We always say we're not just selling pottery, but a whole experience," Gillman said. "And when you bring home these keepsakes that you've painted and customized, you're really preserving those memories from your St. Simons vacation."
Insider tips: Curious where Gillman goes for creative inspiration on St. Simons Island? Her latest favorite spot is the island's stunning north end. "There's this natural beauty up there," she said. "There are so few buildings up here, and deer and wildlife everywhere, with the oaks and the Spanish moss—it's just so untamed and natural."