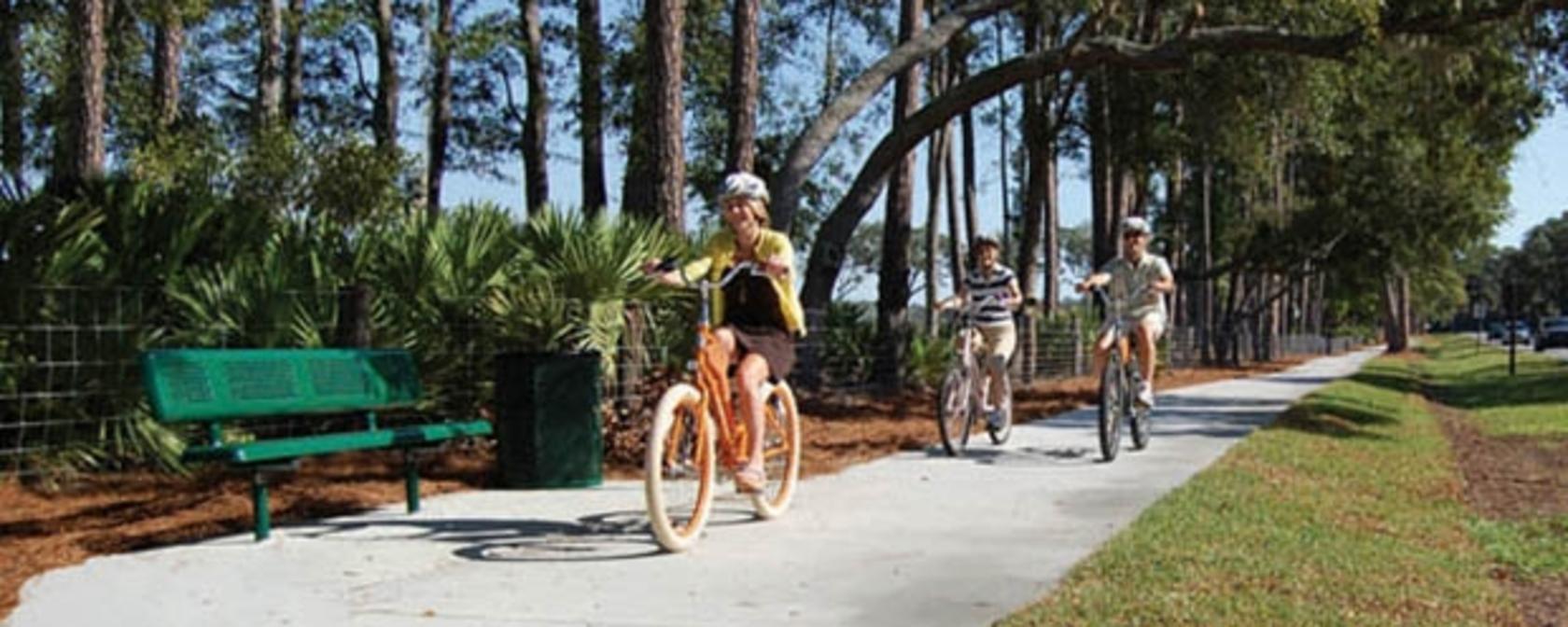 Can you guess one of the most popular activities for both visitors and locals of the Golden Isles? If you guessed biking, you would be correct! With the many bike paths that encircle St. Simons Island and the surrounding areas, biking is a great way to exercise and simply get around here in the Golden Isles.
If you enjoy biking and love taking in the gorgeous scenery of Coastal Georgia, the Island Hopper Trail Eco-Cycling Tour is a great chance to see the maritime forests, vast salt marshes and sandy shores of the coast and its barrier islands, first hand. This is a four day event, where you will be traveling over 100 miles across Jekyll Island, St. Simons Island and Sapelo Island. While cycling through these picturesque Georgia barrier islands, you will have the opportunity to see historic landmarks, research facilities, prestigious resorts and thriving seaside communities at work. This event takes place on March 25-28, 2014 and the registration deadline is January 24, 2014. Please visit the Coastal Georgia Greenway website for more information regarding pricing, deadlines and a specific itinerary. You can register for the Island Hopper Trail Eco-Cycling Tour event here. If you have any additional questions please call 912-236-2225.
Brief Itinerary
Day One: You will begin your journey at 8:30am at Liberty Ship Park near the Sidney Lanier Bridge in Brunswick. From there, you will bike seven miles over to Jekyll Island's Historic District, followed by a 12-mile loop around the Millionaire Village, located in the Historic District. You will then return to Brunswick and travel over to St. Simons Island, where you will conclude your night by staying in the elegant, but quaint, Village Inn and Pub.
Day Two: The day starts off at St. Simons Island, where you will then continue your journey 17 miles onto the Torras Causeway to the Howfyl Broadfield Plantation Historic Site. Here, you will take a break and learn about the rich history of the pre-Civil War plantation. Following your visit, you will travel through Darien and make a stop at the King George State Historic Site and conclude your day at Sapelo Island where you will stay at the luxurious Reynolds Mansion.
Day Three: You will depart from the Reynolds Mansion and travel to the historic lighthouse on Sapelo Island. Built in 1820 and restored in 1998, this lighthouse still aids in navigation. At the conclusion of your day, you will travel back to the Reynolds Mansion where you will stay another night.
Day Four: The final day of the cycling tour begins by biking the over 25 miles of trails on St. Simons Island. While back on St. Simons Island, you will visit Fort Frederica National Monument and learn about the expansive history of James Oglethorpe and the historic village of Frederica. You will then ride back to the Liberty Ship Park in Brunswick, where your journey first began.
There is so much to see, do and learn about on the barrier islands of Coastal Georgia and the Island Hopper Trail Eco-Cycling Tour is an exciting and adventurous opportunity to see it all. Please be sure to save your spot and register for this event before January 24, 2014. Happy Trails!