The warm summer months are rapidly approaching and with the changing of the seasons come summer vacation for children from all over. Summers are the perfect time for family vacations filled with countless hours of fun and relaxation. While planning your summer getaway with the little ones, keep the Golden Isles in mind because it truly is the idyllic spot for family vacations. The Golden Isles offer a variety of day camps, classes and activities for kids of any age to enjoy. Please see our activity list below, featuring lots to choose from no matter where in the Golden Isles you decide to spend your time.
Sea Island's Camp Cloister was designed for the family on vacation. With a variety of activities to spark your child's creativity, imagination and for an all-around good time, Camp Cloister offers it all. Camp Cloister itself and the broad range of activities are all carefully planned out, developed and supervised by the Junior Staff of Sea Island.
Camp Cloister is a year-round, Monday-Saturday day camp located at the Beach Club and is open to children between the ages of 3 and 14. Enjoy a variety of interactive indoor and outdoor activities along with games, arts & crafts and exploring nature. This is a great choice for families with children on summer vacation or even those visiting on a holiday. A variety of other fun-filled events also take place in Camp Cloister. Baking classes designed specifically for kids, movie matinees, tie-dye t-shirts with the activities staff, sports camps and a survival skills after dark course are just a few of the other unique activities that kids can enjoy while staying on Sea Island.
For additional information on Camp Cloister at Sea Island, please call the golf shop at 912-634-4460 or email brandonyoumans@seaisland.com.
Sea Island also offers activities for the whole family to enjoy during your stay in the Golden Isles. The Beach Club Theater offers complimentary kid-friendly movies for guests and evening Bingo games make for great family entertainment as well.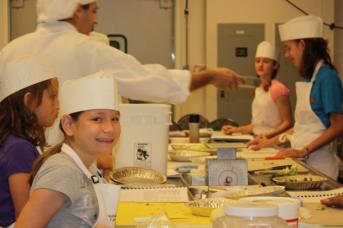 Jekyll Island has opportunities abound for the vacationing family and children this summer. The annual Sea Turtle Camp at the Georgia Sea Turtle Center is the perfect Golden Isles experience for kids who are interested in learning more about the Georgia Coast and in particular, the iconic sea turtle. Please see camp dates for summer 2014 below:
Ages 6-9: Dates: June 2-6, June 16-20, July 7-11, July 21-25
Ages 10-12: Dates: June 9-13, June 23-27, July 14-18
Visit the Jekyll Island Sea Turtle Camps website or call 912-635-4076 for more information.
Also, if you plan on spending time on Jekyll Island, the Jekyll Island Club Hotel is hosting a kids' cooking camp where professional chefs will teach participants basic cooking skills while having a blast at the same time. This cooking camp is part of a vacation package at the Jekyll Island Club Hotel from June 29 to July 2, 2014. The package includes three-night accommodations, two days of cooking classes, breakfast buffet in the Grand Dining Room, tickets to several Jekyll Island attractions and much more. More details available by calling 888-767-3871.
St. Simons Island offers numerous activities for children to enjoy year round, but during the summer there are even more options for children to enjoy while visiting the Golden Isles. Frederica Academy provides summer athletic programs for both residents and visitors of the area. Day camp choices include Frederica Football Camp, the Equestrian Experience, Summer Sailing Class, Soccer School, Summer Volleyball, Island Cheer, Basketball and a Physical Education camp. Learn more about summer camp options at Frederica Academy.
Coastal Outdoor Adventures provides a wide array of kids camps focused on the nature that surrounds us in Coastal Georgia. With three-five day camps on St. Simons Island and even some options on Jekyll Island, it's easy to fit an adventure camp into your stay. Summer day camp options include Shark Fest (campers learn about the world of shark fishing), Camp Village Creek (campers learn basic kayaking, paddleboarding, fishing skills and more) and Junior Biologist Camp (campers learn marine life and shell identification, beach seining, castle construction and outdoor sports). Learn more about Coastal Outdoor Adventures summer day camps.
If you plan on spending some time in the mainland port city of Brunswick this summer, there are many attractions for children to take part in. The Ritz Theatre in downtown Brunswick offers several different types of theatre and dramatic arts classes for kids of all ages and skill levels. Performances include The Wizard of Oz and Harry Potter. Visit Golden Isles Arts and Humanities for additional information on the classes.
Three Oaks Equestrian Services offer a special "Vacation Day Camp" created specifically for families who are vacationing here in the Golden Isles. The fee is $75 per day and an additional ½ off per child. Camp runs Monday through Saturday from 9:00am to 3:00pm and lunch is provided with transportation available, if needed. Visit the Three Oaks Equestrian website or call 912-635-9500 for more information.
This is just a taste of what is available for kids and families in Golden Isles. To see more visit our Kids Camp activities page and feel free to reach out if you have any questions!