Centuries of History in 72 Hours in the Golden Isles
With all of the rich history that is still alive in the Golden Isles today, it's amazing that we found a way to fit it all into a weekend visit! Even if you are pinched on time, here's the perfect way to experience every last bit of our history on a short trip, while still finding time to relax and enjoy the island atmosphere. After all, you're on island time!
Day One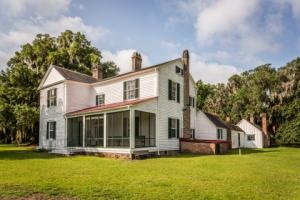 11am – 12:30pm
From I-95, take exit 42 onto Highway 17, which will take you to Hofwyl-Broadfield Plantation, an authentic Georgia coast rice plantation. At the plantation, tour Ophelia Dent's home, which is still decorated with many of her family heirlooms and original furniture from the 18th and 19th centuries. This historical site is open Wednesdays through Sundays from 9am – 5pm, with the final tour at 4pm.
12:30 – 1:30pm
Leaving Hofwyl-Broadfield Plantation, take the scenic route on Highway 17 south into Brunswick, about 10 miles. Turn left onto the F.J. Torras Causeway toward St. Simons Island. On the causeway you'll be surrounded by gorgeous marshes with winding rivers. It's almost like being in a snow globe, minus the snow of course!
Head to the Pier Village on St. Simons Island for some of the island's best eateries. Sit back, relax and try a local favorite like Brogen's South or Iguana's Seafood Restaurant.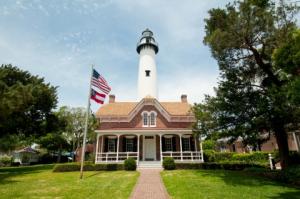 1:30 – 2:30pm
You're in the perfect place to head straight to the St. Simons Lighthouse Museum, open Monday – Saturday from 10am – 5pm and Sundays from 1:30 – 5pm. Climb the 129 steps to the top for unbeatable 360 degree views of St. Simons Island, Brunswick and Jekyll Island. Here's an added bonus: Your admission to the St. Simons Lighthouse also grants access to the Maritime Center, located about a mile away at East Beach.
2:30 – 6pm
Enjoy your afternoon shopping in St. Simons' quaint boutiques and stores, taking a leisurely stroll along East Beach, or enjoying the Southern hospitality of the island locals before heading to dinner.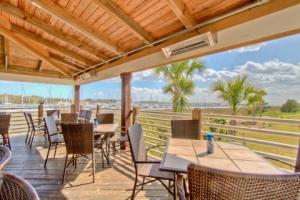 6 – 7:30pm
After a fun-filled day exploring the Golden Isles, you're sure to work up an appetite. Our prime location on the Georgia coast means many of our restaurants serve up locally-caught seafood daily. Head to Coastal Kitchen for beautiful views of the Golden Isles Marina, Catch 228 Oyster Bar & Grill for a fun and lively atmosphere, or Halyards Restaurant for an upscale and flavorful meal.
Day Two
9 – 10am
There's no better way to start the day than with a delicious and hearty breakfast! Opt for an outdoor table at Sandcastle Café in the Pier Village, or find a cozy spot at Café Frederica. With friendly service and enchanting atmospheres, both cafes will soon become your new favorites.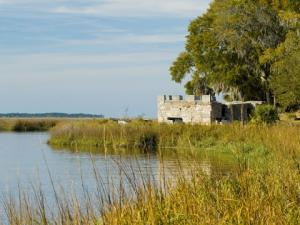 10 – 11:30am
After breakfast, trek toward the site where Fort Frederica's troops defeated the Spanish, ensuring Georgia's future as a British colony: Bloody Marsh, and then visit the fort itself. Fort Frederica is open 7 days a week from 9am – 5pm. The tabby ruins and sweeping live oak trees paint a beautiful picture of the days of old.
11:30am – noon
Look no further than across the street from Fort Frederica for your next historical adventure. Here you'll find the majestic Wesley Memorial Gardens, the site where John and Charles Wesley preached before they returned to England to help found the Methodist Church. A stone's throw away is Christ Church, one of the oldest churches on St. Simons Island. Spend time in the cemetery, where some of the island's oldest and most-famed residents are buried.
Noon – 1:30pm
Join the locals at some of the most popular lunch spots on St. Simons. At Southern Soul Barbeque you'll find award-winning pulled pork and traditional southern sides like collard greens. Add some spice to your afternoon at Bubba Garcia's Mexican Cantina, a funky spot in Redfern Village, which is anything but your traditional Mexican restaurant.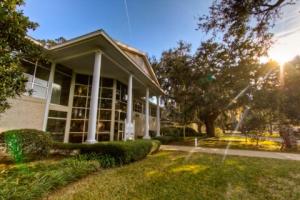 1:30 – 2:30pm
After lunch, tour the Arthur J. Moore Methodist Museum, and explore the grounds of Epworth By The Sea along the bend in the Frederica River. The museum is open Tuesdays through Saturdays from 10am until 4pm. Walk over to the Cassina Garden Club Slave Cabins, located at Gascoigne Bluff. Private tours of the cabins can be arranged in advance by calling 912-638-1908 or 912-638-9808.
2:30 – 6pm
Soak up the afternoon sun on one of St. Simons' beaches or head to Jekyll Island early for new shopping, dining, beaches and more. Tomorrow's historical tour will be on Jekyll Island.
Day Three
9 – 11am
Venture over the F.J. Torras Causeway back into Brunswick, taking in the sights and the sounds along the way. On Jekyll Island, you'll quickly discover why the National Historic Landmark District is one of the largest ongoing restoration projects in the southeastern United States. Visit the Jekyll Island Museum, open daily from 9am to 5pm. Here you'll see photographs and artifacts from the days of the infamous Jekyll Island Club. The Historic District Tram Tour is another great way to experience the area.
11am – 12:30pm
Enjoy lunch at Jekyll Island Club Hotel's Courtyard at Crane. Exceptional service, fresh food and fantastic views await. Crane Cottage also serves as lodging for hotel guests and features a beautiful sunken garden.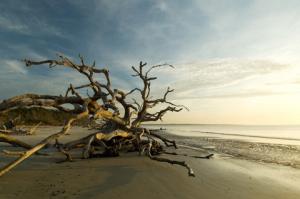 12:30 – 4pm
Rent a bike, or bring your own, and explore the history of Jekyll Island at your own pace. The Horton House is one of the oldest tabby buildings in the country. Not all history comes in the forms of buildings on Jekyll Island. Be sure to check out Plantation Oak, which is estimated to be more than 300 years old. Pedal your way to Driftwood Beach, another iconic Jekyll Island treasure. Years of the elements have weathered and formed this distinctive "tree graveyard."
4 – 7pm
Head toward the Golden Isles' port city, Brunswick, to round out your historical trip. Many of the streets still bear their colonial names given by General James Oglethorpe when he laid the city of Brunswick out. Visit Historic Downtown Brunswick to shop and catch a show at the Ritz Theatre. Click here for a calendar of events.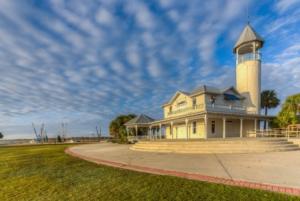 7 – 8:30pm
Before finding a place along Newcastle Street for dinner, catch a beautiful sunset at Mary Ross Waterfront Park where hard-working shrimp boats have been tucked in for the night. Downtown Brunswick's restaurants do not disappoint. Choose from an array of options – from burgers to Jamaican to sushi and everything in between.
Historical attractions are around nearly every corner in the Golden Isles. Discover places with pasts full of exciting stories – millionaires, breweries and not-so bloody battles. All along the way you'll make cherished memories and even learn some new things.