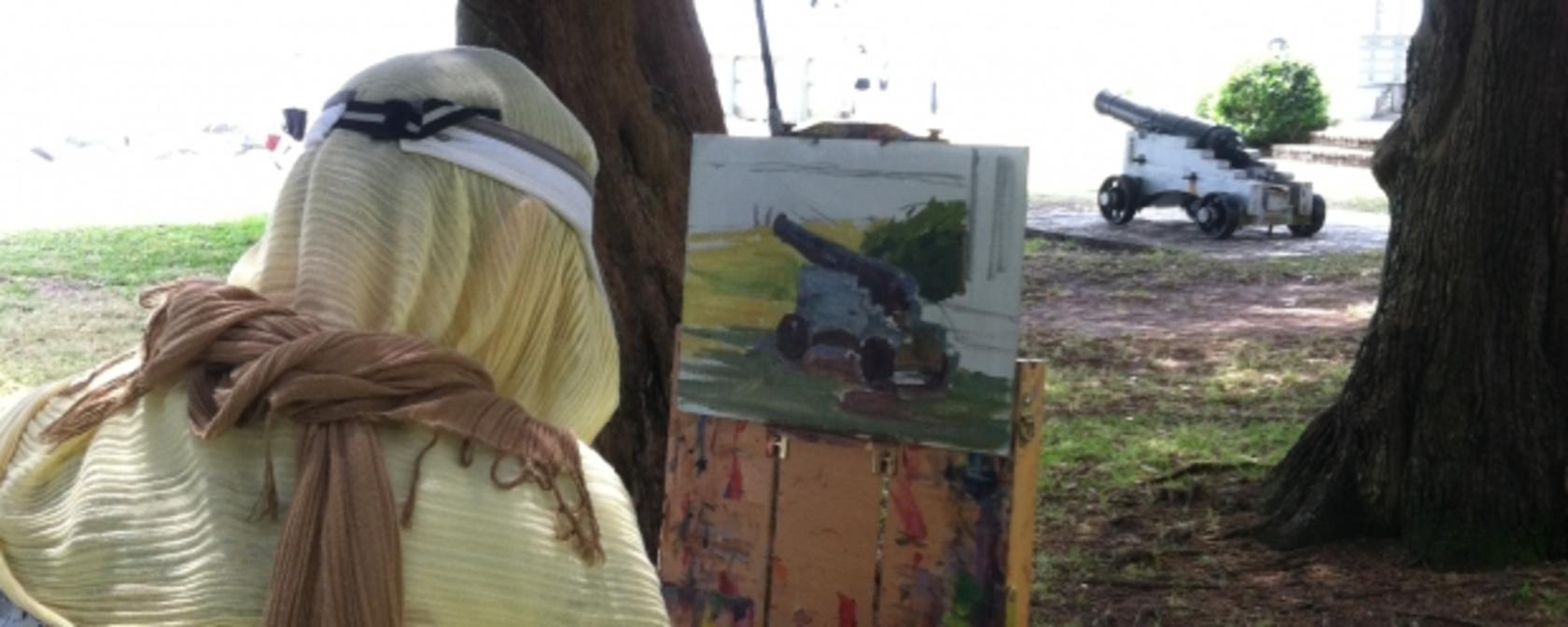 This is the first year the Plein Air Affair has gone national, hosting 23 premier artists from across America to paint 'en plein air' (in the open air) at key sites around the scenic island of St. Simons. The artists were chosen in a competitive juried selection process and arrived from 11 states, from as far away as California. During the 15 day celebration filled with 16 events, this year's artists painted for three of those days (April 18th-20th) at various locations on the island including key St. Simons Land Trust sites like Cannon's Point and Frederica Park.
During the first day, I had the chance to speak with three of the artist and see their works while they were painting throughout Pier Village.
Deborah Pellock travelled from Suwanee, Georgia, where she teaches painting at her studio. Her easel was setup on the St. Simons Island Pier, a location that provided her with a unique vantage point of the lighthouse concealed mostly by the giant oaks that drape Neptune Park's picnic area. She was surrounded by many visitors watching her work and asking questions about her art.
Sam Traina was visiting from a small town that he says has only one caution light, approximately 80 miles east of Atlanta called Mansfield, Georgia. He chose to paint the St. Simons Island Lighthouse and keeper's dwelling from the lighthouse lawn because he liked the way the shadows from the palms casted themselves against the white lighthouse tower.
Valerie Craig is from a town just outside of Philadelphia, called St. David's, where she paints "en plein air" whenever she can.  Originally only planning on staying a week for the Plein Air Affair, Valerie and her husband have decided to extend their stay after experiencing the area.  She was tucked away in a shaded corner across from Palm Coast Coffee to capture the customers as they dined outdoors.  While I was there a few of the lucky diners walked over to see how they looked in the painting.
The 2012 Plein Air Affair is coming to a close this Thursday after two weeks of exciting events celebrating art in the Golden Isles! If you did not find time to see some of the artists and their works, you still have a chance. The last event is the Mallery Street Art Walk on Thursday, April 26th from 5:00-9:00 pm. Take a stroll down Mallery Street in Pier Village on St. Simons Island and see outstanding works of art from this year's Plein Air Affair. Enjoy some fresh air and a wonderful collection of original paintings that capture the vast beauty of St. Simons Island.
The Mallery Street Art
Walk is free and open to the public. 
Where: Pier Village
When: Thursday, April 26th from 5:00-9:00 pm
Artists above:
Deborah Pellock (Facebook Page)
Sam Traina (SamTrainaArt.blogspot.com)
Valerie Craig (www.valeriecraig.com)