The Tree Spirits of St. Simons Island serve as a local attraction to the Golden Isles, and also seem to connect us to the rich history of our coastal area. These Tree Spirits have been skillfully carved into soulful faces emerging from the trees, depicting those of Native Americans and long haired sailors. The sad, sorrowful expressions reflect the grieving appearance of the trees themselves with the drooping branches and moss.
As legend has it, the Tree Spirits are a creative way to remember those who lost their lives at sea aboard the mighty sailing ships that were once made from St. Simons Island oak.
Keith Jennings, the skillful hand behind the wooden faces, began carving the Tree Spirits in the majestic live oaks trees of St. Simons Island in the early 1980s. To date, Mr. Jennings has carved more than twenty tree spirits throughout the Golden Isles by using hand tools, such as a mallet, to shape the expressive faces. The carving process of each tree spirit takes an estimated 2-4 days.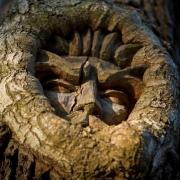 Most of the tree spirits are on private properties; however, several can be found along Demere Road, Mallory Street, Redfern Village and Frederica Road. As the trees get older, the faces of the tree spirits age as well. Bark rolls over the edges of the face, adding more character and expression to the tree spirit.
Visitors and residents alike enjoy searching for these inspirational tree spirits. Many families like to make it an activity, or scavenger hunt with their kids, while visiting the Golden Isles and St. Simons Island.
Do you have a tree spirit experience? Get out and see how many Tree Spirits you can find, write down the location, snap some pictures and then share your experience with us! Happy hunting!