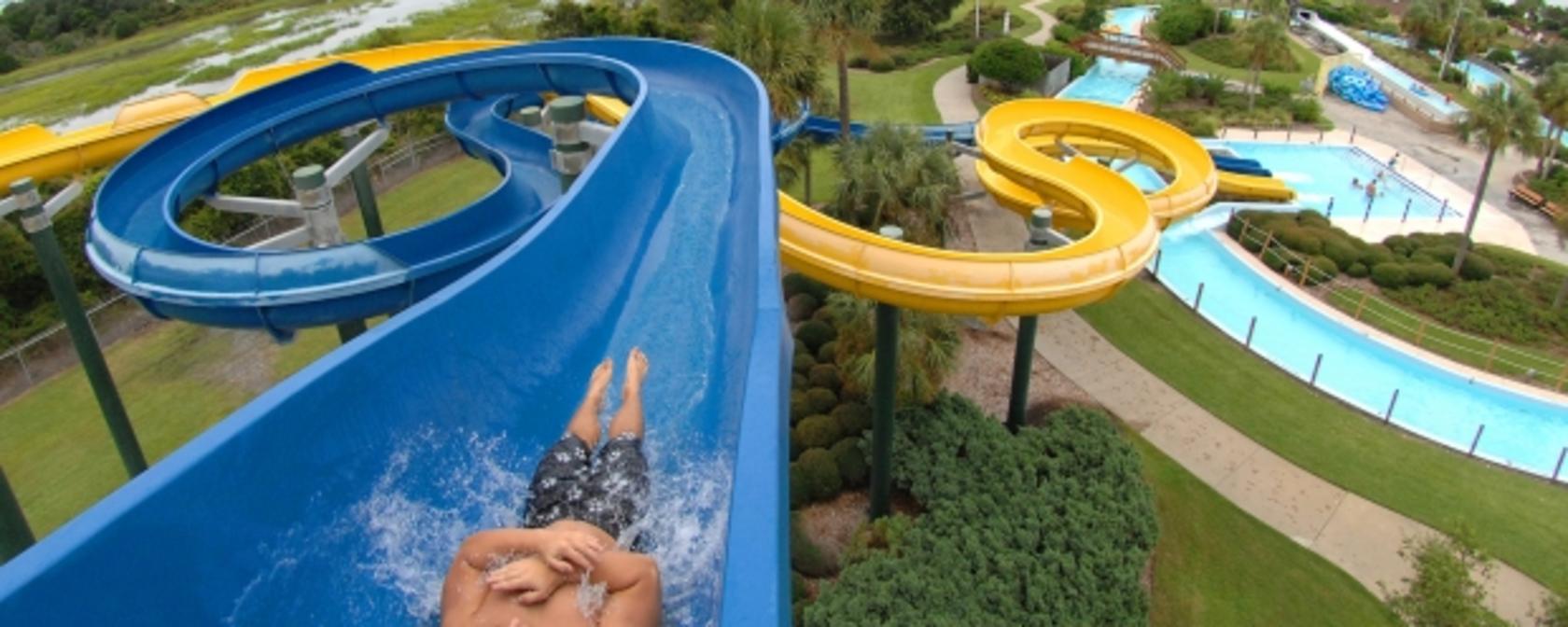 A splish. A splash. A smile! That's what guests will find this season at Summer Waves on Jekyll Island! As the biggest and coolest water park in the Golden Isles, Summer Waves offers fun-seekers 11 acres of water-filled family fun.
"We can't wait for summer to get the fun started," said Steve Sharpe, General Manager of Summer Waves. "Last year was an excellent summer for us and this year will be even better. As always, safety is our top concern, and our well-trained staff is ready to ensure a safe, fun summer for all of our guests."
Opening May 4 for weekend play, then open daily after May 15, Summer Waves is set to bring thrill-seekers nine amazingly wild rides with options for all ages.
First, catch a wave in the Frantic Atlantic Wave Pool, which goes from 2 to 4 feet deep and features more than 500,000 gallons of churning water. Across the park, you'll need to hold on tight to that inner-tube as you plunge through Pirate's Passage, an exhilarating slide dropping down a 300-foot, five-story tower.
Nature's Revenge couples its thrilling elements: Thunder and The Hurricane. These two 40-foot slides take riders on a twisting and turning, 360-degree journey, sending them on a spiraling dunk into the 300-foot catch pool.
Next it's the Force Three, which is just that: a ride of three fun yet forceful slides. Flash Flood features a double inner tube slide spiraling down a 350-foot-long, 7-foot wide curvy slide; and Thunder and Lightning are twin slides that send you spiraling down 150-feet in fully-enclosed flumes. These rides triple the splash for the whole family!
Cool off from the Georgia heat with a refreshing soak in the Splash Zone. Get dunked by our giant bucket, or enjoy kid-friendly water guns.
Not up for a twisting, zipping, dunking ride? Spend some time in the calm, refreshing Turtle Creek. This slow-paced portion of the park offers inner-tubes that only go 3 miles per hour in a lazy river loop around the park.
For the smaller swimmers, try out the Kiddie Zone. Designed for children not tall enough for the bigger attractions, this park staple features two kiddie slides, waterfalls, and plenty of shade.
New this summer, the water park has added an extra 100-foot shade structure, as well as newly remodeled bathrooms for a cooler, more refreshing day at the park. As in years past, Summer Waves will again feature morning water aerobics classes for the adults in the group. Class schedules and fees are posted on the Summer Waves web site, www.summerwaves.com. And of course, Larry's Giant Subs will be open during park hours to offer guests hearty sandwiches, healthy salads and plenty of snacks.
Whether with family, a few friends or a large group, Summer Waves is the place to beat the heat this season!
Daily Admissions
General Admission: $19.95
Junior Admission (under 48" tall): $15.95
Two Day Ticket (Must be used within 5 days of first use) $24.95
Senior Splash (age 60 & older): $10.95
Children ages 3 and under: Free admission with approved swim diaper
Night Splash (Weekdays after 3 p.m.): $11.95
Night Splash (Saturday & Sunday after 4 p.m.): $13.95
Children ages 3 and under are admitted free with a swim diaper.
Have a group of friends who want to roam our waterpark wonders? Get a special rate for groups of 20 or more. Advance reservations are appreciated. Group Rate: $15 per person plus tax, with a minimum of 20 people.
Make the most of your summer with access to the waterpark all season!
Season Pass Prices
1 person: $69.99
2 people: $139.98
Family of three: $199.98
Family of four: $250.00
Family of five: $290.00
Additional passes: $58 per person
All prices are subject to 6% tax. For more information, visit www.summerwaves.com.
Contact Anna Hall, Jekyll Island Authority, 912-635-4046
ahall@jekyllisland.com