Marine Debris 2020
Redeemable:

Tuesday, Dec 8, 2020 - Friday, Dec 11, 2020
Details
Marine Debris 2020 December 8th - December 11th, 2020 Marine debris clean-up days at LSSI are a wonderful opportunity to participate in marine conservation. Our event on December 8th-11th, will be a clean-up of Little Saint Simons Island Rainbow Beach. After breakfast participants will board a vessel for a 5-mile boat ride down the Hampton River to Rainbow Beach. Participants will disembark the boat, and begin walking a gorgeous two-mile stretch of beach on Little Saint Simon Island's south end, in search of marine debris. Guests will be accompanied by naturalists and remain on the beach for several hours collecting marine debris, before boarding a vessel back to the Lodge in time for lunch. After lunch, all debris will be weighed, sorted, and counted. Guests are asked to participate in both stages of the clean-up (collection and sorting). The total duration of the clean-up day will be approximately six hours. It is important to note this will be a physically demanding day. Participants must be capable of handling several hours in the sun without access to restrooms. Additionally, all guests must be able to safely disembark an elevated boat (3-4 ft) onto soft sand/mud/water. If you are unsure of your abilities but still want to contribute to marine conservation, we recommend planning another visit to LSSI to collect marine debris at your leisure. Difficulty: Challenging Package rates include lodging, three meals daily prepared by our chefs, soft drinks, all Island activities including guided Naturalist excursions and use of recreation gear as well as boat transfers to and from the island. Three Night All Inclusive Package $1,680.00** **All rates are for double occupancy in The Hunting Lodge, River Lodge, Cedar House or Helen House. The Tom House and Michael Cottage rates are higher. An additional adult in the same room is $200 per night and children under 12 are $100 per night. An 18% service charge plus applicable taxes will be added to the above rates. Availability is limited, so call 888-733-5774 between 9:00am and 5:00pm ET daily or email: lodge@littlessi.com link below to check availability.
Locations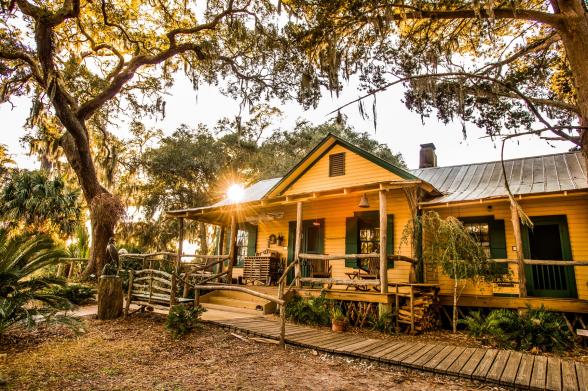 100 Hampton River Club Marina, St. Simons Island
Prized for its pristine natural beauty, gracious hospitality and secluded worlds-away appeal, Little St....
More Details