Salt Marsh Event
Redeemable:

Wednesday, Nov 4, 2020 - Friday, Nov 6, 2020
Details
Salt Marsh Event November 4th - 6th, 2020 Explore The World of the Salt Marsh & Celebrate the 50th Anniversary of the Coastal Marshland Protection Act Please join us to celebrate the 50th anniversary of Georgia's Coastal Marshland Protection Act at Little St. Simons Island during a two night guest event – November 4th and 5th. This ground-breaking legislation was signed into law in 1970 and has played a critical role in protecting one of Georgia's most iconic landscapes – nearly 400,000 acres of tidal salt marsh. Georgia's marshes are one of the most productive ecosystems in the world, providing critical habitat for species of commercial and recreational importance, like red drum, sea trout, shrimp, oysters, and clams and for species of conservation concern including manatees and diamondback terrapins. During the event, we will offer immersive outings to learn about this important coastal environment. We envision several opportunities to explore the Island's 7,000+ acres of salt marsh, including an educational trip on our large pontoon boat, the Skimmer, and adventures into the marsh both by kayak and on foot. Local seafood served during meal times and an oyster roast one evening will provide tastes from the marsh. Well-known Georgia authors Charles Seabrook and Dorinda Dallmeyer, guest speakers, and naturalists will join our group of guests to lead outdoor adventures and to speak each evening after dinner. Charles Seabrook, retired as the long-time environmental editor for the Atlanta Journal Constitution will lead a discussion on his book, The World of the Salt Marsh. Whether you are able to participate in the weekend or not, we encourage everyone with an interest in the salt marsh to read this book. Dorinda Dallmeyer, author and retired director of the University of Georgia's environmental ethics program will present on The History of the Marsh Protection Act. If you have ever been intrigued or captivated by Georgia's vast salt marshes, we hope you will come to LSSI to experience and celebrate what Sidney Lanier described, "A league and a league of marsh-grass, waist-high, broad in the blade. Green, and all of a height, and unflicked with a light or a shade, Stretch leisurely off, in a pleasant plain, To the terminal blue of the main." Please call 912-638-7472 to reserve your space for this event Two Night All Inclusive Package $1475** Arrive November 4th, 2020 and depart November 6th, 2020. Package rates include lodging, three meals daily prepared by our chefs, non-alcoholic beverages, all Island activities including guided Naturalist excursions and use of recreation gear as well as boat transfers to and from the island. **All rates are for double occupancy in The Hunting Lodge, River Lodge, Cedar House or Helen House. The Tom House and Michael Cottage rates are higher. An additional adult in the same room is $200 per night and children under 12 are $100 per night. An 18% service charge plus applicable taxes will be added to the above rates. Availability is limited, so call 888-733-5774 between 9:00am and 5:00pm ET daily or email: lodge@littlessi.com from the link below.
Locations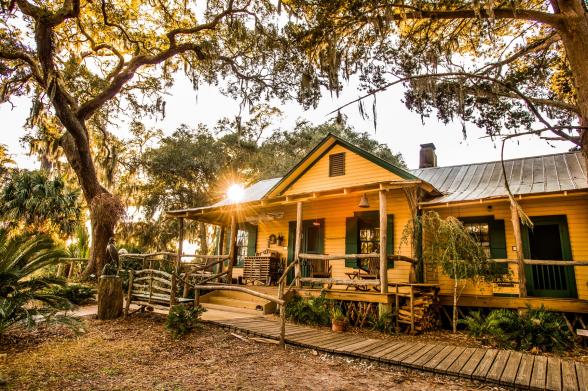 100 Hampton River Club Marina, St. Simons Island
Prized for its pristine natural beauty, gracious hospitality and secluded worlds-away appeal, Little St....
More Details