Georgian Room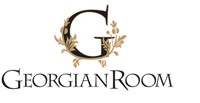 Details
The Georgian Room is currently closed.
The Georgian Room is an exceptional dining experience. One of a select few Forbes Five-Star awarded restaurants, and the only one so honored in the state of Georgia, the Georgian Room offers "Refined Southern" cuisine amidst grand décor. A stately fireplace with a carved stone mantel, gold and crystal chandeliers, and impeccable tableside service conspire together to create an altogether magnificent setting. The cuisine does the atmosphere one better.
Attire:
Coat, collared shirt and slacks are required for gentlemen and young men over 12 years old. Ties are optional.
Honors & Accolades
Forbes Five-Star, 2010-2021