Welcome to the 2022 RSM Classic!
The annual RSM Classic PGA tour is finally here! Get ready for a week of delightful weather, and of course, watching all your favorite players swing away on Sea Island Golf Club's remarkable course.
Make the most out of your time in the Golden Isles! When you're ready to take a break from the tournament, history and culture await you. Here you'll find no shortage of things to do, places to experience coastal dining, and charming southern hospitality. 
Golden Hour on the Green
Ticketholders for Thursday, November 17th can stay after the last play for a vibrant live entertainment event hosted by the Golden Isles Convention and Visitors Bureau! Located on the Golden Isles Green, this event features live music presented by Owen Plant & Three Little Birds, along with local food and beverages available for purchase from Southern Soul BBQ and Sea Island. Learn more. 
For more tournament information, please visit the RSM Classic website. 
Who's Playing in the 2022 RSM Classic?
You won't want to miss your favorite players including Tony Finau, Justin Rose, Zach Johnson, Chris Kirk, Kyle Westmoreland, Jason Day, and Davis Love III.
View the full 2022 player field.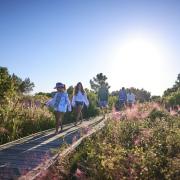 X
Enter the World's Best Giveaway!
Don't miss the chance to win a trip to the Golden Isles!
Enter Now
Tournament Week Events 
Monday, November 14, 2022
Practice rounds for PGA TOUR Players; Tournament grounds closed to the general public.
BMW Pro-Am Event at Seaside Course
Tuesday, November 15, 2022
Practice rounds for PGA TOUR Players; Tournament grounds closed to the general public.
Wiffle Ball Classic featuring PGA TOUR Players & Wives at Frederica Academy Baseball Field, 5 p.m.
"Meet the Pros" hosted by Rotary Club of St. Simons Island at the Mizner Ballroom in the Cloister, Sea Island at 5:30 p.m.; Tickets are $100/pp   – more information at ssirotary.org
Wednesday, November 16, 2022
Community Day, Tournament Grounds Open, Free Admission for all
Yamaha Pro-Am Event — Seaside Course and Plantation Course
Charity Putting featuring PGA TOUR Players at Speedway Putting Course, 3:30 p.m.
Thursday, November 17, 2022
Round 1 of The RSM Classic, Seaside and Plantation – Tee Times TBA
Gates and Merchandise Tent open at 9 a.m.
Golf Channel coverage TBA
Golden Hour on the Green- Begins at 4:30 p.m.
Friday, November 18, 2022
Round 2 of The RSM Classic, Seaside and Plantation — Tee Times TBA
Gates and Merchandise Tent open at 9 a.m.
Golf Channel coverage TBA
Saturday, November 19, 2022
Round 3 of The RSM Classic, Seaside Only — Tee Times TBA
Gates and Merchandise Tent open at 9 a.m.
Golf Channel coverage TBA
Sunday, November 20, 2022
Final Round of The RSM Classic, Seaside Only — Times TBA
Gates and Merchandise Tent open at 9 a.m.
Golf Channel coverage TBA
Trophy Presentation on the 18th green immediately following the completion of play