With four wonderful public piers to choose from, there are many ways to spend your days in the sun while visiting the Golden Isles of Georgia. Rent a rod and reel and grab some bait from a local tackle shop for a morning of fishing, or pack a picnic to enjoy a waterfront lunch while scanning the horizon for a pod of friendly dolphins. Enjoy an evening stroll with an ice cream cone in hand as you catch the last glimpses of daylight sparkling across the water as the sun sets. 
Choose from the St. Simons Pier, Gascoigne Bluff Pier, Jekyll Island Pier or Blythe Island Park Pier, and regardless of your final destination, you're guaranteed to have a perfect pier day.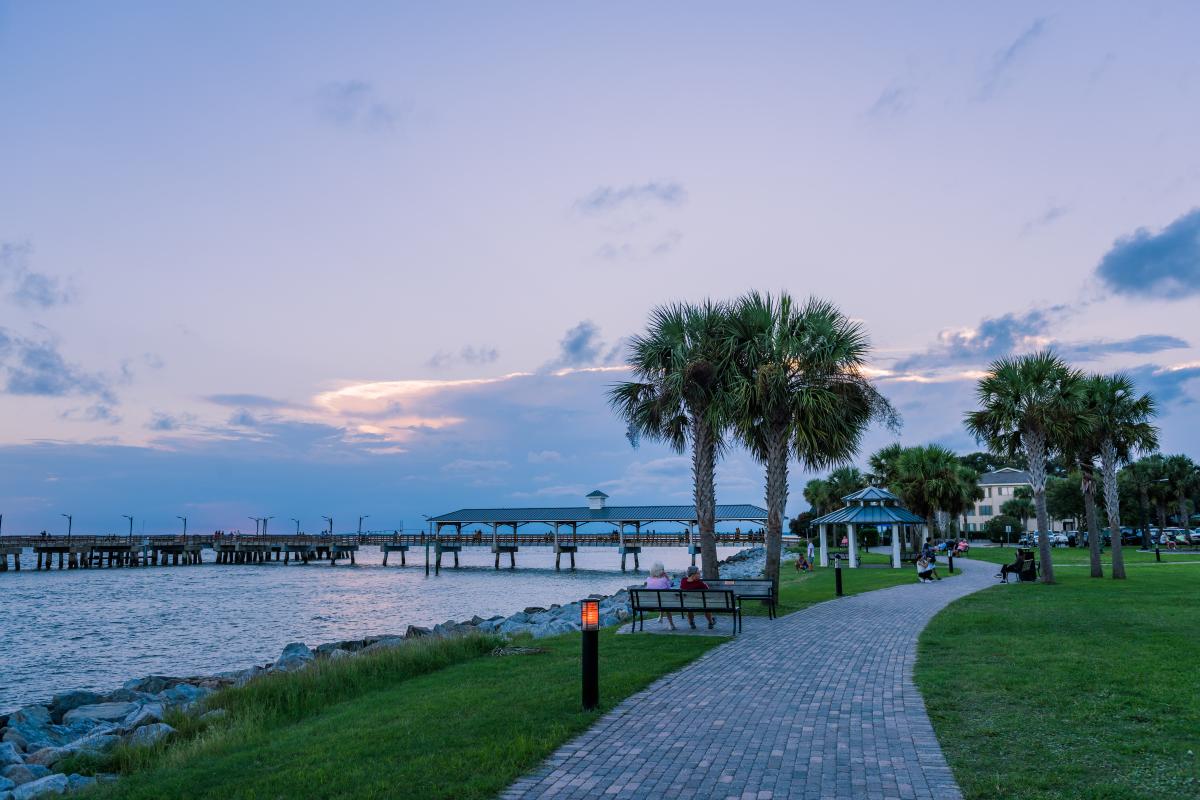 St. Simons Island Pier
Easily one of the most popular attractions on St. Simons Island, the Pier Village is a beloved shopping and dining district where you can find popular island restaurants like Barbara Jeans and Brogen's South, and quaint boutiques filled with charming souvenirs, home decor and local artwork. The Pier Village is also a great starting point for an exciting day on St. Simons Island. Rent a golf cart from Island Time Golf Cart Rentals, grab a Tree Spirit Map from the Golden Isles Welcome Center, enjoy the playground and public pool at Neptune Park Fun Zone, or brush up on your local history at the St. Simons Lighthouse. Best of all, parking is free. 
The St. Simons Pier is perfect for a leisurely stroll over the water or a morning or evening of fishing. As you walk out onto the pier, you'll be captivated by stunning waterfront views. Gaze across the St. Simons Sound at Jekyll Island, only about a mile across the water separating the two islands. Watch the sunset behind the iconic Sidney Lanier Bridge in Brunswick. If you're lucky, you may even catch a massive cargo ship headed out to sea. 
Not in the Golden Isles? You can visit the St. Simons Pier anytime you like with our live webcam!
Know Before You Go: For safety reasons, bikes and dogs are not permitted on the St. Simons Pier.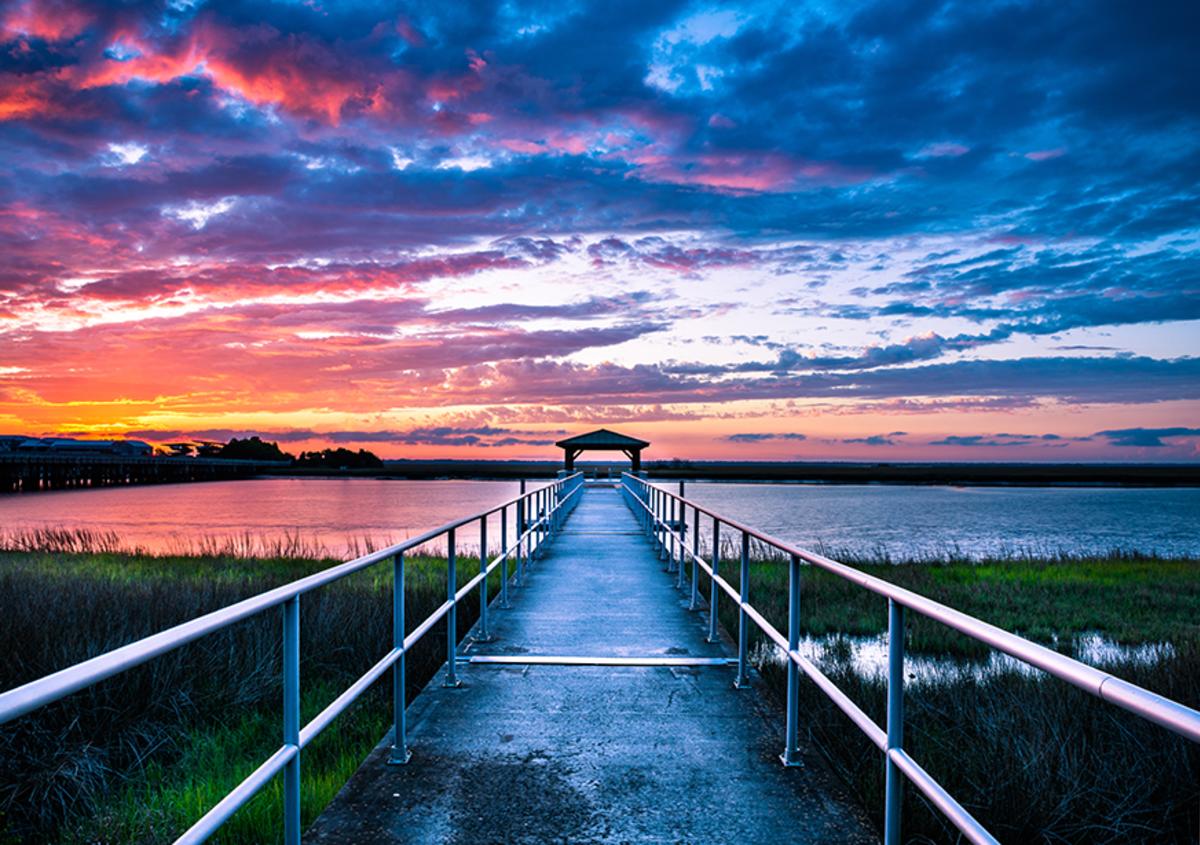 Gascoigne Bluff Pier
Nestled among ancient live oak trees, you'll find the Gascoigne Bluff Pier. Located within Epworth by the Sea, this smaller pier is a favorite fishing spot for locals and visitors alike. Unlike the St. Simons Pier, the Gascoigne Bluff Pier is built across the marshes, specifically the Mackay River. To the left, you'll see the F.J. Torras Causeway, the series of bridges and roads connecting St. Simons Island to the mainland city of Brunswick. The Gascoigne Bluff Pier faces west across the marshes toward Brunswick, making it one of the best piers to watch the sunset. 
This pier is also an excellent put-in location for paddleboards and kayaks. Be mindful of the tides and currents before launching off on your adventure. If you're looking to fish from the Gascoigne Bluff Pier, you'll want to bring your own chairs with you, along with any bait, gear and other supplies you may want. Whether you're simply taking in the beautiful sights and sounds, or wrapping up from a jaunt on the water, you're sure to have worked up an appetite. Opt for a casual lunch or dinner at Certified Burgers and Beverage, only about a three-mile drive from Gascoigne Bluff Pier. Fill up on flavorful burgers or a hearty salad and top it all off with a handcrafted milkshake.
Know Before You Go: To find the Gascoinge Bluff Pier, take the first left into Epworth by the Sea via Hamilton Road. At the stop sign, go left. Slowly follow the dirt roads to the picnic pavilion and restrooms.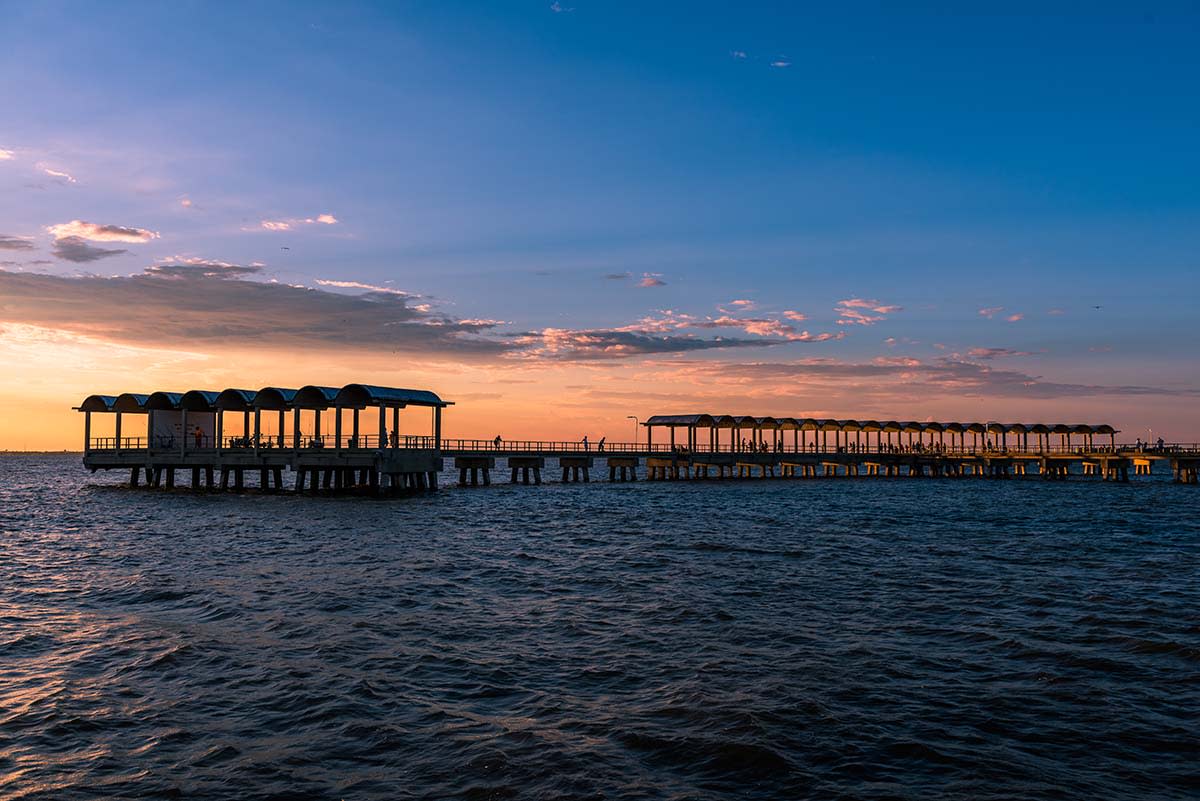 Jekyll Island Pier
You'll find the Jekyll Island Fishing Pier on the northern tip of the island, tucked away within the shady Clam Creek Picnic Area. If you're staying in a Jekyll Island hotel, there's a good chance the pier is just a quick and enjoyable bike ride from your temporary headquarters. And if you're staying at the Jekyll Island Campground, the pier and Clam Creek are right across the street! In fact, Clam Creek's beach turns into the famed Driftwood Beach as you follow the beach toward the east. 
Whether you're an early bird or an afternoon adventurer, pick up a grab-and-go breakfast pastry or deli sandwich at The Pantry before heading to the Jekyll Island Pier for the day. Rent a bike from Cruise E-Bike Rentals. Similar to the St. Simons Island Pier, this pier also provides some of the very best sunset views. Regardless of whether you visit in the morning, mid-day or evening, your time on the Jekyll Island Pier is sure to be memorable.
Know Before You Go: There is an $8 daily entrance fee to visit Jekyll Island. Parking passes may be purchased online or at the entrance gate.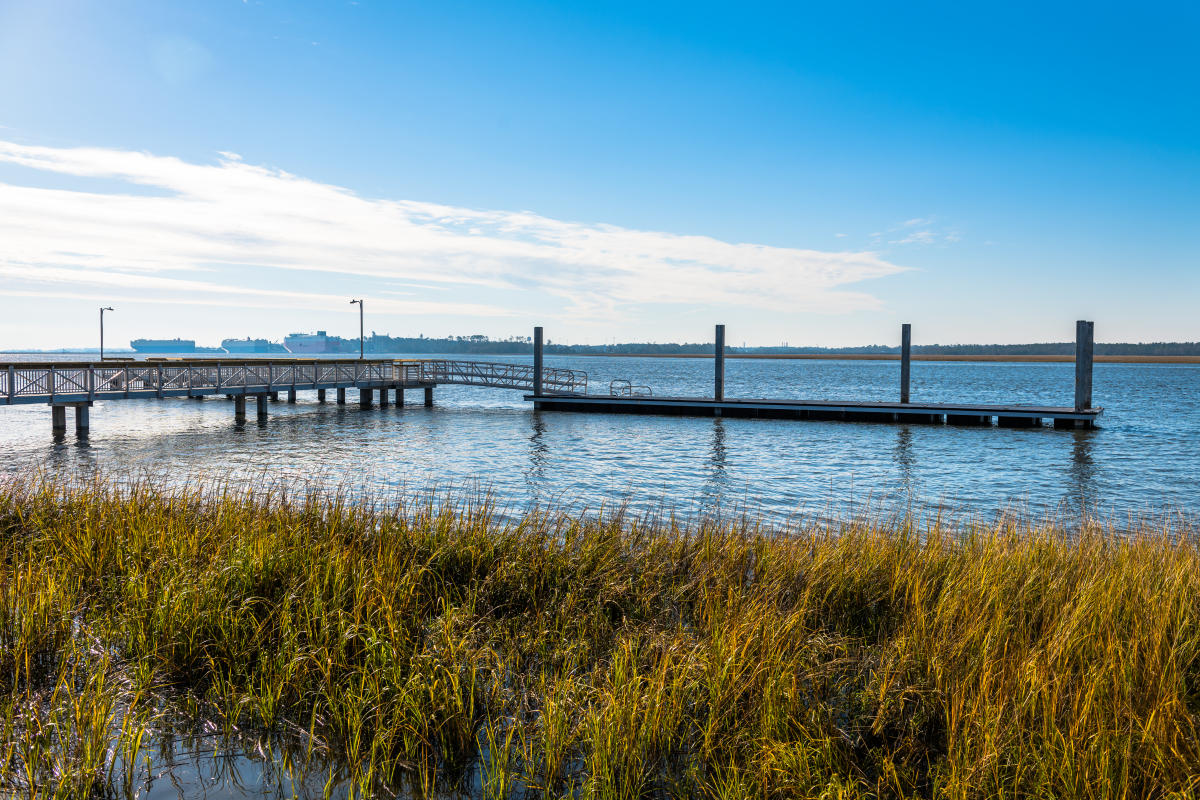 Blythe Island Regional Park Pier
Our mainland city of Brunswick is also home to several piers, including one at the Marshes of Glynn Overlook Park and another at Blythe Island Regional Park. Blythe Island Regional Park can be found just off of Interstate 95 at exit 29. The park is an excellent full service campground for campers with RVs or traditional tents. Day trippers are also welcome to enjoy the public lake, swimming beach, fresh and salt water fishing, boat ramp and dock, playground, volleyball courts, bike and walking trails, picnic area and more. There is also a restaurant located just down the street at Southern Retreat RV Park with delicious food, Fish Tales Pub and Grill!
The Blythe Island pier is located adjacent to the marina on the South Brunswick River. Similar to the other piers, this is also a saltwater pier. The marina is equipped with a power hoist for boats up to 10,000 pounds, meaning you can either take advantage of fishing from the pier or tidewater or offshore fishing from Blythe Island Regional Park. A freshwater lake can also be found onsite at the park, and although it does not have a fishing pier, visitors are still welcome to cast a line in search of bass, bream, catfish and crappie.
Know Before You Go: Browse the full list of fishing rules for Blythe Island Regional Park and additional information about the campground and park.
Fishing from the Piers
If you'd like to fish or crab on any of the Golden Isles public piers, you'll simply need a Georgia Fishing License, which can be purchased online through the Georgia Department of Natural Resources. There are several bait and tackle shops located throughout the area as well. On St. Simons Island, you'll find a local shop where you can pick up any supplies you may need all just a few steps from the St. Simons Pier. Jekyll Island's Clam Creek Picnic Area also has a bait shop onsite to assist hopeful anglers. The Blythe Island Regional Park marina is also home to a bait shop with live and dead bait to choose from. Please be respectful and courteous of others and clean up any trash or waste you may have before you pack up and leave.
Regardless of which pier you decide to visit (or maybe you check out all four!), you'll certainly find breathtaking views, exciting wildlife and friendly faces all along the way. Do yourself a favor and fall into a little "pier pressure" on your next trip to the Golden Isles!