Pet Friendly Hotels on the Georgia Coast
There's no reason to leave your four-legged family members behind when visiting Georgia's Golden Isles! With miles of beaches, acres of parks and scenic trails to boot, there are many ways to play with your pooch. Several hotels, vacation rentals and campgrounds welcome dogs. Browse pet-friendly lodging options below and start planning your perfect Georgia coast getaway. 
Pet Friendly Hotels on St. Simons Island
Because all beaches on St. Simons Island are pet friendly, it makes sense that so many accommodations are pet friendly, too! Opt for a beachfront room at The King and Prince Beach & Golf Resort if you and your pooch want easy access to the beach. Or, choose from several vacation rentals with Lilmar Properties, ranging from one-bedroom condos to private homes with fully fenced in yards with plenty of space for your dog to play and relax. 
Pet Friendly Hotels on Jekyll Island
Dogs and owners alike flock to Jekyll Island for its 20 miles of paved pathways, beautiful scenery and dog friendly beaches. The historic Jekyll Island Club Resort has pet friendly rooms available in their Sans Souci cottage, once a luxurious apartment building partially owned by J.P. Morgan. The beachfront Westin Jekyll Island provides a convenient location for dogs and owners with their easy access to the beach, shopping and dining. 
Pet Friendly Hotels in Brunswick
There are many hotels conveniently located near Interstate 95 that offer pet friendly rooms. The newly-opened LaQuinta Inn & Suites at Exit 38 welcomes pets and families of all sizes. Their fenced-in dog park and outdoor play areas make it a great option for groups with energy to burn! Or, if you're traveling on Highway 341, Jameson Inn also offers lodging for dogs and their owners. 
Pet Friendly Hotels on Sea Island
All of Sea Island's properties are pet friendly: The Cloister, The Lodge and The Inn, as well as their cottage rentals. Stay at The Cloister for the ultimate luxurious experience, or The Lodge if golfing is your thing. The Inn at Sea Island is located on St. Simons Island and offers access to Sea Island's award-winning amenities. Regardless of which property you choose, you and your dog will surely have a vacation to remember. 
Activities
Hi! We're Ruby and Lola, two adorable yellow Labrador retrievers, if we do say so ourselves. Our moms both work at the Golden Isles Welcome Center, which means we are always in-the-know about what's happening around our town! Just like our…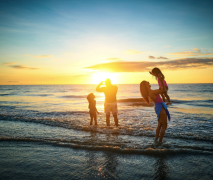 Specials & Packages
Save on your next visit to the Golden Isles with these specials and packages from hotels, resorts and restaurants.
View More