Public Safety 
The safety of our visitors and residents is our top priority. To ensure a worry-free vacation, please familiarize yourself with the local tides, avoid swimming out to sandbars at the beaches, and adhere to local laws and ordinances. 
In the case of an emergency, please call 911.
Lifeguards
Lifeguards are stationed at Coast Guard Beach and Massengale Beach on St. Simons Island each summer, from Memorial Day through Labor Day. They are present daily from 11 a.m. to 6 p.m. Lifeguards will not be on the beaches during inclement weather. We strongly advise St. Simons Island beachgoers to set up their beach gear within close proximity to a lifeguard tower, especially if planning to swim while visiting the beach. For more information regarding Glynn County lifeguards, please call 912-279-2836.
Flag System
The Glynn County Recreation and Parks Department has a flag system in place at all St. Simons Island beaches during the summer months. The flags can be found atop of each lifeguard chair set out along the beaches. We strongly encourage beachgoers familiarize themselves with the flag system and recognize any potential warnings. View the Beach Warning Flag System here. 
A green flag indicates low hazards and calm conditions. A yellow flag warns of medium hazards, such as light currents or surf. A purple flag is flown when dangerous marine life (jellyfish, stingrays or dangerous fish) have been spotted. A red flag indicates high hazards and rough conditions, such as strong surf or currents. A double red flag is flown when beaches are closed to the public. The Beach Flag Warning System should be followed and respected. 
Rip Currents
It's extremely important to pay attention to and understand beach patterns that can be found in the Golden Isles. Rip currents can be dangerous and should be avoided if possible. A rip current occurs when a strong current of water moves away from the shore. Although they can be common, they can have potentially disastrous consequences if a swimmer becomes trapped in the rip current. 
What To Do If Caught in a Rip Current:
Remain calm and tread water until you are free from the current; do not waste your energy trying to get out of the current prematurely.
Remember that rip currents will not pull you under water.
Never swim against the current. Once you are free from the current, swim parallel to the shore and away from the current until you can safely swim back to shore.
Yell, wave or signal to those on shore that you need help.
Learn more about spotting rip currents and how to avoid them on the National Oceanic and Atmospheric Administration (NOAA) website.
Tide Changes
There are four tides within each 24-hour period in the Golden Isles with two high tides and two low tides alternating each other throughout the day. It's a best practice for beachgoers to check local tide charts before heading to the beach for the day. Although several Golden Isles beaches still have ample shoreline during a high tide, some are nearly impassable until the tide begins to recede. We recommend visiting our beaches during an outgoing tide, meaning high tide has recently occurred and is now shifting to a low tide. This provides hours of enjoyment along the shore and prevents visitors from repositioning their chairs and umbrellas each time the water creeps closer. 
Each tide change results in an approximate seven-foot difference in water level. While this may not sound like much, imagine yourself wading in the water or walking along the shore at low tide with an additional seven feet of water overhead. Pay close attention to the tide changes and keep an eye on your watch to know when the tide may be turning. View daily tide charts here.
Sandbars
Although walking or wading to a sandbar at low tide can sound fun and exciting, it is extremely dangerous to do so. Tides can change quickly and submerge sandbars before curious beachgoers have time to safely return to shore. Rescuing trapped swimmers can be tricky for lifeguards and local safety personnel. Avoid sandbars; do not walk or swim to them.
Beach Advisories
Because of our abundant wildlife and unique ecosystems, beach water advisories may be periodically issued for a short period of time. The Glynn County Department of Health and Department of Natural Resources regularly test water samples at each public beach access in the Golden Isles. If bacteria levels do not meet the Environmental Protection Agency's recommended standards, a beach advisory will be issued and the public will be alerted. If a beach advisory is issued, it does not mean the beach is closed. Beachgoers may continue to enjoy the beach, but swimming or wading in the water is not recommended. For more information or to see current advisories, if any, please visit Georgia Healthy Beaches.
Emergencies happen. Whether it's severe weather, missing person, fire, flood, or any incident where rapid and accurate notification is essential, we are prepared to help. Glynn County has instituted the CodeRED Emergency Notification System—an ultra-high-speed telephone communication service for emergency notifications. We encourage permanent and part-time residents to register their addresses with the system, and we urge our visitors to download and install the CodeRED Mobile Alert app on their smartphones. The app is available at no charge on Google Play and iTunes.  
Follow this link to register with CodeRed.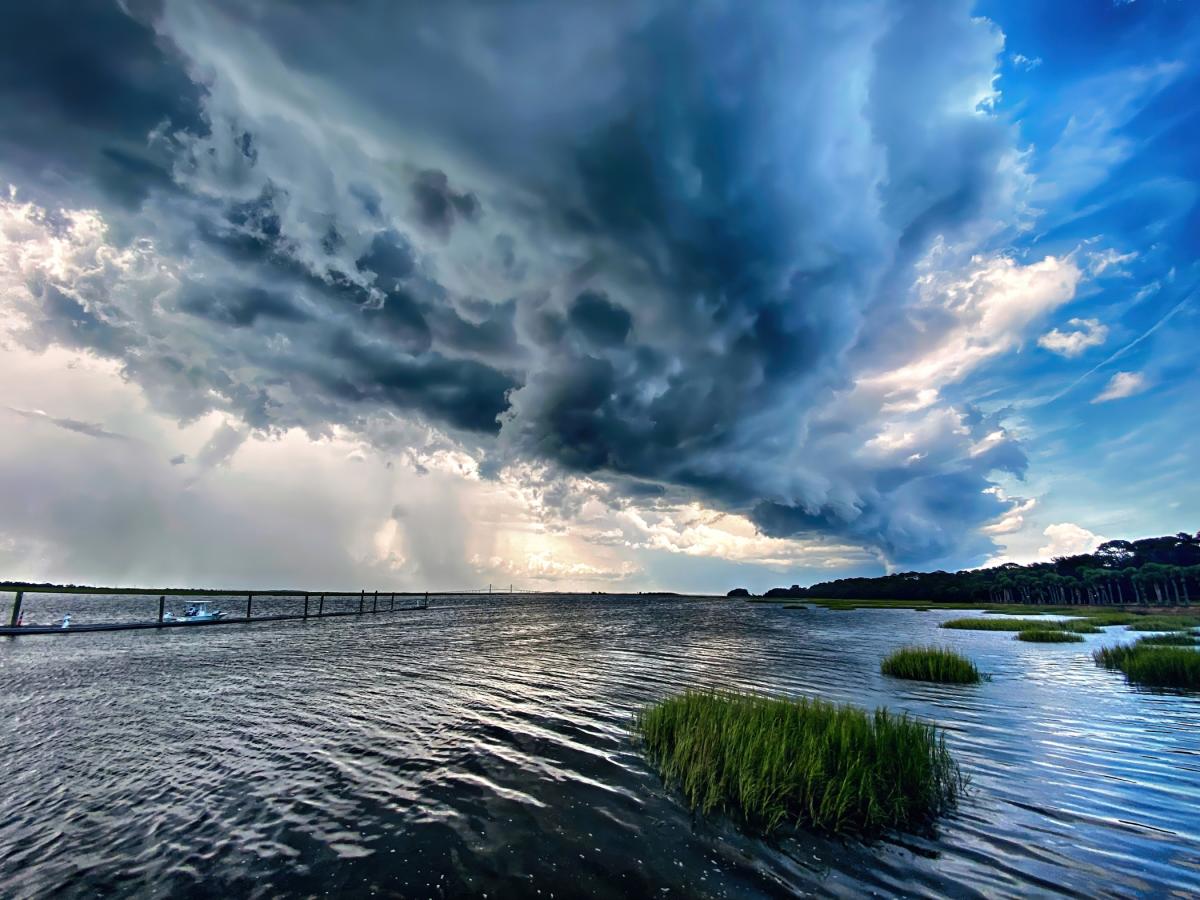 As a coastal community, the Golden Isles is subject to severe weather and the occasional tropical storm or hurricane.
To insure the safety of all our residents and visitors, we urge everyone in the community to monitor all available media for weather-related information, particularly during the Atlantic hurricane season from June 1 to November 30, and follow the advice of local safety authorities. For Glynn County's Emergency Advisory Radio System, tune your FM radio to 104.9.
Community Resources & More Information
Glynn County Weather Evacuation Zones Map
Glynn County Emergency Management Agency: The Glynn County Emergency Management Agency develops procedures to respond to man-made and natural disasters and prepares citizens to respond to those disasters and mitigate their impact.
CodeRED Emergency Notifications: Register for CodeRED notifications to receive emergency alerts specific to your county. Via CodeRED, users can chose the manner in which notifications are received—with options ranging from email and SMS to voice or mobile app push notifications. 
Nixel Emergency Notifications: Jekyll Island Authority uses Nixel to share up-to-date emergency information with residents and visitors. Please register to receive notifications and updates via email and text.
Ready Georgia: Ready Georgia is an initiative to prepare Georgians for disasters, by providing tool kits and guidance about important actions you can take to protect yourself and loved ones. Consult Ready Georgia resources for practical advice for creating evacuation plans, emergency plans for pets and more. 
Glynn County Emergency Management Dashboard: This dashboard includes:
An evacuation zone map to see evacuation routes and pinpoint the nearest evacuation centers within Glynn County. 
An interactive map outlining severe weather warnings and advisories.
A storm surge map with models to demonstrate the potential impact of storm surge in areas around Glynn County.
Power outage and storm damage maps that report on the most up to date information regarding outages and damage.
National Hurricane Center: The National Hurricane Center issues watches, warnings and forecasts about hazardous weather. Consult their website for realtime information about storms and educational resources.
National Weather Service Local Forecast: This website offers local weather reports and detailed forecast information for the Golden Isles.
Georgia Power Outage Updates: Register for outage updates on the Georgia Power website. Users receive customized alerts via text, email or phone call. 
Several local emergency agencies are stationed throughout the Golden Isles to assist you in the event of an emergency. If you are in an emergency situation, please call 911. 
Learn more about local emergency operations in the links below:
Glynn County Police Department
Glynn County Emergency Medical Services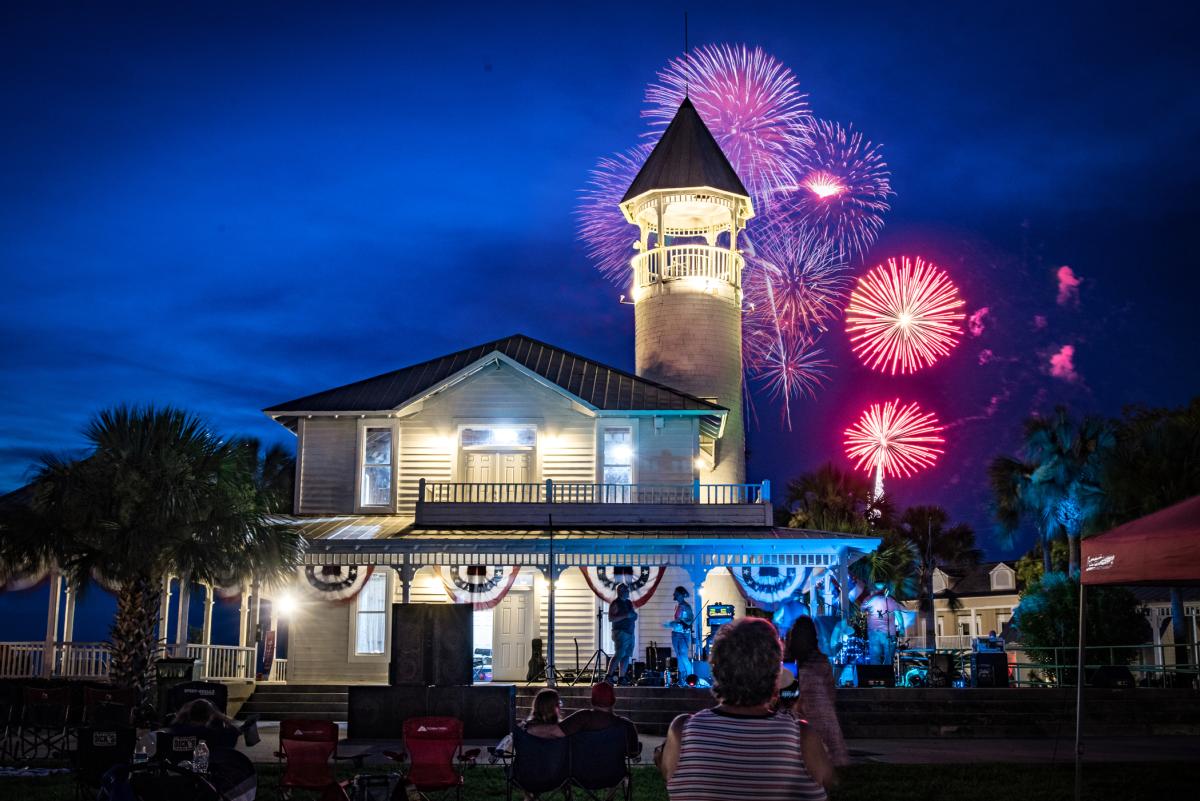 Ensuring the safety of our visitors and residents is of the utmost importance to the Golden Isles CVB. Local law enforcement has established the following guidelines to help guarantee the safety of those in Glynn County.
In a nutshell:
Fireworks are not permitted on Glynn County beaches (Ordinance code 2-26-4[i]). This includes St. Simons Island, Jekyll Island, Sea Island and Little St. Simons Island.
Fireworks are prohibited from any park, historic site or recreational area. This includes Jekyll Island.
In a nutshell:
Please obey all traffic laws.
All golf carts must be street legal and meet these specifications outlined by the Glynn County Police Department. Golf carts must have headlamps, taillamps, reflectors, a horn, safety warning labels and a rear-view mirror.
Golf carts (PTVs) can only be driven on streets where the posted speed is 25mph or less. They are not permitted on sidewalks. 
Low Speed Vehicles (LSVs) can only be driven on streets where the posted speed is 35mph or less. 
Public Parks, Beaches and Boat Safety
In a nutshell:
No open fires are allowed on Glynn County beaches. If you would like to grill out, public grills are available at Massengale Park and Neptune Park. Both are located adjacent to beaches and also provide picnic tables, trashcans and plenty of shade!
Please properly dispose of your trash. Trashcans are available at all public beaches. Litter is not tolerated, and is a punishable offense. 
Please do not remove any live animals, including shells with crabs and sand dollars. Refrain from tampering with nesting turtles or hatchlings. 
Glass containers are not allowed on our beaches