Golden Isles Weather
Find local weather conditions and tide information to help you plan your stay in the Golden Isles. If you have never been to coastal Georgia, read about our local climate below and then review tide charts for St. Simons Island, Jekyll Island, Sea Island, Little St. Simons Island and Brunswick. 

Weather in the Golden Isles is mild, as gentle ocean breezes help to warm our winters and cool our summers. The annual rainfall is approximately 50 inches and the area sees an average temperature of 68º F. Typically, July and August are the warmest months and December and January the coolest. With pleasant conditions throughout each season, we host visitors all year round.
Summer
In the warm summer months, temperatures rise into the high 80s. Typically temperatures will be highest in July, when they could reach the low 90s. Naturally, during these hot months, visitors enjoy all things beaches—from strolling the unspoiled seven-mile beach on St. Simons Island to snapping the perfect picture at Driftwood Beach (view our beach webcam and imagine yourself relaxing on our shores!). Summer also offers opportunities to kayak and paddleboard through our many waterways, or bike around charming neighborhoods. Make sure to pack plenty of water and sunscreen, and wear a hat throughout your summer visit—especially in the middle of the day when the sun is the most intense. And while many of our beaches and outdoor activities are dog-friendly, we encourage dog owners and handlers to be mindful of the heat. Always make sure your four-legged friends have plenty of water during the hot summer months.
With pleasant summer weather, you'll also find many outdoor events hosted throughout the Golden Isles. Signature summer events include our Summertime Concert Series and Independence Day celebrations which are not to be missed!
Winter
Winter in the Golden Isles is also a treat. Temperatures cool down into the 60s during the daytime in December, January and February. Overnight lows creep into the 40s, though freezing temperatures and snowfall are extremely rare. We recommend packing layers for your winter trip to the Golden Isles, as the temperature can sway quite a bit between midday and into the evening hours. Winter visitors enjoy signature holiday events like our Mistletoe Market on St. Simons Island and the popular Jekyll Island Tree Lighting Festival. Culinary traditions in winter are also not to be missed—reserve a table at the Jekyll Island Club Resort's Holiday High Tea if you're visiting in December.
Spring & Fall
Spring and fall offer comfortable weather in the Golden Isles. Typically, March highs will remain in the high 60s, with temperatures rising into the 70s during April and the low 80s in May. In late September and October, visitors will enjoy temperatures in the high 70s. In November, you're more likely to see highs in the low 70s. With comfortable weather, fall and spring are great times to enjoy both indoor and outdoor attractions in the Golden Isles. Visitors love learning about local critters at the Georgia Sea Turtle Center (May is the start of sea turtle nesting season in the area!) and diving into the area's historic past at Fort Frederica National Monument.
Current Conditions and Weather Forecast provided by Weather Underground. For full information and a detailed forecast, please visit their page. For information about severe weather alerts, visit our emergency communications page. Tide charts and tide information can be found on our Tide Chart page.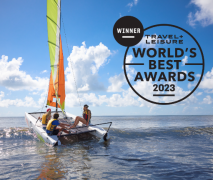 World's Best Islands
The Golden Isles has been named #1 World's Best Islands in the U.S. by Travel + Leisure. Discover what makes the Golden Isles the best of the best.
Read More