Guide to Golden Isles Beaches
A Beach for Every Mood
Why do you go to the beach? Is it to soak in the sun and feel the sand between your toes? Is it to play in the surf and feel like a kid again? Or are you more of a naturalist beach goer, who feels happiest where the land meets the sea?
No matter your reason for loving the beach, you'll find that the beaches of the Golden Isles are pretty close to perfect. To help you find the right beach to fit your mood, we've created this complete guide to public beaches, broken down by island. When you've found the perfect beach to visit, familiarize yourself with recommended beach safety before heading out for the day.
Jekyll Island Beaches
From the air, it looks as though the entire eastern edge of Jekyll Island is caressed by one long, unbroken beach. It is. However, from north to south, the character of this sandy strip changes enough to warrant naming individual stretches on their own.
Driftwood Beach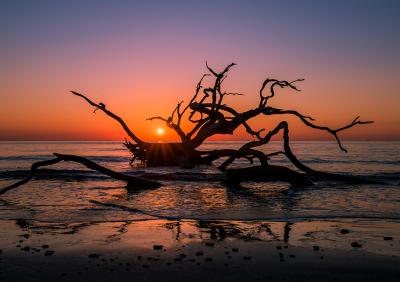 Location: Northern end of Jekyll Island
Ideal for: Nature lovers and photographers
In a nutshell: If Driftwood Beach isn't the most famous of the Golden Isles' beaches, it is easily the most photographed. Decorated with weathered, naturally sculpted driftwood, this serene stretch of sand is amazing at sunrise.
Great Dunes Park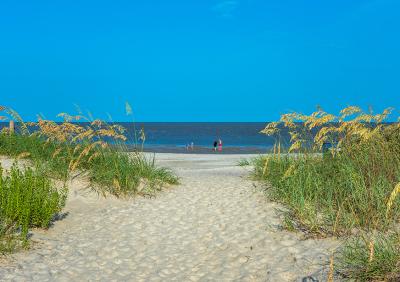 Location: Middle of the island, where Ben Fortson Pkwy. meets N. Beachview Dr.
Ideal for: Pretty much everyone, including loggerhead sea turtles
In a nutshell: Great Dunes Park is the epicenter of Jekyll Island's beach scene. With ample access to the beach and trails, it makes for an excellent hub. The Georgia Sea Turtle Center also uses the beach here to release rehabilitated loggerhead sea turtles.
Glory Beach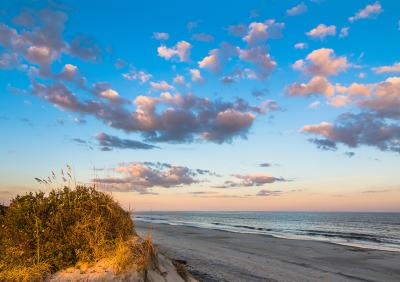 Location: Off the Glory Beach Boardwalk, southern end of the island
Ideal for: Wildlife watchers and movie buffs
In a nutshell: Used as the location for the penultimate scene in the 1989 Civil War classic Glory, Glory Beach is home to several migratory birds and other wildlife. And the views seem to stretch on forever.
St. Andrews Beach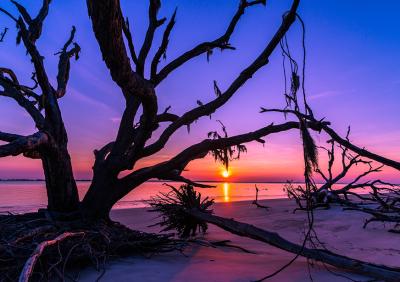 Location: St. Andrews Picnic area on the southwest-facing side of the island
Ideal for: Romantics seeking a sunset picnic
In a nutshell: The only west-facing beach on Jekyll Island, St. Andrews Beach overlooks Jekyll Sound and is a delightful place to end your day.
St. Simons Island Beaches
Beach activity on St. Simons Island revolves around East Beach and three different points to access its golden sand.
East Beach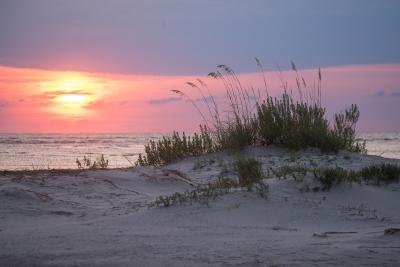 Location: Wrapping around the southeastern edge of the island
Ideal for: Long walks, bike rides, shelling and any other beach activity you can dream of. 
In a nutshell: See individual summaries below.
Gould's Inlet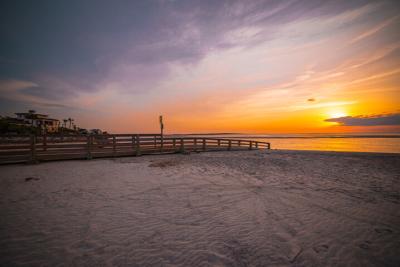 Location: Northern-most East Beach access point
Ideal for: Birdwatching and a little fishing
In a nutshell: With limited parking and less sand than other access points, Gould's Inlet is a great place to watch for migratory birds and go fishing. You can also launch a sea kayak from here to explore the inlet.
Coast Guard Station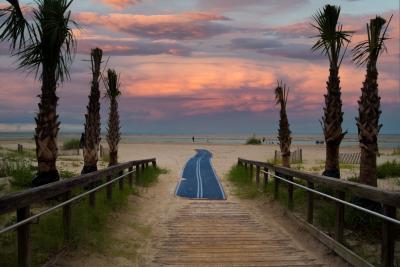 Location: At the Historic Coast Guard Station on First St.
Ideal for: The quickest and easiest access to sand and sun
In a nutshell: Taking its name from the adjacent historic building now occupied by the World War II Home Front Museum, Coast Guard Station offers the most parking on the island, and the best access to the entirety of East Beach. Accessibility mat assists families and individuals across soft sand.
Massengale Park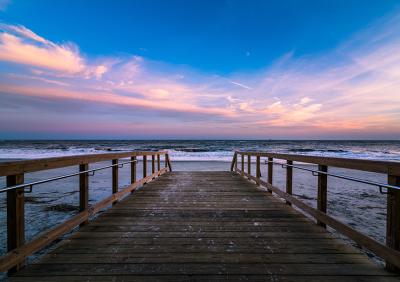 Location: 1350 Ocean Blvd.
Ideal for: Families looking for sun, and then a little shade for the kiddos to play in
In a nutshell: With its tall stands of trees and a super-fun playground, Massengale Park is a popular access point to East Beach for families.
 
Beaches on Little St. Simons Island and Sea Island
The beaches on Little St. Simons Island and Sea Island will have even the most experienced beach-goers swooning. Draped with gilded sand and backed by elegant dunes, they are as photogenic as beaches come.
They are, however, mostly private, with their access restricted to resort guests or those joining a naturalist tour. Here's the lowdown:
Little St. Simons Island Beach
Access to Little St. Simons Island's beach is limited to either guests of The Lodge on Little St. Simons Island or those who join the Lodge's guided day trips. These tours include private boat transportation, a guided naturalist walk, catered lunch and a chilled-out afternoon strolling this pristine stretch of sand.
Sea Island Beach
Access to Sea Island's beach is limited to guests of The Cloister, The Lodge at Sea Island or The Inn at Sea Island, a trio of resorts that have consistently garnered awards and acclaim, such as Travel + Leisure's "World's Best" awards.
Beach Wildlife
It's important that visitors are mindful of beach wildlife as they explore the Golden Isles. The Georgia Barrier Islands are internationally recognized as important for shorebirds, some of which are rare and threatened. The Georgia Shorebird Conservation Initiative recommends that guests don't disturb nesting birds, do their best to stay on the wet sand during the summer, and leave dogs at home or keep them leashed. 
Individuals interested in learning more about tools and best practices when it comes to water-based tourism and the conservation of wildlife on the coasts may complete the CARE Certification program.