Webcams
Imagine yourself right here in the Golden Isles! Enjoy beautiful beachy ocean views and incredible sunrises and sunsets from the St. Simons Island Beach Club. Spot wildlife nests, and stunning coastal views of the river and marsh at Epworth by the Sea. 
You can also imagine yourself on Jekyll Island at the Holiday Inn Resort and take in the sweeping views of Great Dunes Beach as you pan to the north toward St. Simons Island and south toward neighboring Little Cumberland Island. The St. Simons Island Pier Village webcam, provided by the Golden Isles CVB, allows you to see the high definition, panoramic views of St. Simons Island from anywhere and at any time. Thanks to the folks at Silver Bluff Brewing Company, you can take a peek around the beloved St. Simons Pier, Mallery Street, and the St. Simons Lighthouse.
When you're ready to make your daydreams a reality, we're here to help you plan your trip. See you soon!
St. Simons Island Beach Club Webcam
Epworth by the Sea Webcam
St. Simons Island Pier Village Webcam
*The Pier Village webcam is currently down. We appreciate your patience as we work to get our beloved webcam back on.
Discover the Golden Isles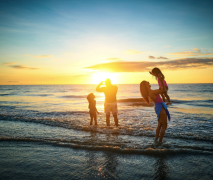 Specials & Packages
Save on your next visit to the Golden Isles with these specials and packages from hotels, resorts and restaurants.
View More