Things to Do in the Golden Isles
Jekyll Island, St. Simons Island, Brunswick, Sea Island & Little St. Simons Island
Although Georgia's beaches are some of the biggest attractions for visitors to the Golden Isles, there are numerous other activities and events to enjoy during your stay in St. Simons Island, Jekyll Island, Sea Island, Little St. Simons Island or Brunswick. The temperate climate and beautiful scenic backdrop provide ample opportunities to enjoy the outdoors. Quaint shopping boutiques, first-class dining experiences, unique attractions, and historical tours of the islands and mainland provide one-of-a-kind experiences that will make your trip unforgettable.
Read on to learn more about things to do in the Golden Isles. Or review our trip ideas and itineraries for help planning your next getaway.
There are many different activities in the Golden Isles that allow visitors to take advantage of the area's exceptional beauty. From horseback riding to paddleboarding, kayaking, attending signature annual events, and more—you can find adventure, relaxation, and experiences that are uniquely Golden Isles. Read more about activities in the Golden Isles. 
You can experience the rich history of the Golden Isles first-hand by visiting historic attractions, museums, theaters and other can't-miss landmarks. Make sure your trip includes a few stops at our Golden Isles attractions.
Whether you're looking for a bit of exercise to start your day or a full day of pampering, our health and day spas in the Golden Isles offer the perfect retreat. Indulge in a soothing massage, treat yourself to a fresh haircut, or join a group fitness class to rejuvenate your body and soul. Find spas in the Golden Isles. 
Take a piece of the Golden Isles home with you. Visit our quaint shops, outdoor markets, or designer label-filled stores for a shopping experience like no other. Art galleries and antique stores also offer a chance to find a unique souvenir or a perfect piece of home decor. For the more practical shoppers, local outfitters and surf shops provide equipment and knowledge for your adventures in the Golden Isles. See stores in the Golden Isles.
Let our guides teach you about all the Golden Isles has to offer with an educational nature tour, spooky ghost tour, or something in between. Hear from the experts and let the Golden Isles come to life before your own eyes. View guided tours in the Golden Isles.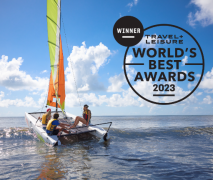 World's Best Islands
The Golden Isles has been named #1 World's Best Islands in the U.S. by Travel + Leisure. Discover what makes the Golden Isles the best of the best.
Read More