Vacation Rentals and Cottages
The vast selection of vacation rentals across the Golden Isles makes it easy to reconnect with friends or families in both small and large groups for a stress-free and careless vacation, yet you'll still feel like you're at home even when you're away from home. Make memories and cherish the special time you have together by discovering one of our vacation rental properties.  
Vacation Rentals and Cottages on St. Simons Island 
St. Simons Island is brimful with Vacation Rental properties ranging from oceanfront to pet-friendly residences, with private kitchens and separate living, dining, and sleeping areas. Select from a private home or condo, or a residence at a partner resort with Hodnett Cooper Vacation Rentals. Or discover the variety of beautifully designed and curated homes, condos, and townhomes in the most sought-after locations on the island with Lilmar Properties. 
Vacation Rentals and Cottages on Jekyll Island 
Find the perfect vacation rental with easy beach access and spectacular marsh views on Jekyll Island. Jekyll Realty offers a selection of furnished vacation rental properties, ranging in size and location. You can also stay in the of the beautiful Jekyll Island Cottages, built along the island's signature stretch of shore with beachfront access, a clubhouse and pool, and various other nearby local attractions. 
Vacation Rentals and Cottages in Brunswick 
If you plan on island hopping, staying on the mainland of Brunswick may be a desirable option. Discover an assortment of rental properties in Brunswick with Parker-Kaufman Realty. You'll also find a selection of fully-furnished rentals providing a carefree stay in the Golden Isles with Georgia Coast Realty. 
Vacation Rentals and Cottages on Sea Island   
Sea Island offers a variety of cottage rentals, perfect for reuniting groups of friends and families. Cottage rentals at Sea Island offer spacious and convenient accommodations, whether you're wanting to stay along the ocean or with sweeping views of the vast salt marsh and tidal creeks. Experience the privacy of a personal home, complete with access to Sea Island's dining, golf, tennis, spa, and the Beach Club. 
Hotels and Accommodations
Whether you're planning to visit the Golden Isles with a group of friends, on a bachelorette trip or with your entire extended family (plus some!), you'll be glad to know there are literally hundreds of vacation rentals on St. Simons Island and…
Hotels and Accommodations
Did you know there are more than 100 places to stay in the Golden Isles? With so many options, it may be daunting to pick the one you think you'll enjoy most. If you're looking for a luxurious room…
Hotels and Accommodations
No trip to the island is complete without the perfect place to stay! An abundance of options for St. Simons Island hotels that will satisfy all your wants and needs makes it difficult to decide which accommodations are right for you. From beachfront hotels…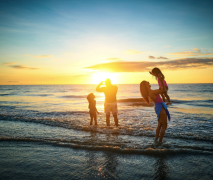 Specials & Packages
Save on your next visit to the Golden Isles with these specials and packages from hotels, resorts and restaurants.
View More