Golden Isles Golf
From the mainland to the islands lie 189 holes of golf on some of the country's most spectacular and widely acclaimed courses. Lush natural beauty, delightfully inviting year-round weather and a wide range of accommodations — from name brand hotel chains to luxury resorts — all combine to make golf in the Golden Isles an experience to savor again and again. Hit the links at some of the top golf courses in Georgia on your next trip to the Golden Isles. 
Golden Isles Golf History
Whether for competition or relaxation, Golden Isles Golf is a distinguished tradition. Many golfers are aware of the exceptional golf courses found on the Georgia coast but, some golfers might be surprised to learn that Golden Isles golf and its competitions have a long, celebrated tradition that goes back more than 100 years and includes some of the greatest names in golf.
The Golden Isles' first official recognition as a golf venue came in 1894 when the Jekyll Island Golf Club was registered with the United States Golf Association. The millionaire members of the Jekyll Island Club built the area's first golf course in 1898.
Accounts of the day note that the course was "absolutely flat with sand greens" and caddies used mats to drag and even up the green after play was completed on a hole. USGA records credit the architecture to Willie Dunn, Jr., a Scot who was close friends with John D. Rockefeller and W.K. Vanderbilt, the latter an original member of the Club.  The exact layout of the course is unknown, though one account said, "It wasn't even the quality of a cow pasture." A "new and improved" course, designed by Donald J. Ross, was built in 1910 on land now occupied by Jekyll Island's Oleander course.
The Golden Isles received a big boost in prominence as a vacation destination in 1926 when Howard Coffin bought Sea Island and the old Retreat Plantation on St. Simons Island. Coffin's ambitious plan called for the transformation of Sea Island into an elegant playground for his wealthy and sophisticated contemporaries.
He chose the venerable Walter Travis to design and construct the Plantation Course, which opened to much acclaim in 1927. That auspicious beginning put Sea Island on the fast track toward becoming a world-class resort and golf destination.
Not to be outdone, the members of the Jekyll Island Club commissioned Travis to build a course for them. Opened in 1928, the remnants of that course comprise Jekyll Island's historic Great Dunes course.
These courses established a Golden Isles legacy of great golf courses conceived by many of the world's greatest course designers. Colt and Alison. Dick Wilson. Joe Lee. Rees Jones. Davis Love III. Tom Fazio. Mark Bennett. Clyde Johnston. All have left their mark with challenging layouts from the mainland to the barrier islands.
Build great golf courses and great golfers will come to challenge them. It wasn't long before the challengers arrived. Bobby Jones shot the Sea Island Plantation course record of 67 in 1930. His record stood for 28 years until Sam Snead bested it with a 63. Their names are among the scores of well-known professional and amateur golfers from around the world who have been drawn to compete in state, national and international tournaments in the Golden Isles.
Among the better-known international golf events that have taken place in the Golden Isles are the UBS Warburg Cup, a senior event that pitted a U.S. team led by Arnold Palmer and an international team led by Gary Player, the Walker Cup, and the London Daily Telegraph Junior Championship.  National events have included USGA and LPGA championships as well as the U.S. Kids Golf World Championship.
In October 2010 a new PGA TOUR Fall Series event, The RSM Classic, brought professional golfers from around the nation to compete on the Seaside Course at Sea Island Golf Club. The first ten years of this annual golf tournament have received accolades from golf professionals and spectators and has quickly become a beloved fall tradition in the Golden Isles.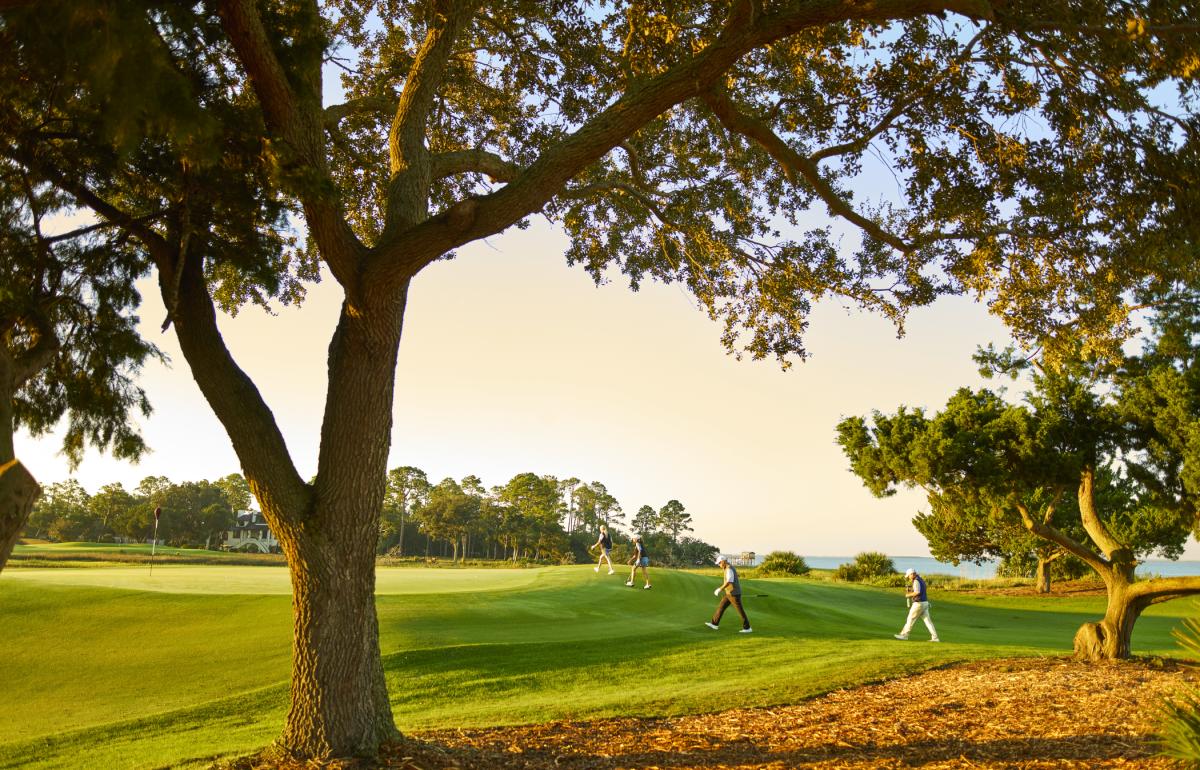 Best Golf Courses in the Golden Isles 
The Golden Isles offers classic 18-hole golf, 9-hole courses and links courses for your enjoyment. Learn more about golf in the Golden Isles in our insider's guides: Four Quintessential Golf Experiences in the Golden Isles and Top 5 Golf Experiences on St. Simons Island. Or check out one of the top courses in the area, listed below:
Brunswick Country Club 
Address: 4041 Darien Highway, Brunswick, GA 31525
Phone: (912) 264-4377
Course Architect: Donald Ross
Privacy: Private
This 18-hole course went through a 12-month restoration in 2006, which returned the greens to their original size, shape and elevation and revealed the original black soil layer that was used to build the course almost 70 years prior. The course is now home to the annual Golden Isles Invitational Tournament, and considered one of the top courses in Georgia. 
Heritage Oaks Golf Club 
Address: 126 Clipper Bay Road, Brunswick, GA 31523
Phone: (912) 280-9525
Course Architect: Mike Young
Privacy: Semi-private
This par 72 course is located within a semi-private golf club. The club also offers golf lessons with PGA teaching professionals, an on-site golf shop and a grill with refreshments and food. 
Jekyll Island Golf Club
Address: 322 Captain Wylly Road, Jekyll Island, GA 31527
Phone: (912) 635-2368
Course Architect: Clyde Johnson (Pine Lakes), Joe Lee (Indian Mound), Dick Wilson (Oleander), Walter Travis (Great Dunes)
Privacy: Public
Georgia's largest public golf course, the Jekyll Island Golf Club has three 18-hole golf courses (Pine Lakes, Indian Mound, and Oleander) plus a the 9-hole Great Dunes course. Instruction is offered on-site and Jekyll Island Golf Club can accommodate private events like wedding parties and corporate outings.
Sea Island Golf Club
Address: 100 Retreat Road, St. Simons Island, GA 31522
Phone: (912) 638-3361
Course Architect: Tom Fazio (Seaside), Walter Travis (Plantation), Davis Love III and Mark Love (Retreat)
Privacy: Private. Accessible to members and hotel guests only.
Home to multiple championship courses (Seaside, Plantation and Retreat) teeing areas and a 17,000-square-foot, state-of-the-art Golf Performance Center, Sea Island Golf Club is the site of the PGA Tour's annual RSM Classic. The courses at Sea Island are open to members of the Sea Island Club and guests of The Cloister or The Lodge at Sea Island.
Sea Palms Golf Club
Address: 515 North Windward Drive, St. Simons Island, GA 31522
Phone: (912) 638-3351
Course Architect: George Cobb
Privacy: Public
At Sea Palms, you'll find a newly reconditioned 18-hole championship golf course and a new state-of-the-art golf practice facility. Elsewhere on the property, the conveniently located Sea Marsh Suites (opening soon) will house golfers in beautiful suites overlooking the Marshes of Glynn and Black Banks River.
The King and Prince Golf Course
Address: 100 Tabbystone, St. Simons Island, GA 31522
Phone: (912) 634-0255
Course Architect: Joe Lee (later restored by Billy Fuller)
Privacy: Public
This 18-hole golf course is owned and operated by The King and Prince Beach & Golf Resort—one of the top places to stay on St. Simons Island. The course features four signature holes, carved from small coastal marsh islands and accessed by elevated cart bridges. The property also offers a clubhouse, as well as a pro shop, practice facility and golf lessons.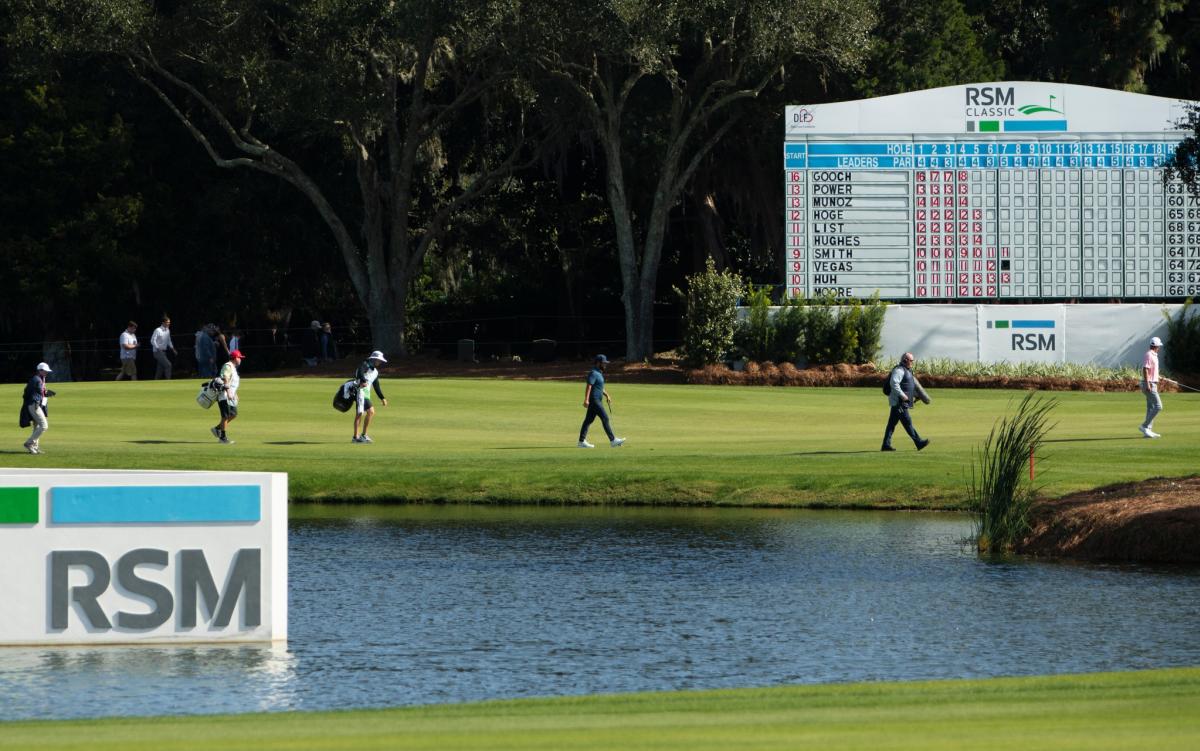 The RSM Classic
Watch the PGA TOUR's best compete at The RSM Classic on the Seaside Course at Sea Island Golf Club on St. Simons Island. Held each year in mid-November, the tournament is hosted by 2017 World Golf Hall of Fame Inductee Davis Love III. The tournament is a beloved annual event in the area, with family-friendly events throughout the week leading up to the tournament. Visit the Golden Isles for the RSM Classic and enjoy concerts, kid-friendly activities, and world-class golf.
Golf Experiences for Kids
Looking for a golf outing that's fit for the kiddos? The Neptune Park Fun Zone on St. Simons Island features an 18-hole miniature golf course. Additionally, the The King and Prince Beach & Golf Resort offers a Junior Golf Program over the summer months. Call the resort for the most up to date information about pricing and program dates.