Day Trips and Overnight Trips to Little St. Simons Island
Little St. Simons Island is made up of 11,000 acres of pristine landscapes and natural wonders. Spend a day exploring the island or treat yourself to an unforgettable overnight getaway.
Day Trips
If you're looking for wildlife, isolated beaches, maritime forests, and vast salt marshes, then this is the place for you. Book a day trip to the island through The Lodge on Little St. Simons Island and enjoy a day of guided adventures. Day-trippers have the opportunity to team up with an experienced naturalist and explore centuries-old maritime forests and diverse wetland ecosystems, which are home to alligators, armadillos, deer, dolphins, and more than 330 species of birds. After a morning of exploration, enjoy a hand-crafted picnic lunch featuring farm-to-table ingredients and embark on an unforgettable trip to the island's seven-mile strand of undeveloped sand dunes and beaches along the Atlantic Ocean.  
Reservations and Logistics
Day trip excursions leave from the Hampton River Marina on the north end of St. Simons Island at 10:30 am and return by 4:00 pm. Little St. Simons Island is just a 15-minute boat ride from St. Simons Island.  
Day trips are $200 per person and reservations are required. Book now.
What to Bring
Pack light and dress comfortably depending on the day's weather. For a day trip to Little St. Simons Island, bring or wear a bathing suit, long sleeve shirt, pants, and comfortable shoes that can get a little dirty. Covering up will protect you from mosquitoes when the weather is warm. Other items you may want to bring include a hat, sunglasses, and a camera.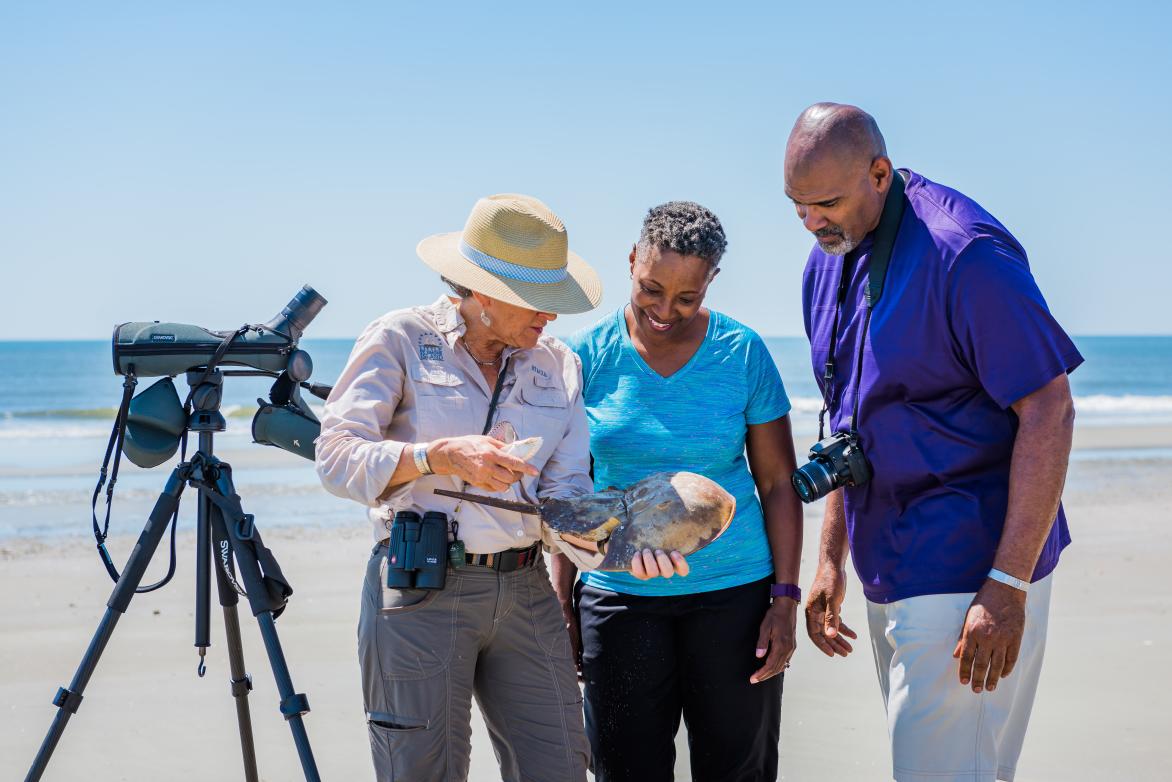 Overnight Trips
Turn your day trip into an overnight getaway! Reserve a room at The Lodge on Little St. Simons Island—a charming, award-winning resort made up of guest rooms and cottages, housing no more than 32 overnight guests at a time. Guests can reserve a single room or an entire cottage. Visitors also have the option to reserve the entire island, which is perfect for weddings, family reunions, and corporate retreats.  
Accommodations are all-inclusive, offering guests boat transfers to and from the island, three prepared seed-to-table meals daily, and access to a variety of recreational activities including beach walks and shelling, bicycling, hiking, bird watching, kayaking, natural history ventures and surf and creek fishing. 
To reserve an overnight trip to Little St. Simons Island, call 912-638-7472. 
Little St. Simons Island Photo Gallery