The largest island in the Golden Isles, St. Simons Island, is known for its beautiful beaches, quaint shops, and picturesque scenery. But it's also extremely well known for its abundance of delicious restaurants, both new and tried-and-true, that keep visitors and locals coming back for seconds again and again. With more than 70 restaurants on St. Simons Island alone, it can be challenging to narrow down your choices. Our guide to the top St. Simons Island restaurants breaks down several of the best places to eat on St. Simons.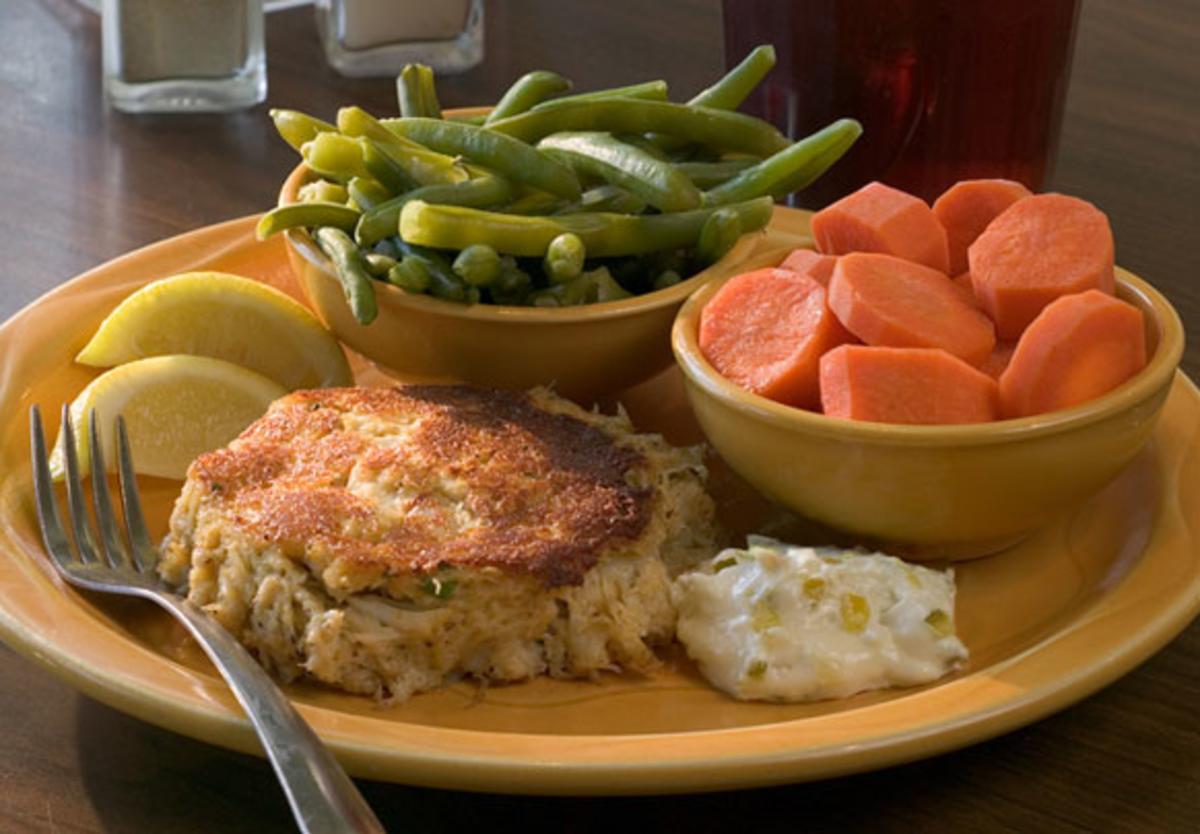 Barbara Jean's Restaurant
Known For: Barbara Jean's has been a long-time staple on St. Simons Island for many reasons. Whether you're in search of hearty helpings of your favorite southern comfort foods or you simply long for the charm and feel of a small-town casual restaurant, Barbara Jean's will never disappoint. Visitors and locals alike rave over the Fresh Crab Cakes, She Crab Soup, and their decadent dessert called "Chocolate Stuff." Don't ask questions, just order it. Trust us.
Where to Find Barbara Jean's: Pier Village, 214 Mallery Street | 912-634-6500 | barbarajeans.com

Mallery Street Cafe
Known For: Mallery Street Cafe serves locals and visitors all their favorite hearty breakfast and lunch classics. Whether you are choosing from the homemade pancakes, eggs florentine, open-faced biscuits with sawmill gravy, or a specialty omelet, you won't be disappointed. Delicious and fresh specialty soups and sandwiches are also offered. We promise you will leave satisfied and wanting to return!
Where to Mallery Street Cafe: Pier Village, 408 Mallery Street | 912-634-7772 | mallerystreetcafe.net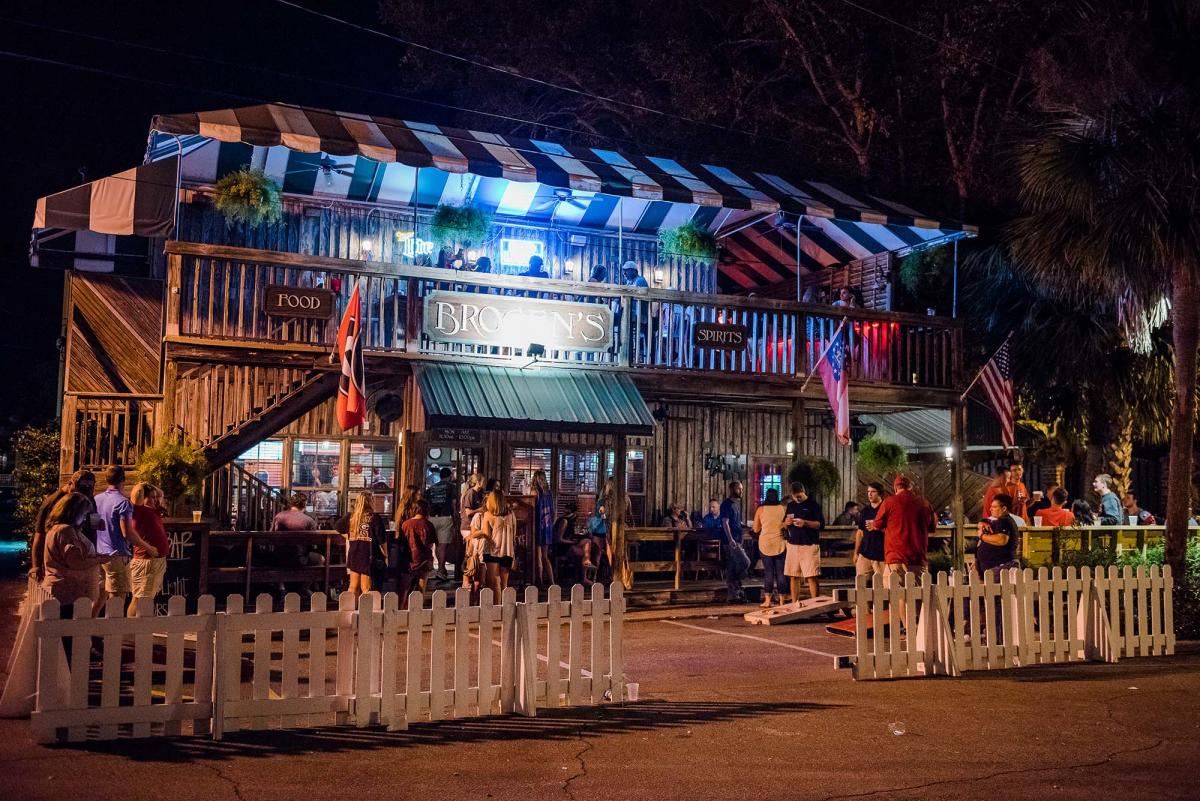 Brogen's South
Known For: Brogen's South is an iconic restaurant on St. Simons with its laid-back atmosphere, two-story dining porch, and mouthwatering burgers. It's a popular gathering spot for sports fans, especially during football season when you can hear the UGA fight song and get lost among a sea of red and black any given Saturday in the fall. Favorite dishes include their Bacon-Cheddar Burger, Grilled Chicken Swiss Sandwich, and Chicken Wings on game days!
Where to Find Brogen's South: Pier Village, 200 Pier Alley | 912-638-1660 | brogens.com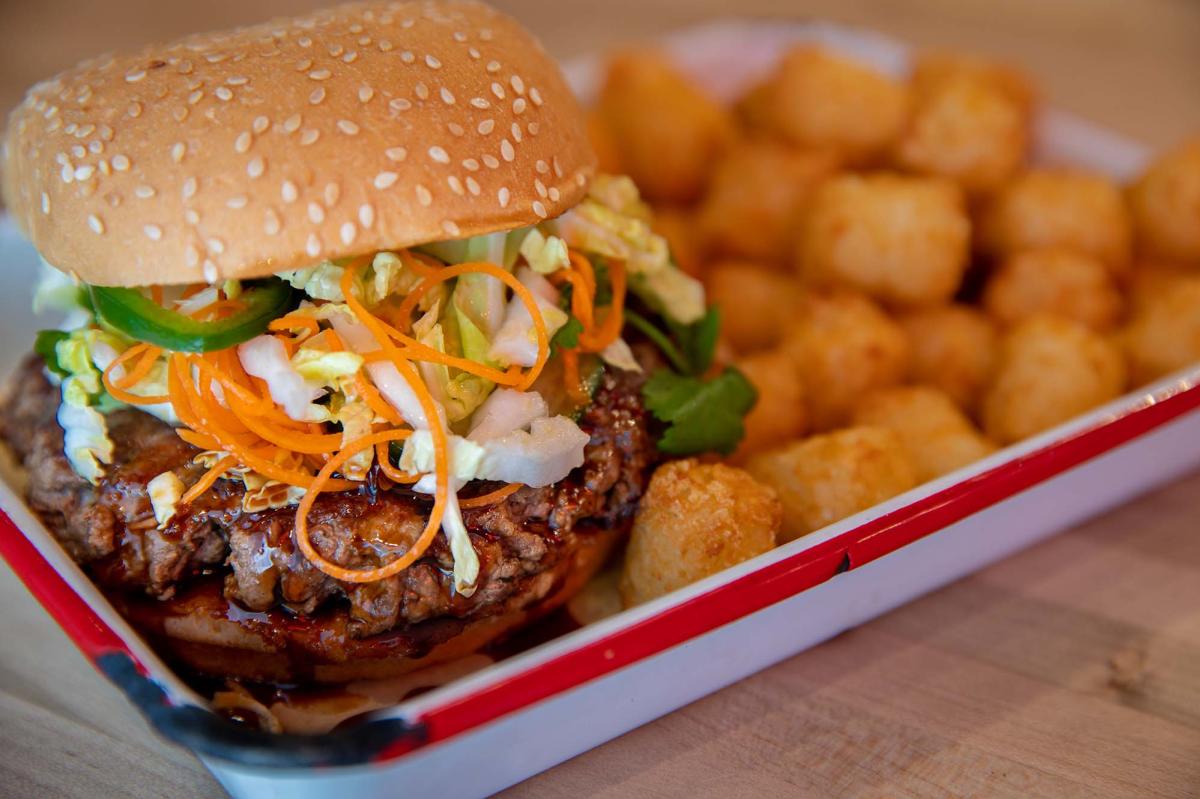 Certified Burgers and Beverage
Known For: Burgers, of course! When dining at Certified, opt for a classic beef patty burger or take your taste buds on an adventure with destination-inspired burgers like the Oaxaca Burger made with a chorizo patty, fresh avocado, jalapeno crema, cilantro, Oaxaca cheese, and pickled red onions. Not into burgers? You'll find plenty on the menu, including a veggie burger, fish sandwich, and hearty salads. Top it all off with handmade shakes, floats, or traditional egg creams. 
Where to Find Certified Burgers: 44 Midway Square | 912-268-4330 | certifiedburgersandbeverage.com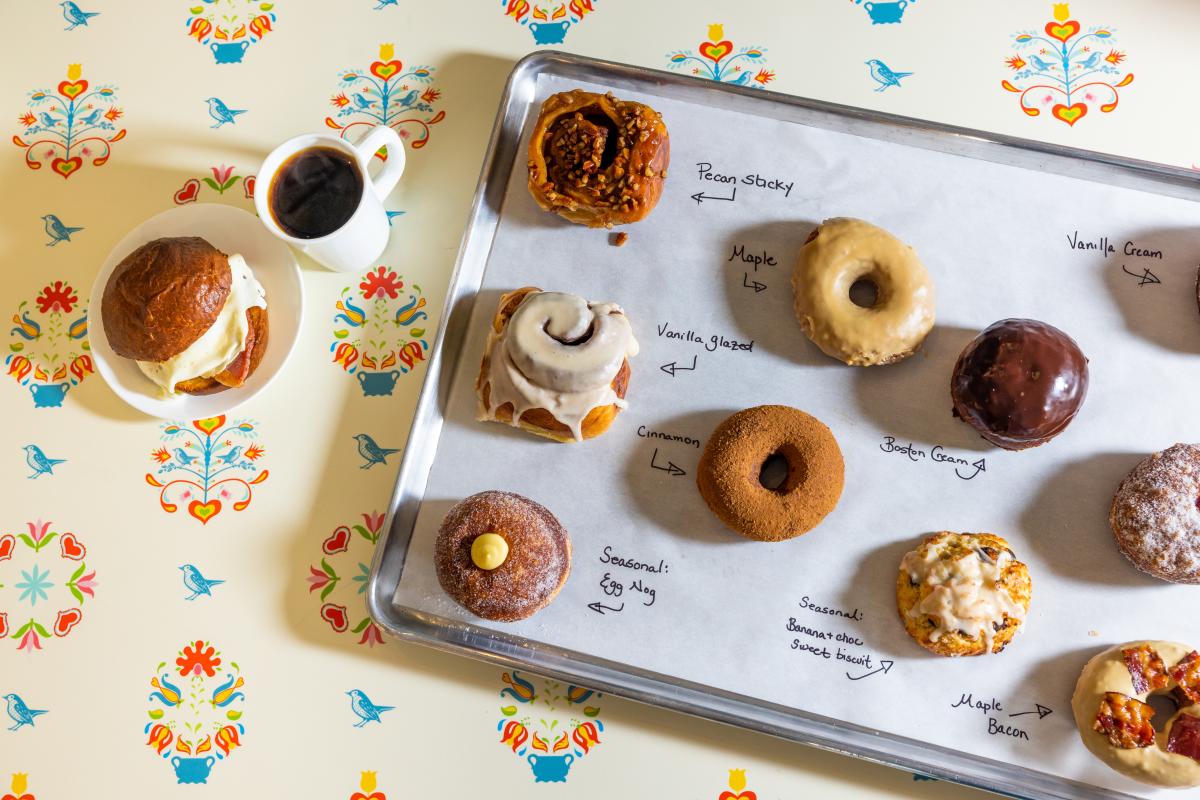 Dulce Dough
Known For: Unique, made-fresh-daily donuts! Whether you're on bike, on foot, or just in search of a pick-me-up, head into Dulce Dough Wednesdays-Sundays to enjoy handmade donuts, cakes, biscuits and so much more. Opt for traditional classics like signature brioche or out-of-the-box bismarcks. If you're visiting the area during the holidays, stock up with seasonal favorites like gingerbread cookies, take-and-bake cinnamon rolls and a variety of holiday pies. 
Where to Find Dulce Dough: 1624 Frederica Road | 912-771-8487 | dulcedoughbakeryanddonuts.square.site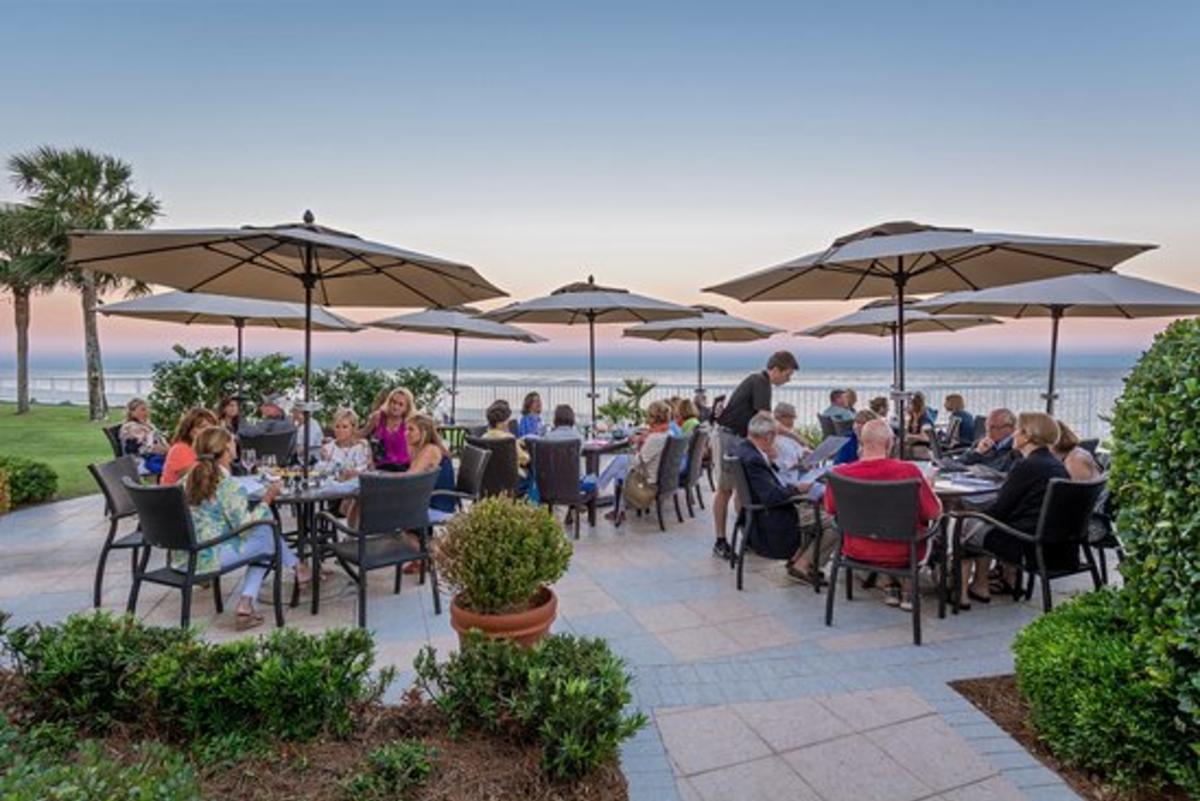 ECHO
Known For: Gorgeous views of the Atlantic Ocean! One of the only waterfront restaurants on St. Simons, ECHO can be found within the iconic King and Prince Resort. Sit inside, outside, or at the bar for breakfast, lunch, or dinner. Creative dishes include Breakfast Shrimp & Grits, Seafood Mac & Cheese, and the Coastal Cobb Salad. Treat yourself to a hand-crafted cocktail and take in the views surrounding the restaurant.
Where to Find ECHO: King and Prince Resort, 101 Downing Street | 912-638-3631 | echostsimons.com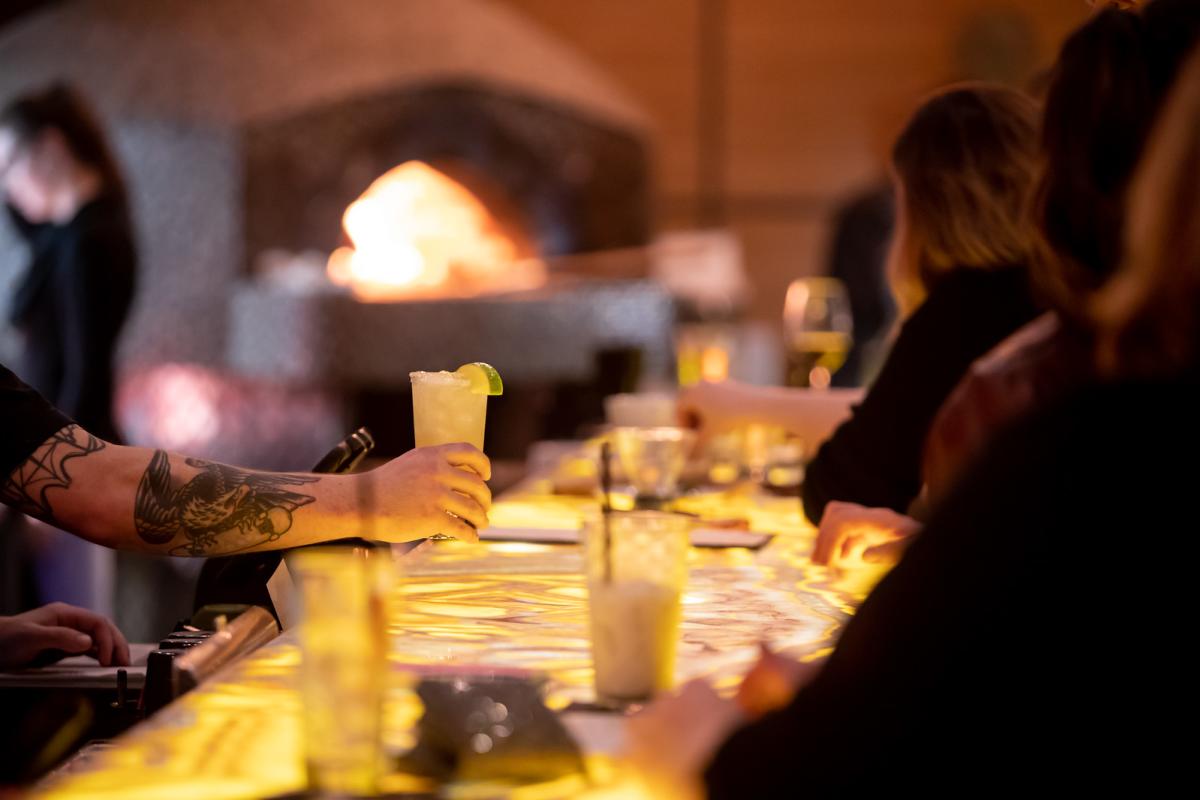 EMBER
Known For: Their locally-crafted wood fired oven serving up enhanced flavors, beautiful charring, and delicate smoky wood-kissed elements in each of their dishes. Stepping through the front door of Ember feels like you're stepping into an entirely new world. The dazzling wood fired oven, marbled bar top and cozy lounge set the mood for a swanky date night, girls' night out or intimate dinner with friends. With a rotating daily menu and handcrafted cocktails, any trip to Ember is sure to be memorable. 
Where to Find Ember: 70 Retreat Village | 912-434-9384 | emberf2f.com
Georgia Sea Grill
Known For: Dishes featuring locally-sourced seafood, vegetables, and other key ingredients! Georgia Sea Grill takes pride in working with local fishermen, farmers, and purveyors to select only the best ingredients for their dishes that are almost too pretty to eat. (Take a peek at their Instagram feed to see for yourself.) Visit during their daily happy hour from 5-6:30 p.m. to order from their special First Call menu with plates like Shrimp Corn Dogs, Crab Stuffed Hushpuppies, and Sapelo Island Clams. 
Where to Find Georgia Sea Grill: Pier Village, 407 Mallery Street | 912-638-1197 | georgiaseagrill.com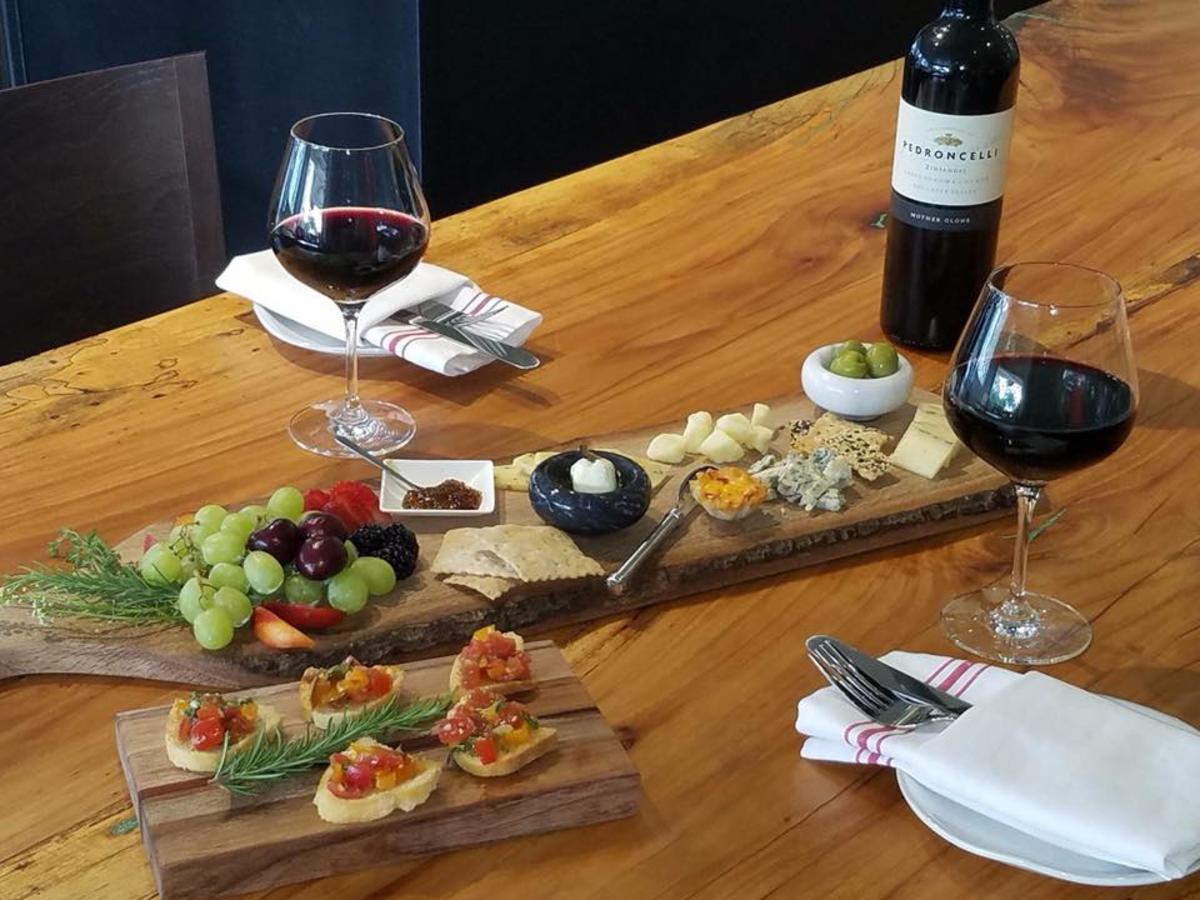 Golden Isles Olive Oil Wine Bar
Known For: A great place to enjoy a simple meal or happy hour with friends. With make-your-own Cheese & Charcuterie Boards, Cauliflower Crust Pizza, and Curry Chicken Salad, Golden Isles Olive Oil is an excellent option for diners looking for lighter dishes and gourmet cheeses. Their thoughtful menu perfectly pairs wines to accompany each cheese for their cheese boards. If you're looking for something special to take home with you, hop next door to shop their dozens of artisan olive oils and balsamic vinegar. 
Where to Find Golden Isles Olive Oil: Redfern Village, 306 Redfern Village | 912-602-9736 | goldenislesoliveoil.com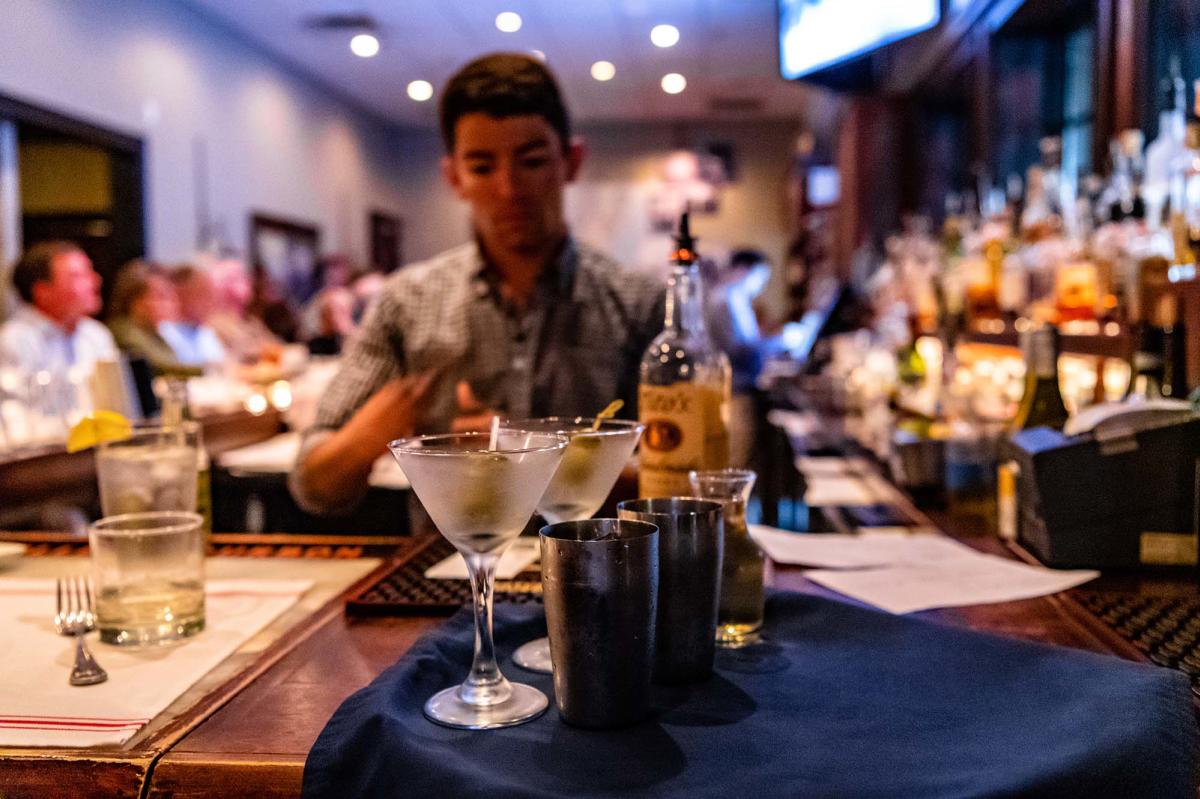 Halyards
Known For: Fine dining with a casual atmosphere. As soon as you walk through the doors at Halyards, it feels as if you're returning to a gathering of your closest friends. Cozy up to the spacious bar, grab a high top table nestled along the walls, or settle into a table large enough for the entire group. With such a creative culinary team, we have to recommend the Catch of the Day, Shrimp and Grits, and Tuna Poke. 
Where to Find Halyards: Shops at Sea Island, 55 Cinema Lane | 912-638-9100 | halyardsrestaurant.com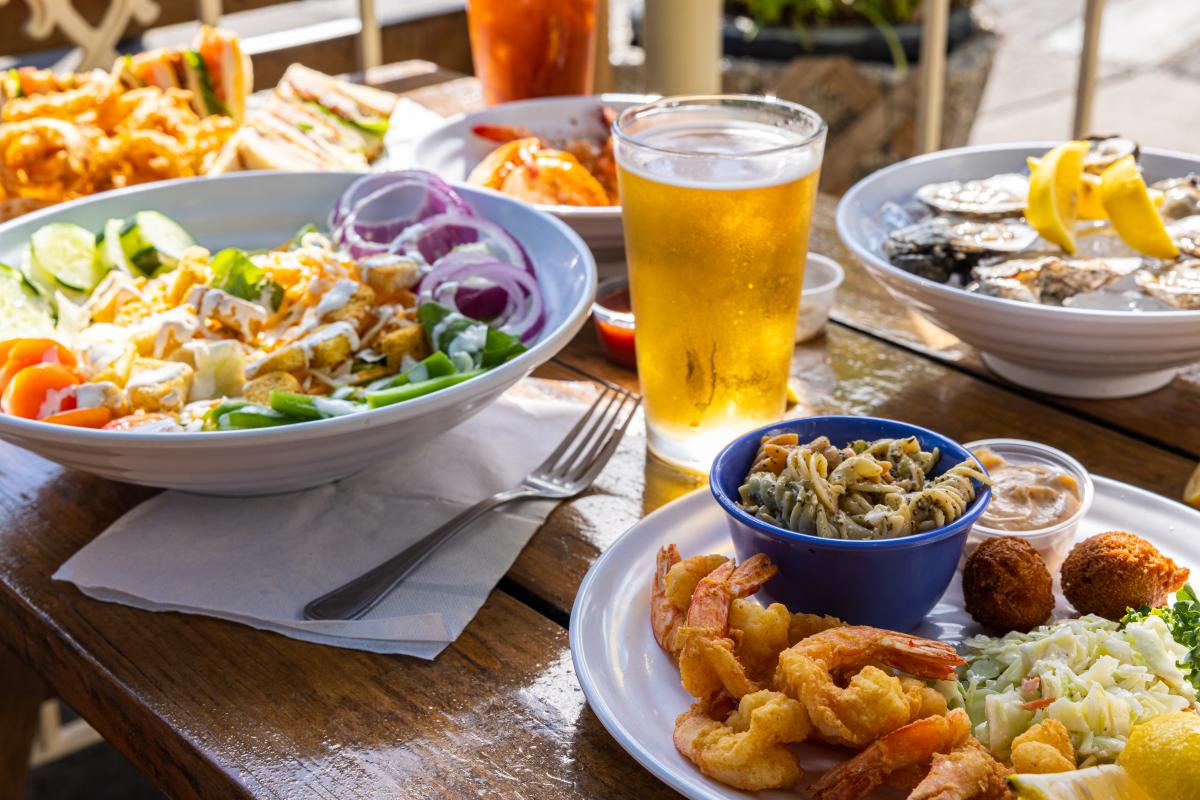 Iguanas Seafood Restaurant
Known For: Incredible local shrimp and seafood. If Forrest Gump opened a restaurant on St. Simons Island, it would be just like Iguanas Seafood Restaurant. With just about every shrimp dish on the menu that you can imagine, you can eat yourself silly between Coconut Shrimp, Shrimp Po'boys, and Surf-n-Turf. You'll also find other seafood favorites like clams, oysters, scallops, crab, Mahi, grouper, and more. But be sure to save room for dessert; Iguanas serves free ice cream for a sweet treat after each meal. 
Where to Find Iguanas: Pier Village, 303 Mallery Street | 912-638-9650 | iguanasseafood.com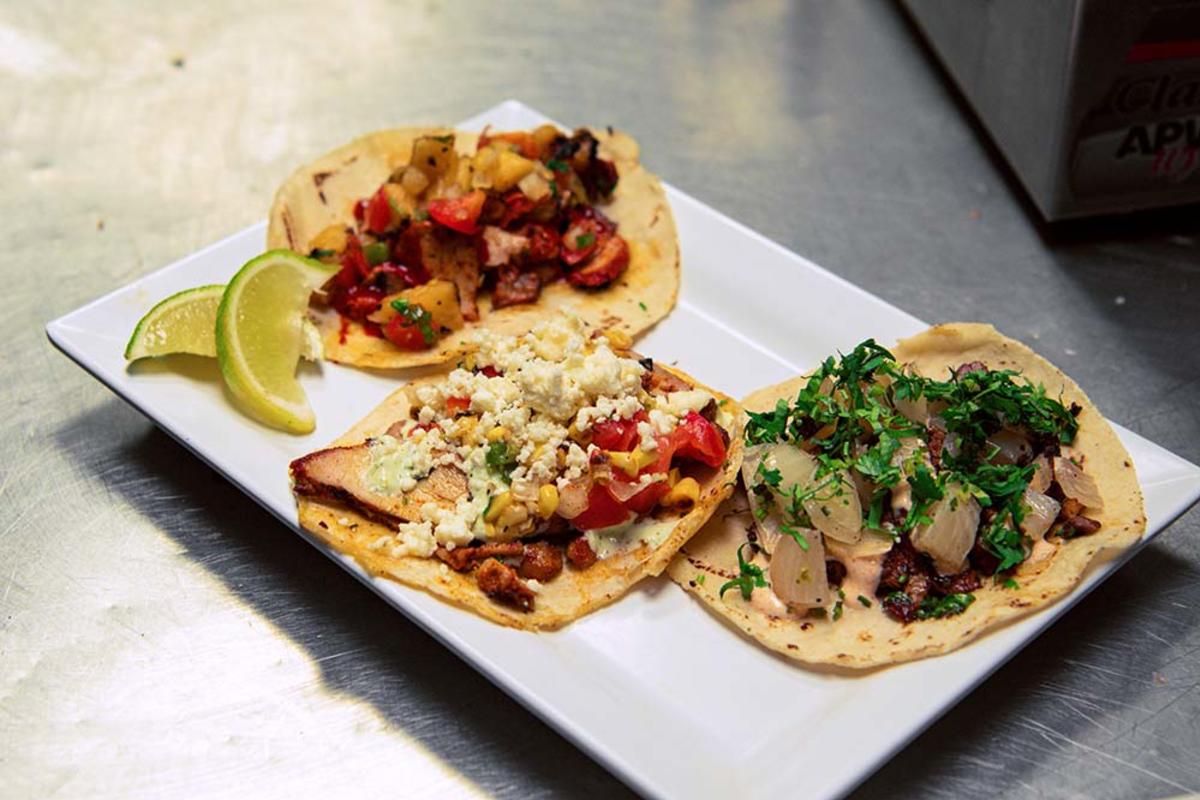 La Plancha Tacos & Ritas
Known For: Casual, authentic, and homemade Mexican food. Need a break from seafood and traditional Southern dishes found around the island? La Plancha Tacos & Ritas is your go-to for fresh, feel-good Mexican food. Sit inside, outside, or barside for some of the best service, margaritas, and salsa on St. Simons. From the Elote to the Tacos to the Sweet Hot 'Rita, you'll wish you could take La Plancha back home with you when you leave. 
Where to Find La Plancha: 3600 Frederica Road | 912-434-6100 | laplancharestaurant.com
Mellow Mushroom
Known For: Funky pizza and ice-cold beer. You may have heard of the popular Mellow Mushroom pizza chain, but we fully believe this is some of the best pizza on St. Simons Island. With Mellow's, ahem, mellow atmosphere, you can easily walk in with your flip flops, bathing suit and cover-up whenever you get hungry. Families with kids love the spacious deck, sports fans enjoy the wrap-around bar with more than 30 draft beers to choose from, and pizza lovers alike devour the Kosmic Karma, Holy Shiitake, and Buffalo Chicken pizzas. 
Where to Find Mellow Mushroom: Pier Village, 440 Kings Way | 912-291-9108 | mellowmushroom.com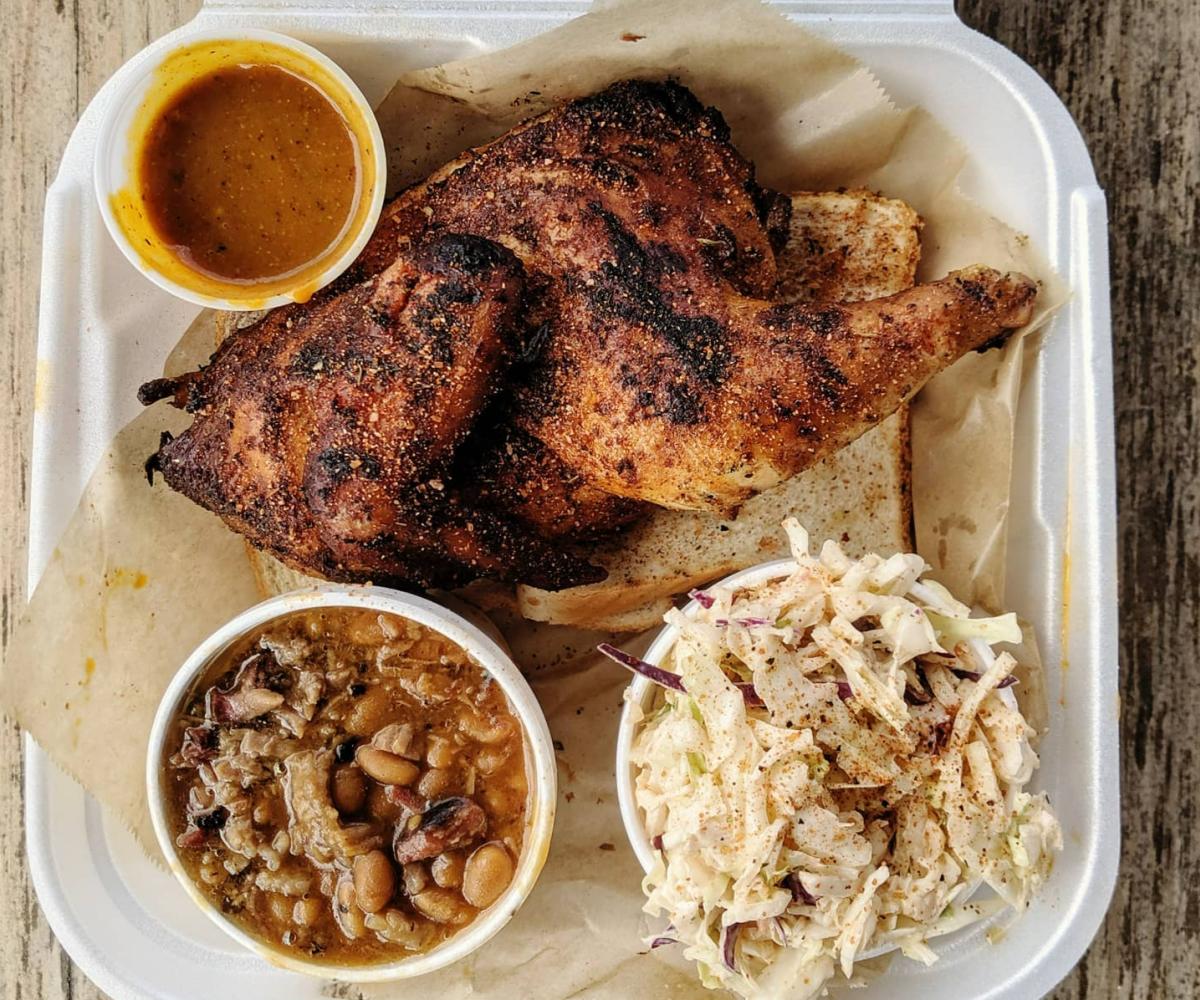 Southern Soul BBQ
Known For: The most delicious BBQ on the island! People travel from all over the world to try Southern Soul BBQ. Known for their delicious pulled pork and other smoked meats, you won't find BBQ this juicy and flavorful anywhere else in the south. With so many options for soulful sandwiches, burgers and sides, there's something to satisfy everyone's taste buds. Not sure what to order? Try the Southern Soul Sampler, and compliment your BBQ with a side of brunswick stew or collard greens. 
Where to Find The Market at Sea Island: 2020 Demere Road, At The Roundabout | 912-638-7685 | southernsoulbbq.com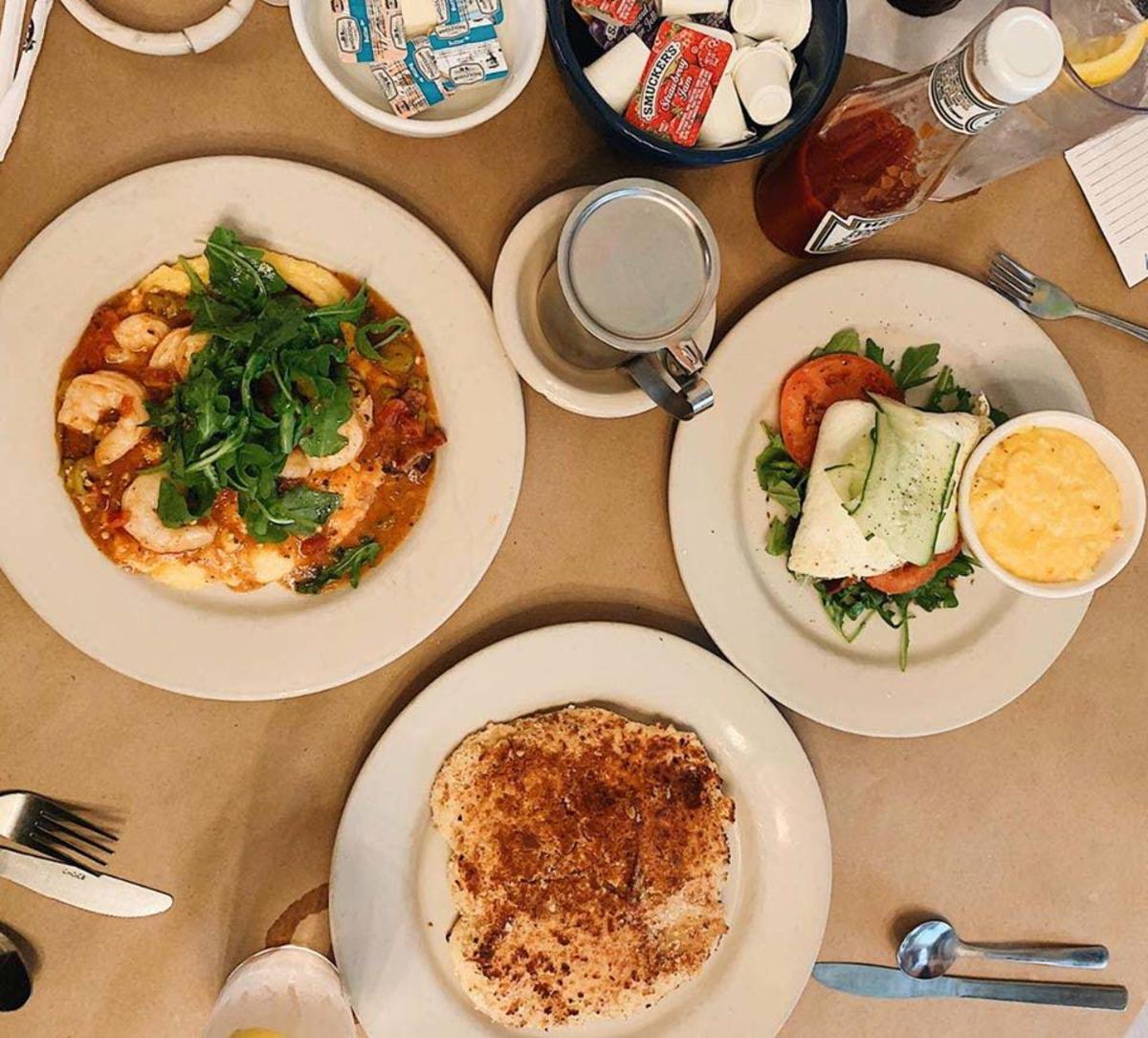 Palmer's Village Cafe
Known For: All day breakfast that's so good, you may come back again at lunchtime for more. Palmer's Village Cafe is a bustling little restaurant right in the heart of the Pier Village, meaning you can easily enjoy a stroll down to the pier or head to the St. Simons Island Welcome Center to begin your hunt for the Tree Spirits. Fuel up for the day with Banana Pudding French Toast, Coastal Delight Omelette, or Huevos Rancheros. Top it off with bottomless coffee and you're good to go.
Where to Find Palmer's Village Cafe: Pier Village, 223 Mallery Street | 912-634-5515 | palmersvillagecafe.com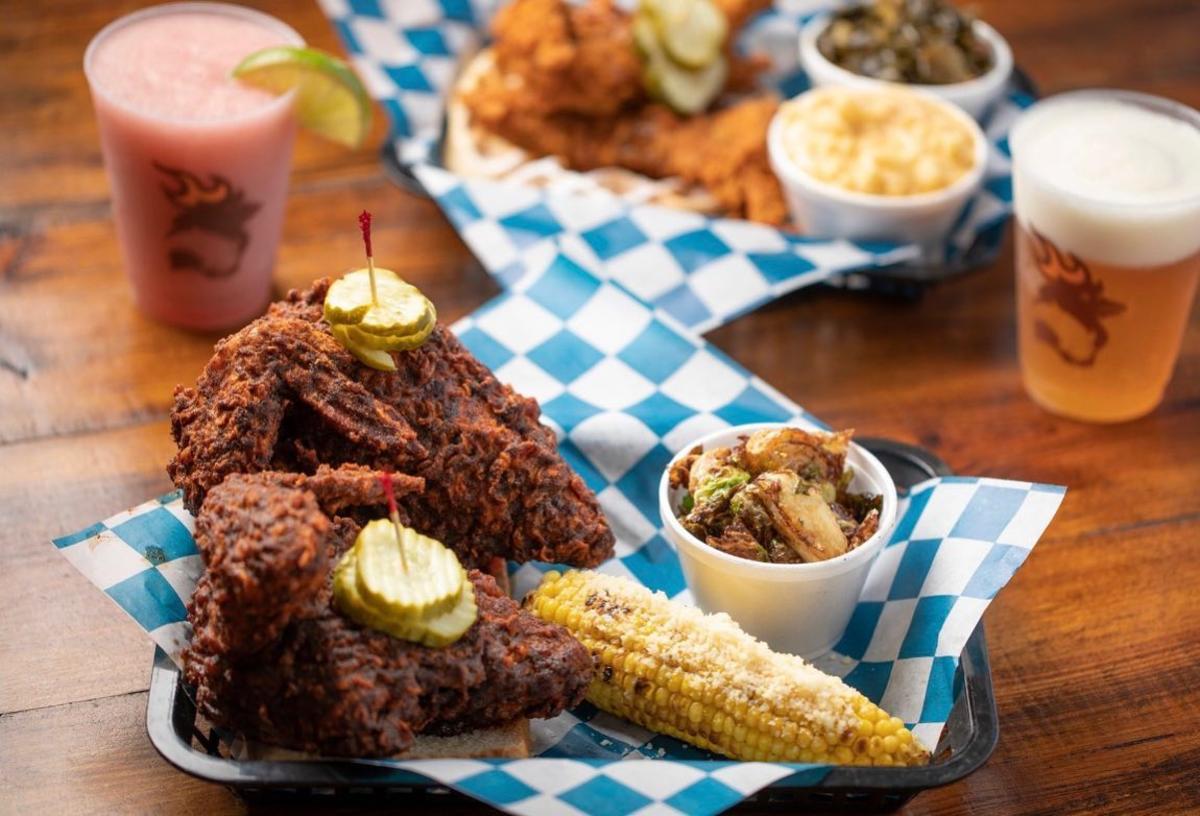 Porch
Known For: Nashville-style fried chicken and an all-around good time. If you love Palmer's, you're bound to love Porch since they're both owned by the same husband-wife team. Also located near the Pier Village, Porch is aptly named since you'll find a majority of their seating along their screened-in front porch and lawn. Choose between Chicken, Catfish, or Shrimp all deep-fried to crispy perfection, then tossed in your choice of hot sauce: Naked, Novice, Nashville, or Napalm. Grab a frosty cup of Frosé and head to the lawn to play cornhole or giant connect four. 
Where to Find Porch: Pier Village, 549 Ocean Boulevard | 912-634-5168 | porchssi.com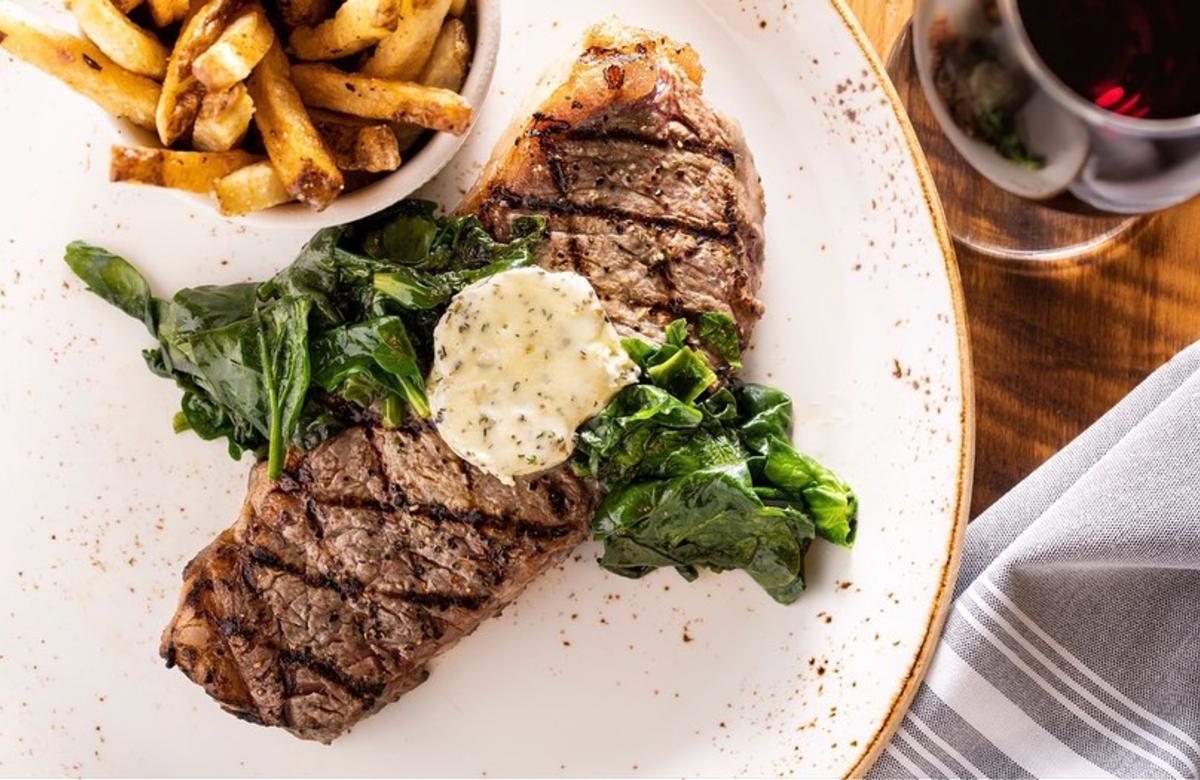 Sago at Sea Palms
Known For: An excellent restaurant located on the north end of the island. Newly renovated and under new ownership, Sea Palms Resort and its onsite restaurant, Sago, boast gorgeous, updated designs and an inventive menu. Whether you're in the neighborhood for a round of golf, or simply ready to check out the new digs at Sea Palms, we highly recommend grabbing lunch or dinner at their restaurant. Try the Hot-N-Crunchy Shrimp, Palms Salad, or the Sago Burger. 
Where to Find The Public House: Sea Palms Resort, 515 North Windward Drive | 912-638-3351 | seapalms.com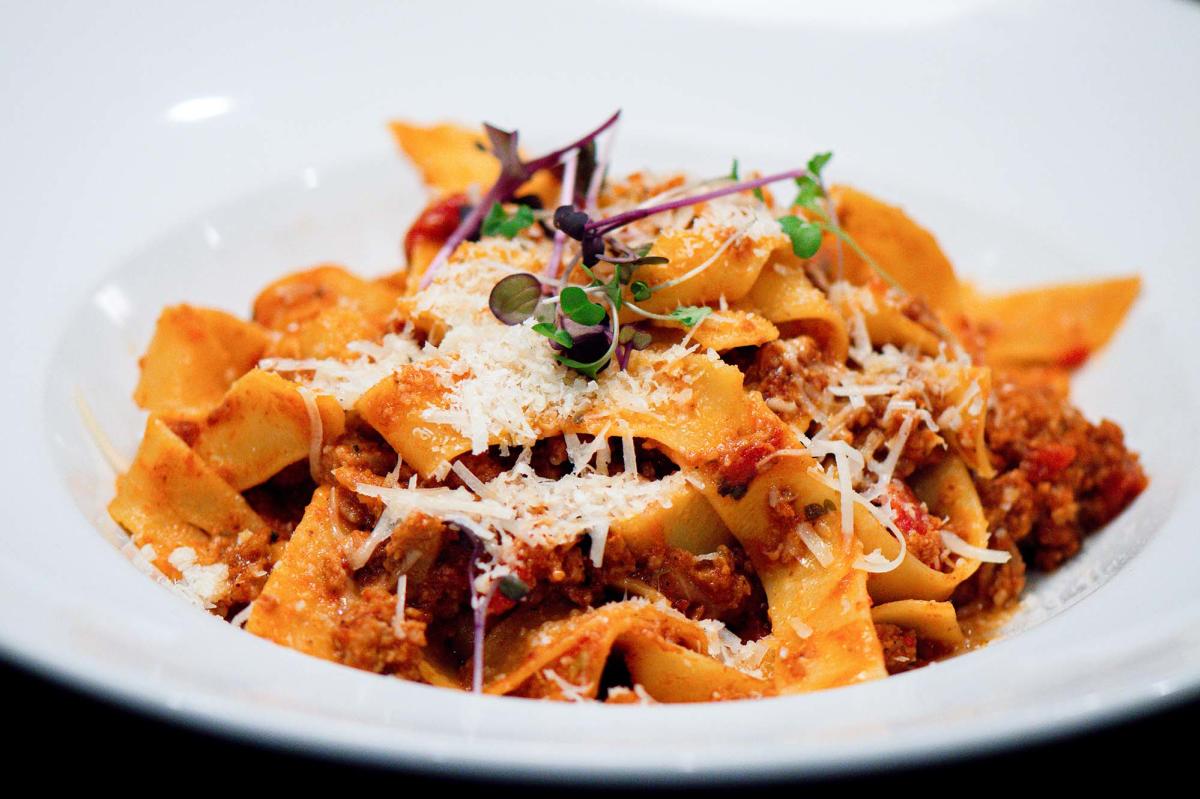 Tramici
Known For: Authentic Italian food that will please everyone in your crowd. Tramici's warm and inviting atmosphere, friendly staff, and delicious meals will draw you back, again and again, each time you visit St. Simons Island. It's a lunchtime favorite for locals during the week and a bustling spot for families and friends on the weekends. Their Braised Short Rib Goat Cheese Ravioli has a cult following, as does the Chicken Piccata and their signature dessert, Tiramisu. Even in the cooler months, their patio is always comfortable with heaters and blankets to enjoy. 
Where to Find Tramici: Shops at Sea Island, 75 Cinema Lane | 912-634-2202 | tramicirestaurant.com
Whether you're starting your day with a hearty breakfast, grabbing a quick bite to eat on the way to the beach, or splurging on a nice seafood dinner, you can't go wrong when dining on St. Simons Island! Thank goodness there are endless activities in the Golden Isles to burn off those extra calories, although we wholeheartedly believe calories don't count when you're on vacation. For a full list of restaurants on St. Simons Island.