4th of July Celebrations
This Event Happens in: July
There are many events throughout the Golden Isles during the 4th of July holiday weekend, making it one of the best places to celebrate Independence Day. For a more detailed listing of individual events please see our Event Calendar.
St. Simons Island 4th of July Celebration
The Annual St. Simons Island Sunshine Festival held in the Pier Village on St. Simons has been an island tradition for over 60 years. With St. Simons Island fireworks, a 5K and 1-mile fun run, and more, this is the perfect family-friendly event this season. Festival Hours: 10:00am - 5:00pm. Please check back for a complete schedule of events.
Bring picnic blankets, beach chairs, your friends and family to watch the beautiful firework show along the water at Neptune Park. Free admission and free parking.
St. Simons Island's fireworks will begin at sundown on July 4th, around 9:00 pm. Please be aware the fishing pier and southernmost end of Mallery Street will be closed to cars and pedestrian traffic beginning the morning of July 4. A section of Neptune Park will be fenced off and officials ask that all tents be taken down by 7:00 pm as a precaution against igniting from sparks. 
During the day, lifeguards and law enforcement will patrol St. Simons Island beaches. Boats will be in the water to help keep swimmers safe, especially during high tides. Roads will be closed to traffic east of Mallery Street and Butler Avenue, and at 12th Street and Beachview Drive for emergency access. Lost and Found and medical services will be in Room 114 of the Casino Building. If a child or parent is lost, report to Casino Room 108. 
Officers will direct traffic at major intersections will begin at 8:30 p.m. to move traffic around the island.
Brunswick's Old Fashioned Fourth of July Celebration
This 4th of July, happy kids and adults come together for Brunswick's Old Fashioned 4th of July complete with free games, watermelon, food trucks, live music and of course fireworks at Mary Ross Waterfront Park in the heart of Historic Downtown Brunswick. The festivities begin Monday, July 4th at 4:00 pm with a parade that will go from Mansfield Parking lot down Newcastle Street over to Mary Ross Waterfront Park. The annual pet parade begins at 5:00 pm followed by the singing of the National Anthem by Miss Annie Akins and a play performance from The Penguin Project. Live music from Squirt Gun will begin at 7:00 pm. Brunswick's fireworks over the waters of the East River and Oglethorpe Bay kick off at dark around 9:00 pm and last 30 minutes. 
Brunswick's fireworks will begin around 9:00 pm on July 4th.
Jekyll Island Independence Day Celebration
Join your friends and family for a July 4th celebration on Jekyll Island. Whether spending the day at the beach, by the pool, or at Summer Waves Water Park, there is always a way to stay cool and enjoy July 4th on Jekyll Island. Fireworks will take place on the evening of July 4th. After sunset, at 9:30 p.m. (depending on lighting and weather conditions) witness the most spectacular fireworks in the Golden Isles. Arrive early to get your spot in the sand. Fireworks are best viewed from Great Dunes Beach Park and Oceanview Beach Park. 
Jekyll Island's fireworks will begin at 9:30 pm on July 4th. Please be aware the Jekyll Island parking fee will be increased by $4 to all daily and weekly passes on July 4th only. More information can be found here.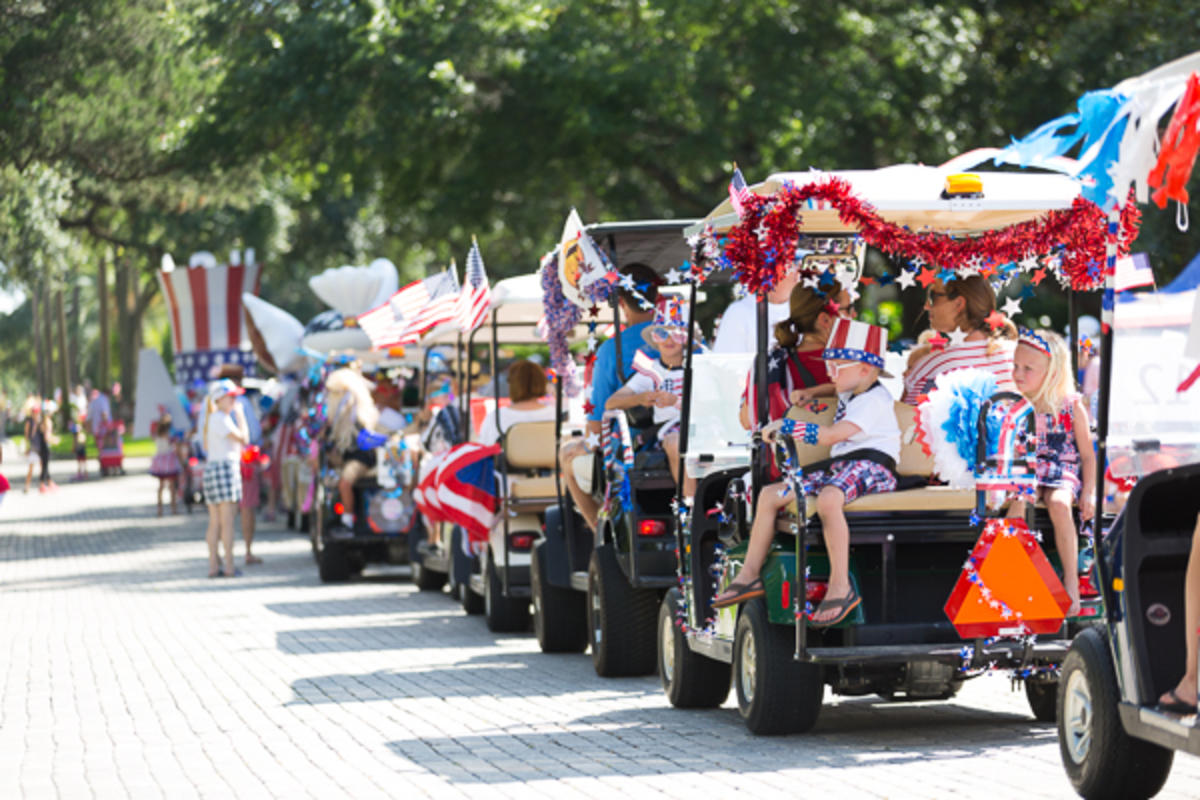 Sea Island 4th of July Celebration
For guests and residents of Sea Island
The Cloister and Beach Club have many activities scheduled each year during the 4th of July weekend. July 4th usually begins with a flag-raising ceremony and ends the day of family fun and celebration with a Fireworks Spectacular at the Beach Club around 9:00 pm. Click here for more information about events at Sea Island.
Sea Island's fireworks will begin around 9:00 pm on July 4th.
Personal Fireworks
Please see codes in regards to the fireworks ordinance in Glynn County. Fireworks are prohibited on all Glynn County beaches.