The Golden Isles' impressive roster of places to play, eat and stay make it an ideal destination for trips encompassing multiple generations of family members, such as kids, teens, and grandparents. If you're one of the many for whom travel will be a whole-family affair, we've got some great ideas for how you can reconnect with the ones you love the most on the Georgia coast.
Things to Do with Your Family
The Golden Isles has tons of group-friendly activities for families to enjoy together. Rent some bikes and explore St. Simons Island and Jekyll Island on two wheels, an easy-to-take-in sight of the waterfront, and travel to different attractions without a car. Bike on the sand at low tide along St. Simons Island's East Beach or pedal through maritime forests on Jekyll Island.
One of the best ways to admire views of the landscape and discover the ecological diversity of the area's marshes, inlets, and rivers is via a kayaking or boat tour. Book a trip with an outfitter like SouthEast Adventure Outfitters, which offers daily tours through the waterways and to remote barrier islands for both beginner and advanced paddlers, to get your crew on the water.
For a more relaxing activity, embark on a shelling expedition during low tide at one of the Golden Isles' many breathtaking beaches, such as St. Andrews or Driftwood. While kiddos love collecting fascinating specimens and adults adore the serene ocean vistas, both can appreciate the joy of sinking their toes in the soft sand.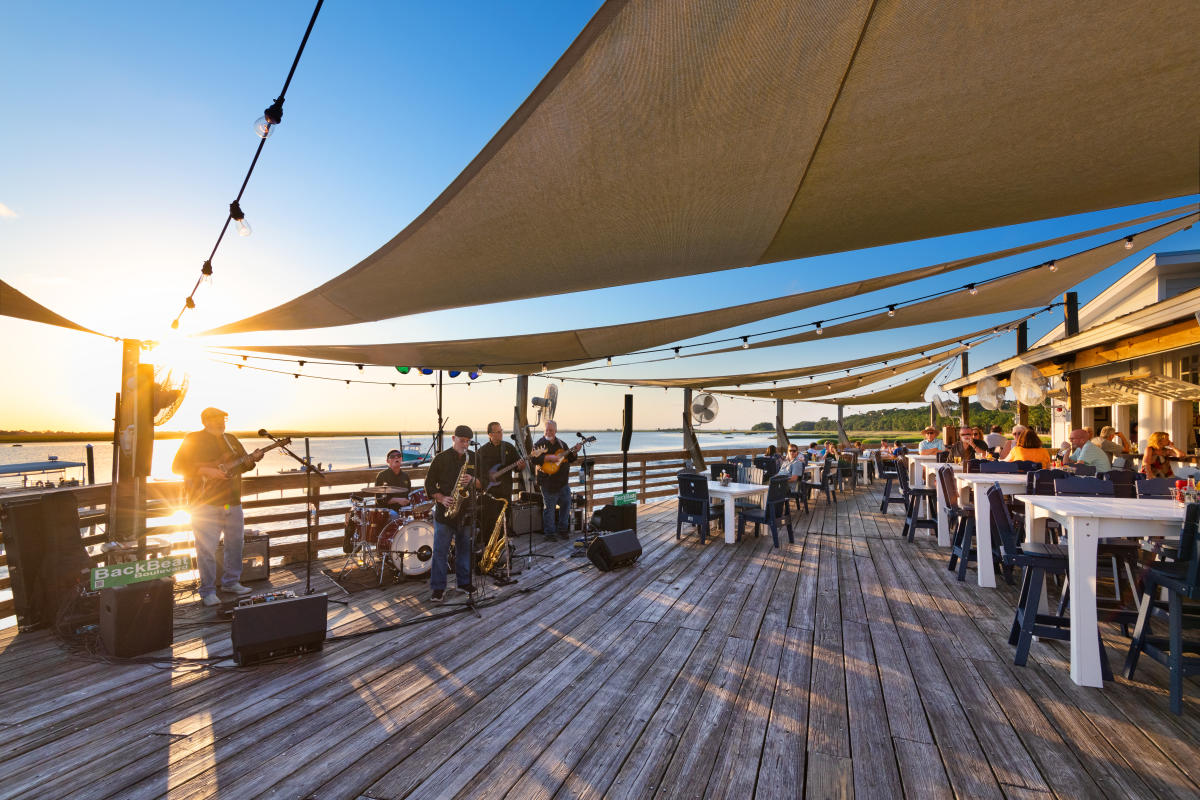 Family-Friendly Places to Eat
The Golden Isles's incredible lineup of restaurants ensures you'll find something to please even the pickiest eaters. Grab a seat at Certified Burger and Beverage on St. Simons Island, where diners can choose from over a dozen different burgers, as well as fresh salads, snacks, and sides. Or if you're planning a picnic at the beach, grab the restaurant's special family dinner burger bar package, which includes everything you need to put together your own feast in the sand.
Or grab a bite from Indigo Coastal Shanty, a neighborhood joint serving Southern fare and Mexican-inspired specialties in historic downtown Brunswick. Try the juicy pimiento cheeseburger or the sesame-crusted catfish, and be sure to save room for the Georgia peach pound cake. With an eclectic atmosphere and friendly staff, Indigo will quickly feel like a favorite family member!
For a taste of the sea with a side of ocean views, don't miss The Wharf on Jekyll Island, where your family can savor everything from fish and chips and hushpuppies to locally caught peel-and-eat shrimp and crab cakes. A variety of sandwiches and salads are also available for the less adventurous eaters in your group. Most weekends you can also find live music on the waterfront deck of The Wharf.
Accommodations for the Whole Family
No getaway to the Golden Isles would be complete without the perfect home base, and there are several accommodation options available, depending on what you're looking for. Those seeking amenities and spacious suites can't go wrong with Courtyard by Marriott and Residence Inn, a shared lobby hotel on Jekyll Island. Here, you'll find fully-equipped suites with kitchens and separate living spaces, oceanfront balconies, an onsite restaurant and bike rentals, as well as family-friendly pools and so much more.
Another solid choice for visitors traveling in groups is Hodnett Cooper Vacation Rentals on St. Simons Island, which offers 325 fully furnished residences for daily, weekly, and monthly stays. Each rental has a separate kitchen, living, dining, and sleeping areas—ensuring everyone has plenty of room to spread out.
Or book a stay at The Inn at Sea Island, a charming resort with spacious, airy rooms and oodles of activities on-site, from kayaking and boating to biking and bowling. Plus, the property is right on a private beach, giving families prime access to their own slice of seaside paradise.
More Family Friendly Experiences