It doesn't get more picturesque than Historic Downtown Brunswick. Much of the original Victorian architecture still stands today, and beautiful pocket parks and squares line the streets. On any given day you'll see families and friends strolling the streets and enjoying the many offerings of the downtown district.
Here's our ultimate guide for things to do in Historic Downtown Brunswick.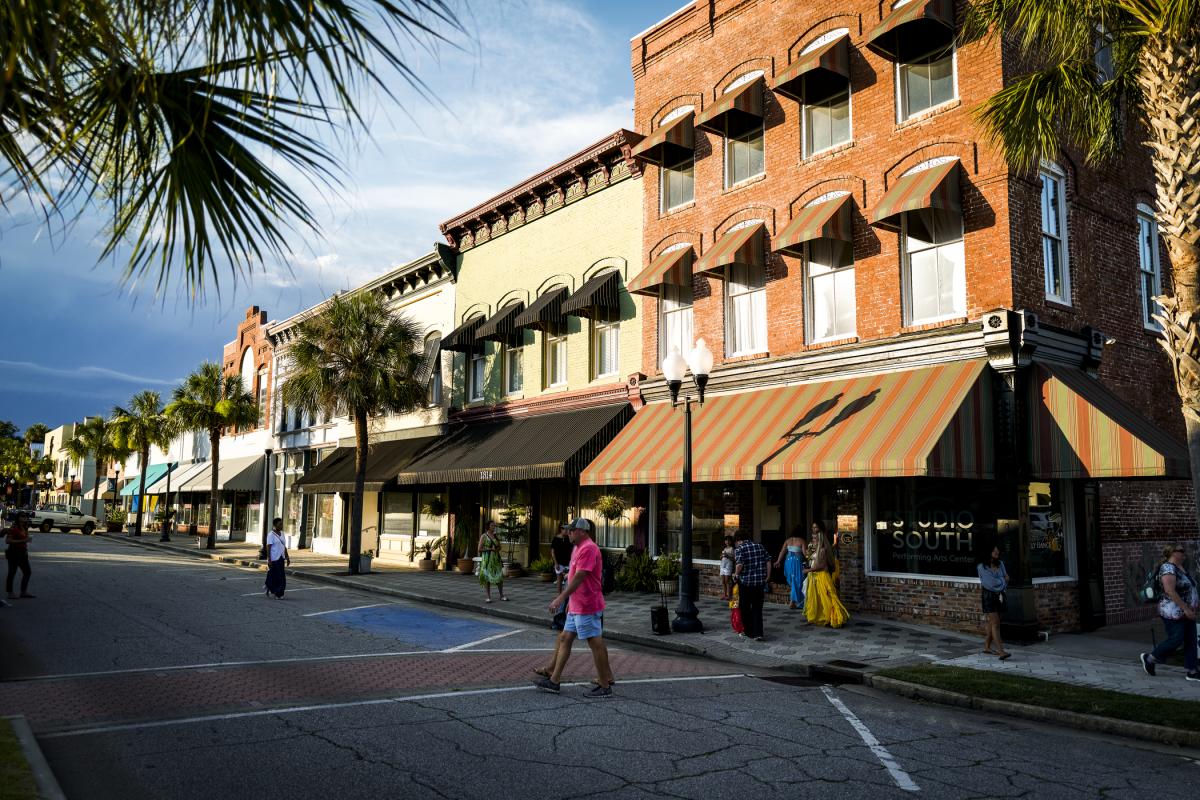 What to Do in Historic Downtown Brunswick
1. Spend an Afternoon Hunting for Treasure in the Many Antique Shops.
We know what they were saying when they came up with the phrase "shop until you drop." The antique stores in Historic Downtown Brunswick are rival to none, and all boast an expansive collection of unique trinkets and treasures perfect to add to your collection at home.
Where to find them: Along Gloucester and Newcastle streets.
2. Daydream and Watch the World Go by in one of the Signature Squares
Brunswick was laid out in a similar fashion as Savannah's historic district with grid-style streets and squares. Local nonprofit Signature Squares of Brunswick has been protecting, preserving, and breathing life back into the 14 squares for the last 10 years. You'll also find many community events held in the squares throughout the year.
Where to find them: Ensconced throughout Norwich and Newcastle streets. View our map.
3. See a Show!
See a show at The Ritz Theatre. This theatre is home to live performances as well as gallery spaces with rotating exhibits. To find out what's going on during your next trip, you can view our online calendar of events.
Where to find it: 1530 Newcastle Street, 912-262-6934
4. Discover the City on a Guided Tour
 Join a guided bike tour with Brunswick Old Town Tours for the perfect way to explore Historic Downtown Brunswick and its many contributions to today's society.
What to See in Historic Downtown Brunswick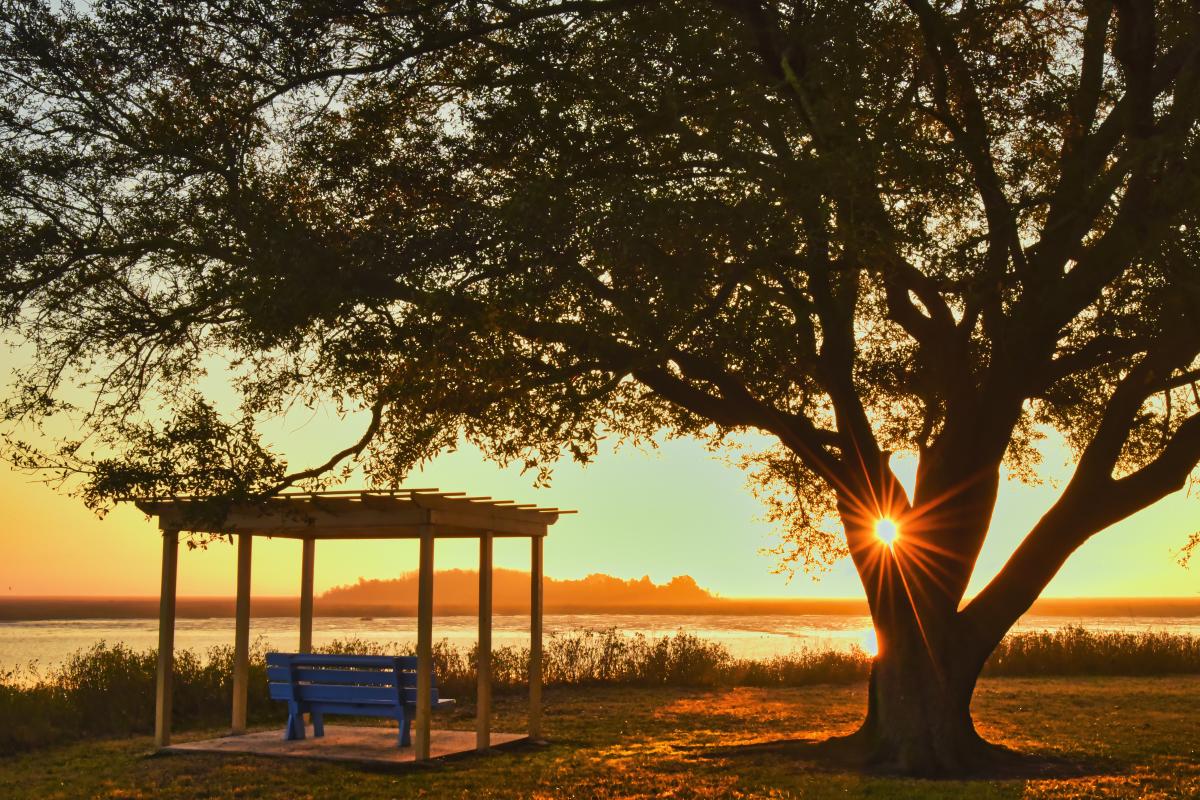 1. Old City Hall 
Old City Hall was originally built in the late 1880s at a cost of a mere $33,000, the beautifully ornate building continues to beckon visitors with its iconic clock tower and gargoyles. The building is open to the public and houses a small museum as well as a part-time courthouse. You can also rent it for private events and weddings!
Where to find it: 1229 Newcastle Street, 912-265-4032
2. Oak Grove Cemetery
This historic cemetery dates back to 1838 and is home to more than 1,200 graves. Original wrought iron fencing and hand-carved headstones are just a few of the many highlights found in Oak Grove Cemetery. Learn more about Oak Grove Cemetery and some of its well-known graves.
Where to find it: 1500 Mansfield Street. The cemetery is open daily from sunrise to sunset. Guided and self-guided tours are both available.
3. Overlook Park 
This public park is perfectly situated along the stunning Marshes of Glynn. Not only is it an excellent place to fish and spend time with loved ones, but it's also one of our favorite places to watch the sunrise and to look for unique local wildlife.
Where to find it: At the intersection of Gloucester Street and Highway 17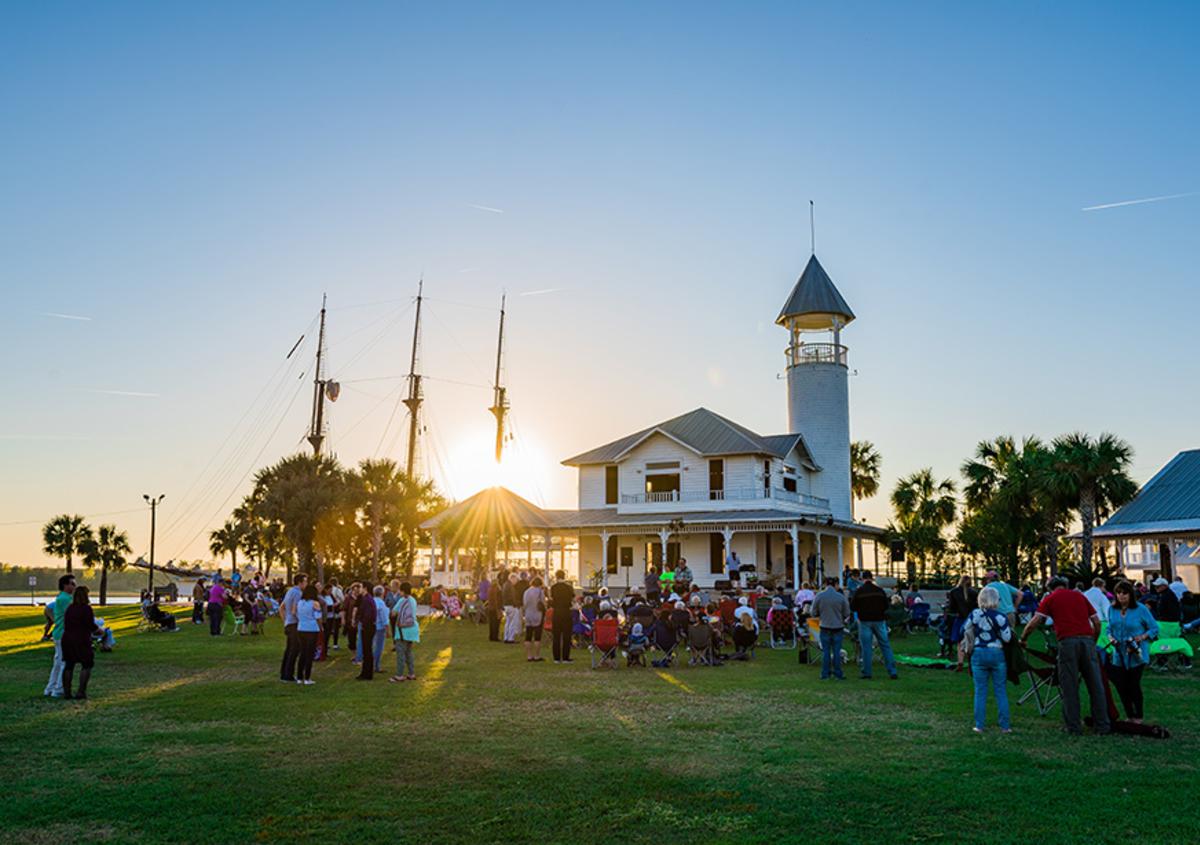 4. Mary Ross Waterfront Park
Mary Ross Waterfront Park is the ideal spot to play or relax in Downtown Brunswick. Grab a blanket, beach chairs and a picnic for an epic waterfront experience, and there's plenty of room for kids to run and play, especially with the newly installed playground. The shrimp boats make the perfect backdrop for the setting sun.
Where to find it: At the intersection of Gloucester and Bay streets
Where to Eat in Historic Downtown Brunswick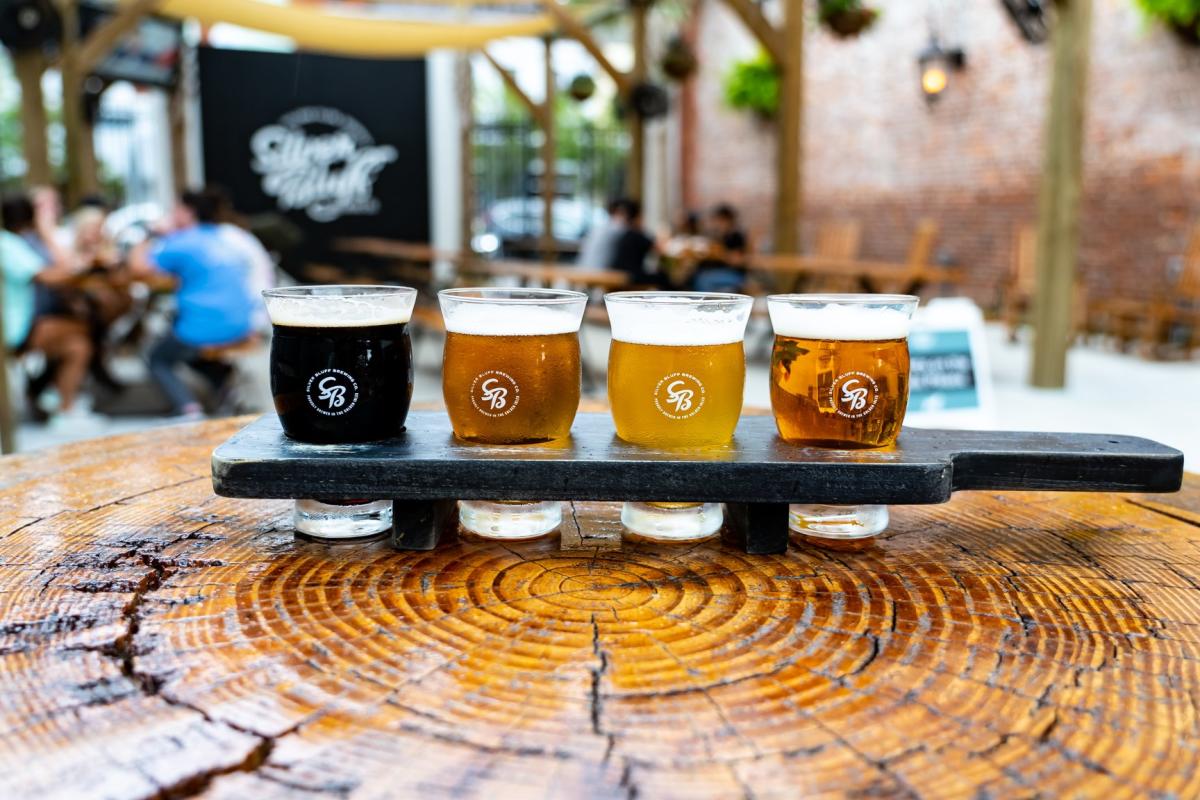 1. Silver Bluff Brewing Co.
At Silver Bluff Brewing, you're sure to enjoy quality beer and good company. Located in the heart of Historic Downtown Brunswick, this spot is a local favorite with a taproom, family friendly beer garden, and live music events. Bring a bite from a nearby destination or check out their food calendar to catch your favorite tasty food trucks and stands featuring southern cuisine, authentic Mexican street food and more!
Where to find it: 1325 Newcastle Street, 912-275-7024
2. Tipsy McSway's 
Enjoy fresh and tasty pub food at Tipsy McSway's in Downtown Brunswick! Start with the funky chips, fried goat cheese, or pretzel bites to share. Follow it with a burger, wings, or salad! Don't forget to ask about their daily specials and events! 
Where to find it: 1414 Newcastle Street, 912-267-9991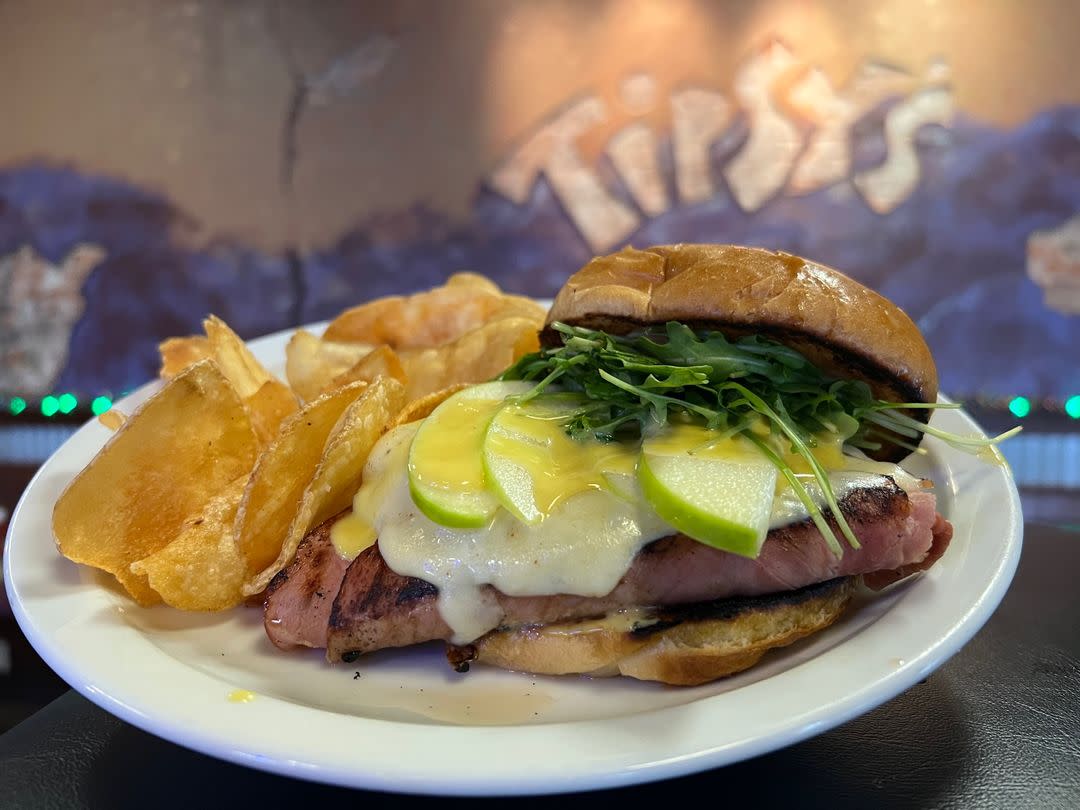 3. Daddy Cate's Coffees
Grab your cup of organic, fair trade coffee at Daddy Cate's, and pair it with a scrumptious homemade muffin!  You'll have a hard time choosing from their expansive list of breakfast and lunch items including baked goods, sandwiches, hot dogs and salads! Plus, their menu features plenty of specialty coffees and other cold drinks to pair with your meal or enjoy as you explore the city.
Where to find it: 302 Gloucester Street, 912-264-9363
4. Indigo Coastal Shanty
Enjoy coastal cuisine with a Caribbean flair at Indigo Coastal Shanty! Start with the Calypso Nachos to share and follow it with the Bahamian Chicken Curry and jasmine rice. Don't forget to satisfy your sweet tooth with their famous Georgia peach pound cake. 
Where to find it: 1402 Reynolds Street, 912-265-2007
5. Schroeder's Market
Looking for fresh fine foods and premade meals? Schroeder's Market is Downtown Brunswick's one-stop shop for everyday groceries, unique food items, baked goods, and specialty meals. Monday-Saturday Schroeder's Market cooks live at lunch, and has different delicious grab & go meals for dinner, along with an ever-changing array of fresh market fare.
Where to find it: 203 Gloucester Street, 912-574-3332
When to Go to Historic Downtown Brunswick

1. First Fridays 
Held on the – yep, you guessed it – First Friday of each month, the shops and restaurants in Historic Downtown Brunswick have extended hours, and serve up hors d'oeuvres and specialty drinks. It's an excellent way to kick off the weekend and make some new friends along the way.
When to find it: The First Friday of every month from 5:00pm - 8:00pm. 
2. Brunswick Music District
Downtown Brunswick is live with a series of live music and concerts at Jekyll, Machen and Queen Squares in downtown Brunswick. This event is the perfect opportunity to meet new people, get involved in the community and support our local musicians and businesses!
When to find it: Friday and Saturday nights from 6:00pm - 9:00pm. Learn more about the Brunswick Music District.
3. Mayfair Festival
The nation's oldest celebration of its kind, this festival honors and blesses local shrimpers and fishermen as they start out on the next season. This weekend-long event features live music, food, and arts and crafts.
When to find it: The 2023 Mayfair Celebration will take place Saturday May 13. Check our annual event page for the latest updates. 
Find out what's happening in Historic Downtown Brunswick with our always up-to-date online calendar of festivals and events. 
Where to Stay in Historic Downtown Brunswick

1. Brunswick Manor
Step back in time and plan a stay at Brunswick Manor. This historic inn invites you to leave behind the hectic hustle of everyday life with masterful woodwork, priceless antiques and stunning renovations. Stroll through the gardens, spend some time on the patio, enjoy the orchid conservatory or relax on the Corinthian-columned veranda.
Where to find it: 825 Egmont St, 912-265-6889
2. McKinnon House Bed & Breakfast 
McKinnon House Bed & Breakfast is situated in the heart of Old Town Brunswick and offers a unique bed and breakfast experience surrounded by fine antiques. This Victorian home was completed in 1902 and is well preserved with unique architecture and heirlooms. 
Where to find it: 1001 Egmont Street, 912-996-9100
3. Residence Inn by Marriott
Although not located directly within the heart of Historic Downtown Brunswick, the Residence Inn is an all-suite hotel in the area with convenient coastal charm. You will feel at home surrounded by southern hospitality, free breakfast and updated amenities including a fitness center and outdoor pool.
Where to find it: 116 Gateway Center Blvd., 912-617-8580
4. The Kress
The Kress is Historic Downtown Brunswick's newest boutique hotel, newly opened in February 2023 after going through a revitalization of the original hotel that was constructed in 1909. This hotel provides a resort experience but with elements of southern hospitality. Delight in a comfortable stay and enjoy an inviting atmosphere, rooftop restaurant, and many nearby local attractions. 
Where to find it: 1505 Newcastle Street, 912-617-8580
More Brunswick Experiences