It's October, the time of year when ghosts and goblins come out to play. But in the Golden Isles, we have far more treats than tricks. Tucked away in our centuries-old neighborhoods are two historical cemeteries with graves dating back to the early 19th century.
From some of our earliest inhabitants to our most notable residents, these are two of the final resting places for the friendly spirits of the Golden Isles. This fall, discover the untold stories and visit the graves of those who came before us.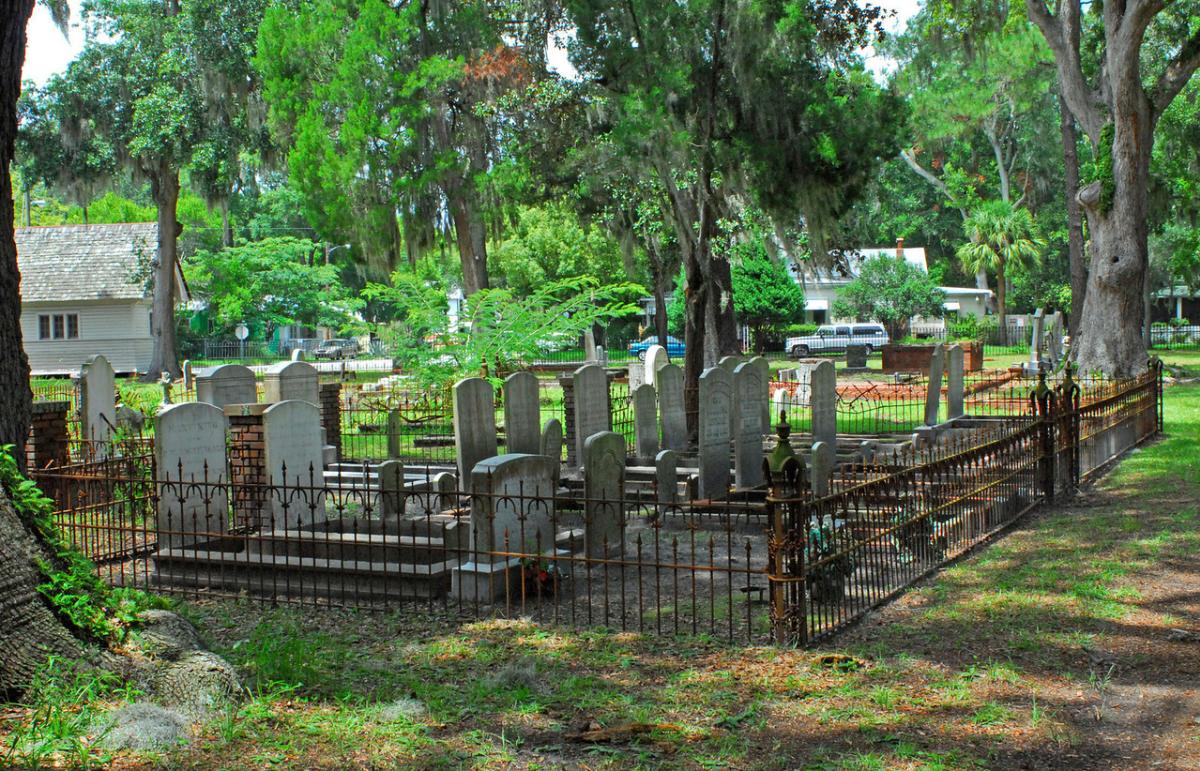 Historic Downtown Brunswick's Oak Grove Cemetery
Nestled in the heart of Historic Downtown Brunswick is Oak Grove Cemetery, a three-acre plot that serves as a who's who of Brunswick's founding families and notable residents. Oak Grove Cemetery was established in 1838 and is the final resting place for many people with about 1,200 graves. Of those 1,200 graves, 418 are unmarked and more than 60 are unknown.
Here you'll find graves from the early 1800s. Spend an afternoon under the sprawling live oaks and cedar trees, and you'll also be spending an afternoon with some of the Golden Isles' most elite families. From mayors to doctors and everyone in between.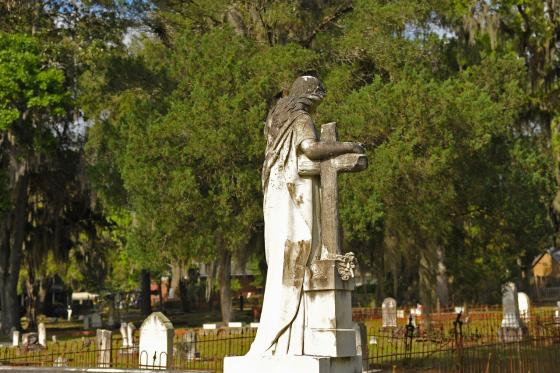 Famed poet Sidney Lanier's father-in-law, Charles Day, is buried at Oak Grove Cemetery. Other notable graves include Urbanus Dart, who is considered to be Brunswick's founding father, George C. Dent, who owned the lands and built the home at Hofwyl-Broadfield Plantation, and Sir Rosendo Torras, whose son Fernando Torras built the F.J. Torras Causeway that connects Brunswick and St. Simons Island.
Thinking of visiting Oak Grove Cemetery? Plan your trip by first checking out their website, where you can schedule a free, in-person guided tour, find excellent resources for self-guided tours, and even take a virtual tour! Learn about some of the most interesting tales of those laid to rest at Oak Grove, including Eardley Westmoreland, who was wed and dead all in a matter of hours, and Fay the May Templeton, "the Queen of Vaudeville."
Know Before You Go:
Oak Grove Cemetery is open seven days a week from 7:30 a.m. to sunset.
Please be respectful of the graves by refraining to walk on them or make rubbings on the headstones.
Many headstones are signed by the stone carver. The signatures can usually be found at the base of the stone.
Several secret societies, such as the Masonic Society, are represented in Oak Grove Cemetery.
If a rose is carved into a woman's headstone, the stage of its bloom indicates the woman's life. If it is a bud or small bloom, this means she may have lived a short life. If it is a rose in full bloom, this means she lived a long and fulfilled life.

St. Simons Island's Christ Church Cemetery
Christ Church's rich history in the Golden Isles begins in 1808 when an act of the state legislature approved a charter and incorporation for an Episcopal church at the Town of Frederica (now present-day Fort Frederica). Christ Church was built in 1820 but was later destroyed by Union forces occupying St. Simons Island during the Civil War. It was not until 1884 that the church was rebuilt in the same location. This is the building that still stands today.
Similar to Oak Grove Cemetery, Christ Church's graveyard is home to St. Simons Island's oldest and most notable families. There are approximately 1,600 graves at Christ Church Cemetery. This is still an active cemetery that also features a columbarium and one of the most peaceful and beautiful settings in the Golden Isles.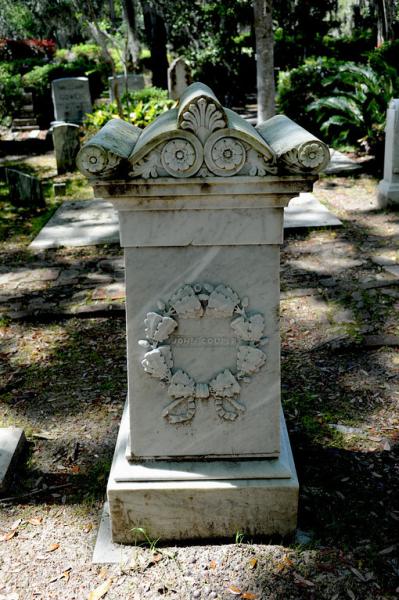 Buried among the sprawling centuries-old live oak trees, fragrant camellias and colorful azaleas are Eugenia Price, famed author who wrote the beloved St. Simons trilogy among other novels, Anson Green Phelps Dodge, Jr., who rebuilt Christ Church and served as its first rector, James Gould, who designed the original St. Simons Lighthouse, and John Couper, owner of Cannon's Point Plantation. How fitting that Eugenia Price is buried amongst many of the characters she wrote about in her books!
Know Before You Go:
Christ Church's cemetery is open dawn to dusk Tuesday – Sunday. If visiting on a Sunday, please be mindful of church services at Christ Church, which has an active congregation.
One of the most sought-after markings in the cemetery is the statue of the boy with the thorn in his foot. There are different stories as to the significance of this statue, but none have been confirmed or denied. The graves that accompany this particular statue are two of the only graves in the cemetery that do not face east.
The oldest grave in Christ Church Cemetery dates back to 1802.
Graves marked with an American, Confederate or similar flags indicate that the deceased served in the military.
There is a section of the cemetery reserved specifically for the church's rectors and their wives to be buried.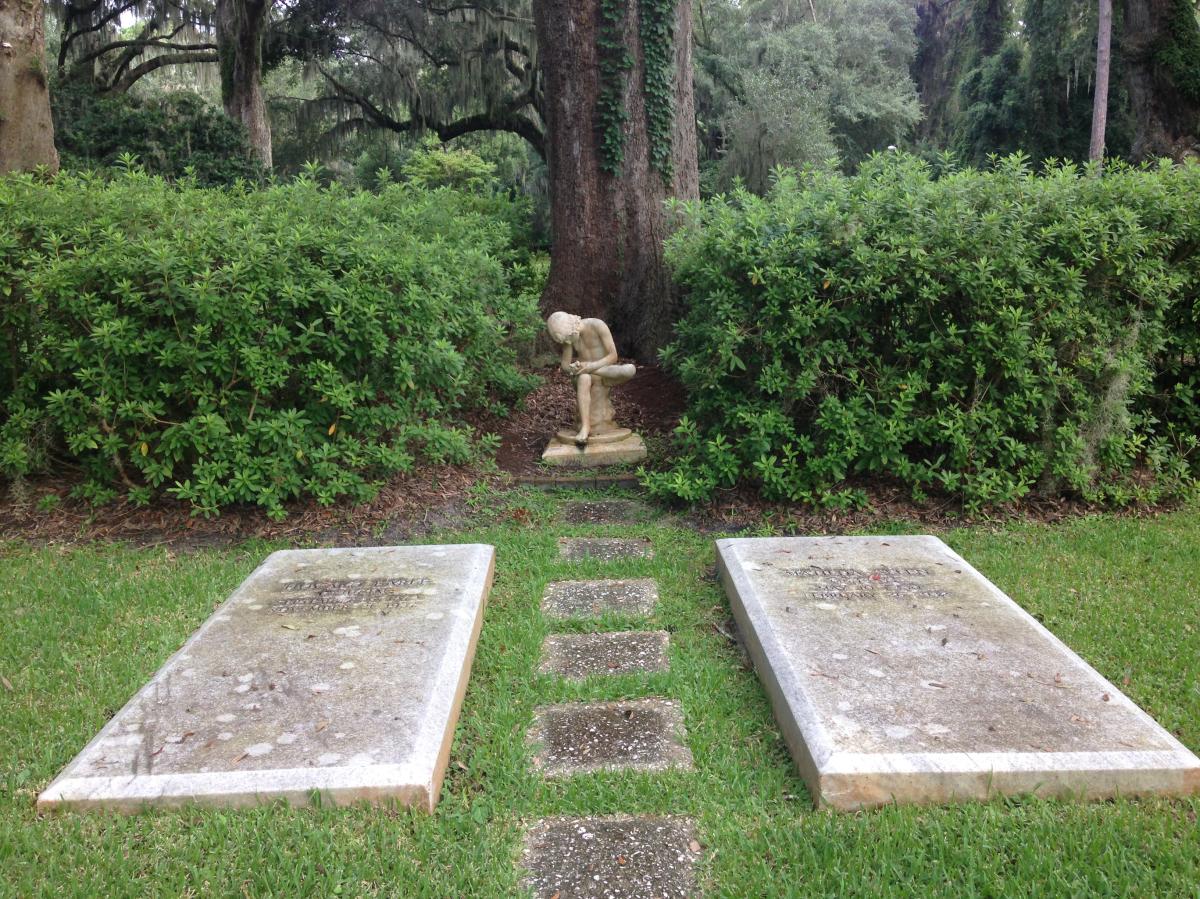 A special thank you to Troupe Nightingale with Southeastern Photography for providing several photos for this post.