To most, a 5:00 am wake-up call sounds less than appealing. But when you get to accompany Sea Island's Naturalist Raleigh Nyenhuis on her morning patrol, you practically jump out of bed when your alarm goes off. To Raleigh, 5:00 am is the new 8:00 am. This is her fourth season patrolling, researching, and protecting the sea turtles that nest on Sea Island.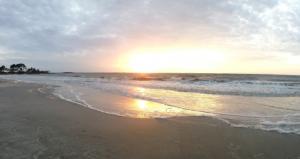 Upon meeting at the Beach Club, we hopped on a golf cart, and off we went. This particular morning had high tide at 6:30 am, so we had to alter Raleigh's typical route. We began on the north end of Sea Island. This is a particularly beautiful area of the island as you have spectacular views of secluded Little St. Simons Island across the water. 
 As we began patrolling the beach, we passed a nest that had been laid and marked earlier in the week. Mind you, it's still dark out so keen eyesight and high attention to detail are a must. Before we knew it, we had spotted our first nest of the morning!
The iconic tracks a nesting mama turtle leaves behind almost resemble tire tracks. The first task of business when finding fresh turtle tracks is to identify the species who left the tracks behind. Loggerhead turtles have alternating flipper patterns while leatherbacks and green sea turtles have parallel tracks. These tracks came from a loggerhead sea turtle, which is the most common turtle to nest in the Golden Isles.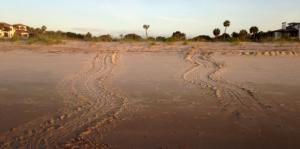 Next, we had to determine which direction the turtle was going. Which portion of her tracks are her up tracks (her ascent from the ocean) and which are the down tracks (her descent back to the ocean)? We had to look closely at the tracks to find the nail markings; this tells us her track direction. A loggerhead turtle's nails leave arrow-shaped markings in the sand. If the arrow left by the nail marking points to the ocean, we know this is her up the track. If it points toward the dune line, we know this is her down track. The arrow always points in the direction where she came from.
The third step in the process is to find the body pit. This is where the mother digs in the sand, deposits her eggs, and covers them up. If this had been a false crawl, there would either be no body pit found or no eggs present. A false crawl occurs when a mama turtle attempts to lay a nest but is unsuccessful. This can happen if she doesn't find a suitable area to lay her nest or if she feels threatened. But don't worry! She will head back to the ocean and will resurface within 48 hours to lay her nest once she finds her perfect spot. A mother loggerhead will nest between one and five times in one season!
Once we successfully located the body pit, we had to find the eggs. This is the tricky part. It is essential to keep one egg from each nest for research purposes. (DNA research will determine the exact female who laid the nest.) Very carefully, so as not to accidentally strike an egg, Raleigh had to probe the body pit to find the air pocket filled with the eggs. We gently removed a portion of the sand in order to find the eggs.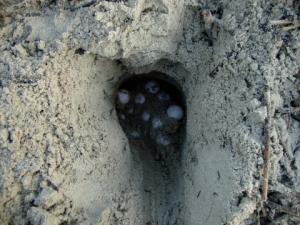 Loggerhead eggs are about the size of a ping pong or golf ball. They are very soft to the touch; they don't have a hard shell like a chicken egg. A nest will have anywhere from 100 to 125 eggs and it only takes about 60 days for the eggs to hatch.
Occasionally, Raleigh and her team will have to relocate a nest. Why? Perhaps the mother laid her nest below the high tide line, or she picked a heavily trafficked area. If a nest needs to be relocated, it must happen within the first 10 hours of the nest being laid. After the 10-hour mark, which is when the embryos attach to the lining of the eggshell, you run the risk of detaching the unborn turtles and could potentially ruin the entire nest.
After we recovered the nest, we marked the nest. This was Sea Island's third nest of the season. It is extremely important to mark the nests, not only for awareness and protection but also for further evaluation. As the season continues, Raleigh checks every nest each day to ensure its wellbeing and to note any progress.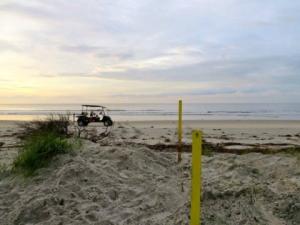 Even after a nest has been laid, it is still exposed to the elements: weather and predators. If a nest is laid in an area with known predators, extra protection will be given to the nest. Netting will be laid over the nest. This netting will keep predators, such as raccoons or armadillos from getting into the nest, but it will also allow the hatchlings to successfully leave the nest when the time comes.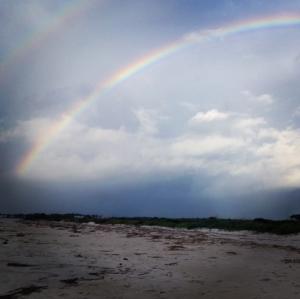 The remainder of our patrol resulted in one false crawl and two more nests. We completed our patrol just in the nick of time as several storms were threatening us offshore. But they say there's a silver lining to each cloud. Check out this double rainbow we saw!
At the time of this blog posting, Sea Island now has 42 nests, Jekyll Island has recorded 82 and Little St. Simons Island has 41. St. Simons Island welcomed its first nest at Massengale Beach.
Last year we had over 300 nests laid in the Golden Isles. This season is already off to a great start! We are all greatly encouraged by the amount of activity we have seen so far this season.
How can you experience sea turtles in the Golden Isles?
Sea turtles are one of our most beloved marine animals. They are most visible during the nesting season, which begins in May and can oftentimes last through August or later.
We are extremely fortunate to have the Georgia Sea Turtle Center located right here in the Golden Isles. The Georgia Sea Turtle Center has been a one-of-a-kind rehabilitation, research, and education facility since its opening in 2007. Spend an afternoon at their location on Jekyll Island and you'll be able to visit with recuperating patients, watch a procedure through their observation window and interact with their hands-on exhibits.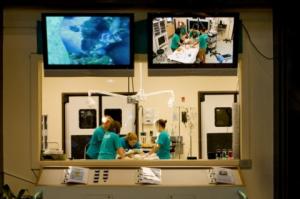 The Georgia Sea Turtle Center also releases rehabilitated turtles back into the wild. Keep an eye on our Festivals & Events Calendar or Facebook page to find out if any releases are coming up. 
Join the Georgia Sea Turtle Center on one of their Turtle Walks or Nest Walks. Turtle walks take place at night, and while sightings are not guaranteed, the naturalist's knowledge of the beach and real-time connection to other turtle watchers increase your odds. Nest walks occur later in the season, once nests begin to hatch. Help inspect the nest and determine how successful the hatch was.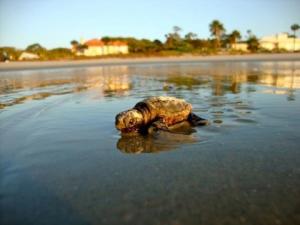 Guests staying at The Cloister at Sea Island and The Lodge at Sea Island also have the opportunity to participate in Dawn Patrol or Night Walks. Sea Island's newest hotel, the Inn at Sea Island, located on St. Simons Island, provides access to certain Sea Island amenities when booking the Resort Access Rate. Accompany the Sea Island Nature Team as they go in search of new nests, check on existing nests, and if you're lucky, you might even see a nest hatch!
Little St. Simons Island also allows guests to partake in patrols and inventories. Night walks are conducted twice a week during nesting season. Visitors can also observe a nest excavation and help with inventory five days after a nest hatches.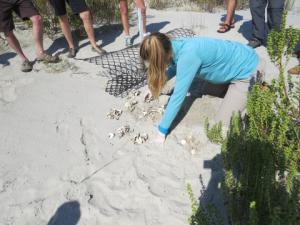 What can you do to help protect sea turtles?
Unfortunately, loggerhead sea turtles have been on the United States threatened species list since 1978. The odds are ultimately against them. Although a mother will deposit an average of 100+ eggs per nest, only one of one thousand hatchlings will make it to adulthood, meaning it would take about ten nests to produce one adult for the next generation.
Here are a couple of ways you can help turtles when you visit the Golden Isles:
Use sea turtle-safe flashlights on the beach at night.
If you dig a hole on the beach during the day, fill it back in before you leave. Oftentimes a nesting mama or hatchlings can get caught in a hole.
Don't litter! Jellyfish are a favorite food for sea turtles. Balloons and plastic bags floating in the water are easily confused for jellyfish. If you see litter or debris on the beach, please do your part to properly dispose of it in a trashcan.
If you are fishing and accidentally hook a turtle on your line, use a net to bring the turtle into the boat and immediately call the Georgia Department of Natural Resources Coastal Resources Division at 912-264-7218. Do not cut the line loose until help arrives.
If you come across a sea turtle while you are on the beach, do not interact with them. Remain at a safe distance so as not to disturb the turtle. Not only is interacting with the turtles illegal, but it is also potentially harmful to the animal.
Watch for turtles on the roads. Terrapin turtles also nest in the summer months, causing them to travel across roadways to lay their eggs. Adhere to posted speed limits and keep an eye out for any turtles that may be on the roads!
Photos used in this post were taken by trained and licensed naturalists. Beachgoers should never directly interact with a live sea turtle or its nests. A special thank you to Kelly Patton, Raleigh Nyenhuis, and Elise Diehl for providing images for this blog.