Partnership Levels & Benefits
Golden Isles CVB Partners have exclusive access to many enhanced marketing benefits. Please review the following table for a snapshot of program benefits, or download a printable PDF here.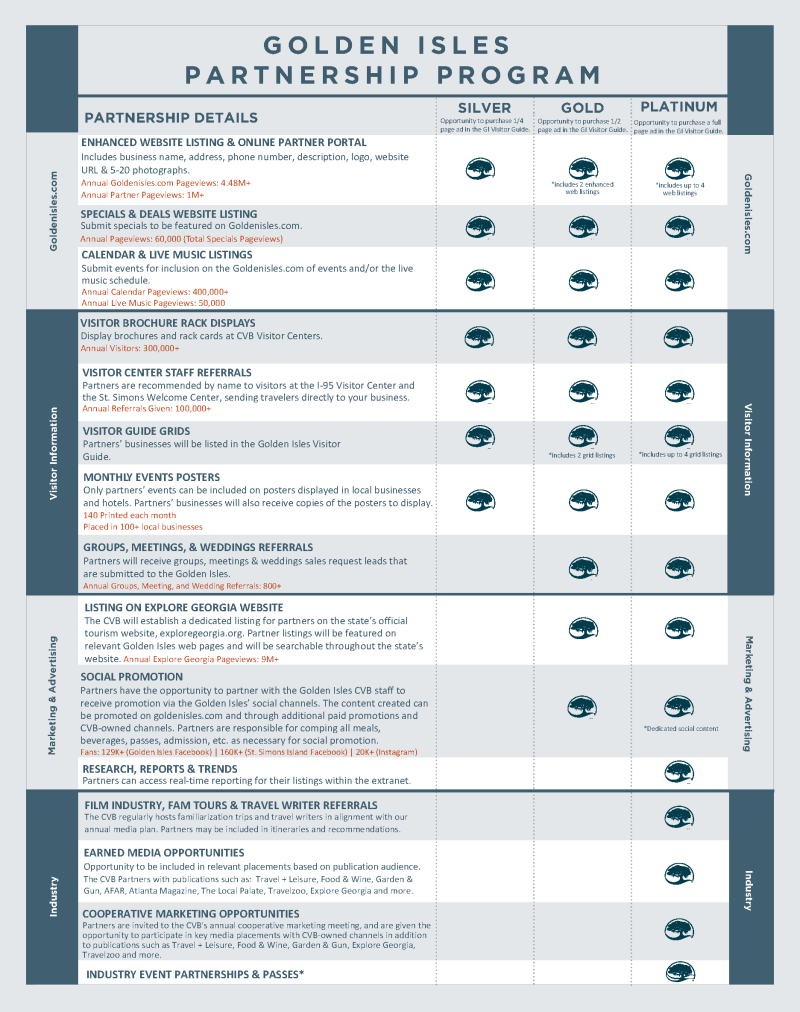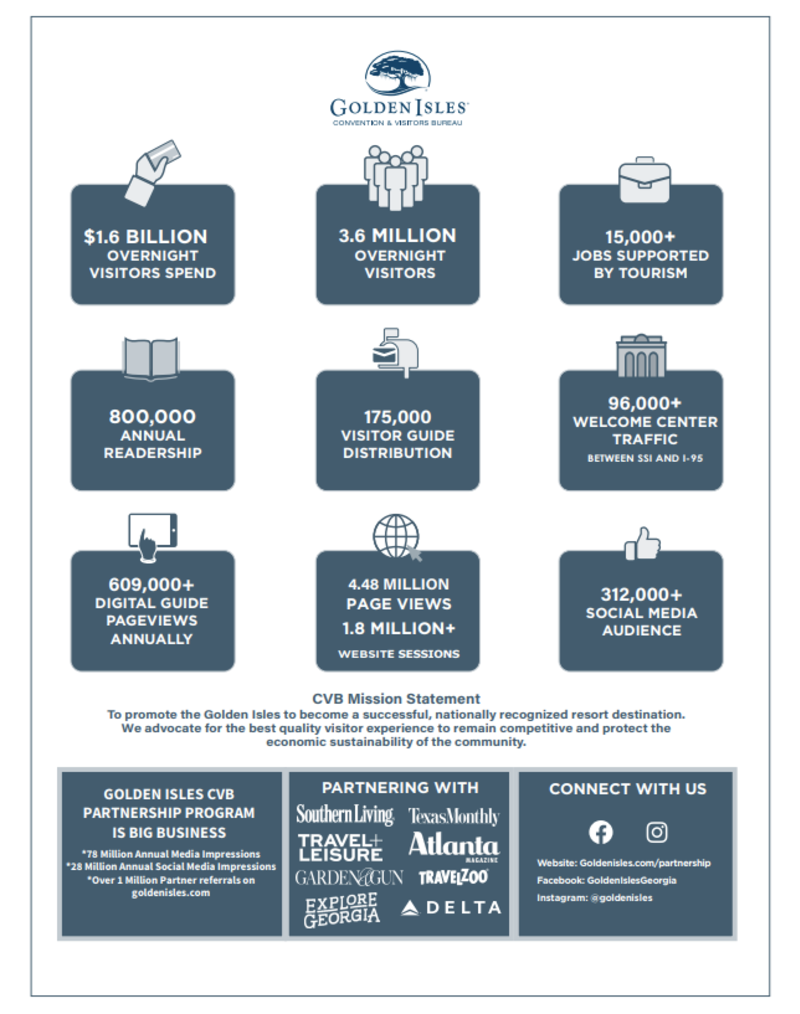 Maximize Your Partnership
The Golden Isles CVB offers tools that Partners of all levels can tap into to strengthen their business's marketing efforts. Please review our comprehensive benefits chart to see which of these options you have access to. Here are some of the best ways you can make sure you are using the tools we offer and keep us informed about your business: 
1. ADD US TO YOUR EMAIL LISTS. 
We want to hear about your business updates and news! Add partnership@goldenisles.com to your email lists so we receive your business's emails if email marketing is part of your strategy. As a Golden Isles partner, you will automatically be subscribed to our industry updates newsletter as well, so please be sure to add us to your safe sender's list so you don't miss out on important destination news. 
2. KEEP YOUR LISTING FRESH. 
One of the most important tools for all levels of Partners is your business's listing on Goldenisles.com. Review your listing details to ensure all amenities, menus, descriptions, contact details, and images are up to date. We see our site visitors have the best engagement and referral rate on partners' listings that have multiple, high-quality photos, a detailed description, and a full list of amenities and other details indicated. Log into your extranet portal here. 
3. SUBSCRIBE TO AND READ EMAILS FROM THE GOLDEN ISLES CVB. 
As a Golden Isles partner, your main marketing contact will automatically be added to our industry database. Add us to your safe sender's list so you don't miss out on important destination news, upcoming meetings, advertising opportunities, crisis communication, and more. Add anyone on your team who will benefit from this information to ensure seamless communication between our teams.
4. FOLLOW US ON SOCIAL. 
Follow us on our social channels to stay up to date on our leisure messaging. This is the best way for you to see what performs best with our destination's audiences and might give you good ideas on how to align your content with ours to elevate our messaging in our shared markets. We are always looking for content to share from our Partners, so be sure to tag us in your posts and use our hashtag #goldenisles so we see your posts! 
5. SEND US FEEDBACK. 
Let us know how we are doing. Do you love our content? Do you have ideas for something new? Are you satisfied with our Partnership Program? Do you have a big idea you would love to tackle with us? We want to hear about it! You can email us directly, drop into a Welcome Center, or contact anyone on our team to deliver your feedback.  
6. ATTEND PARTNERSHIP MEETINGS. 
Watch your inbox for event invitations like Golden Isles partnership meetings, networking events, or our hospitality celebration, and join in! You won't want to miss our valuable updates or the time to celebrate our industry with our peers.