For decades, the Golden Isles has captured the hearts of families, friends and visitors. With our spectacular sunrises and sunsets, endless beaches and majestic live oak trees, the Golden Isles is the perfect backdrop for vacations or weekend getaways.
Our coastal hometown is also quickly attracting a new kind of visitor – set designers, screenwriters, producers, directors, actors and actresses. The state of Georgia offers some pretty incredible incentives (think tax credits) for entertainment companies looking for filming locations.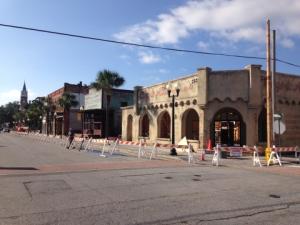 This fall, Historic Downtown Brunswick is getting a makeover as it prepares to be one of the filming locations for upcoming blockbuster Live By Night. A Prohibition Era movie about organized crime, this movie is based on the book written by Dennis Lehane. Our quaint stretch of Newcastle Street will be transformed into Ybor City, a historic Tampa neighborhood.
Other notable movies that have been filmed in the Golden Isles include:
-        Live By Night (2017)
-        Magic Mike XXL (2015)
-        Beachfront Bargains (HGTV, 2014)
-        Coming from All Sides (2014)
-        Island Dream Home (HGTV, 2014)
-        Sweet Retreats (Lifetime, 2014)
-        Anchorman 2: The Legend Continues (2013)
-        Scaly Adventures (2013)
-        The Book of Life (2013)
-        Royal Pains (2012)
-        Extreme Christmas Trees (TLC, 2011)
-        Miss Hallee and Mr. Milliken (2011)
-        Whistleblowers: The Untold Stories (2011)
-        X-Men: First Class (2011)
-        Diners, Drive-ins and Dives (2010 & 2006)
-        Criminalizing Dissent (2006)
-        Baby of the Family (2002)
-        The Legend of Bagger Vance (2000)
-        A Season in Purgatory (1996)
-        Camilla (1994)
-        Glory (1989)
-        Roots (1977)
-        Conrack (1974)
-        The Longest Yard (1974)
-        The View from Pompey's Head (1955)
The Golden Isles has also been a popular destination for TV shows. Watch clips of episodes for HGTV's Island Life, Food Network's Diners, Drive-Ins and Dives, and Cooking Channel's Junk Food Flip, which have all been filmed here, among several other popular shows.
If you decide to check out the movie set in Brunswick on your own, we kindly ask that you be respectful of those on location as it is a working site. Please do not interfere with the set, film crew or actors. We are thrilled to be considered for so many major motion pictures and TV shows alike, and hope they continue to come back to the Golden Isles for future projects for years to come!