Gnat's Landing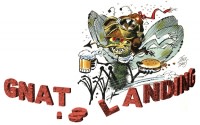 310 Redfern Village, Redfern Village

Saint Simons Island, GA 31522
Details
 Modified hours (11am to 8pm). Offering dine in, take out and family meals. 
Laid back attitude served daily - Serving fresh seafood, local favorites and homemade goodness on St. Simons Island. Gnat's Landing was originally founded on Saint Simons Island, GA by Robert "Boz" Bostock. Over the years, Boz has had the privilege of working in a number of diverse and creative fields, but his desire to open his own bar and grill restaurant always ate at him (pun intended). During his most previous job as a toy store owner, he spent many years traveling across the country. He made the best use of his time visiting restaurants and taking notes of his travels. After adding those lessons to his vault of ideas and family recipes, all he needed was a place. He had his eye on a location in Red Fern Village and once it became available, the rest as they say...
Boz's dream became reality in 1999. The goal was to create a place for beach goers to relax in a "Flip-Flop Friendly" environment and enjoy some good ole' American fare. His menu of daily specials, fresh seafood, salads, sandwiches, fried pickles, not to mention the $8,000 Margarita were beyond "Beach Casual".
In 2013, Boz tragically passed away from cancer. After his untimely passing, Gnat's was acquired by the Pope family. St. Simons has been a place where the Popes have come together and grown as a family, and they wanted the opportunity to give back to the island that has already given them so much. With Boz's original mission and goals in mind, teamed with so many familiar Gnats faces, the Popes purchased the restaurant with every intention of helping the island and its people grow and prosper.
So... if you aren't afraid of having a good time, come on by and give us a try. But remember... If you like home cookin' - stay home. And always, free beer tomorrow. Hope to see you soon.