A Day of Biking on St. Simons Island
With 20 miles of bike trails on St. Simons Island, what better way to take in the beauty of Georgia's coast while discovering the island's greatest attractions? Biking on St. Simons Island is a memorable way to relish in the island's natural scenery and find the best restaurants, shops and iconic landmarks. 
To get you started, there are plenty of St. Simons Island bike rentals that will be happy to set you up with some gear before you set about on your biking journey. With so much to see and so many memories to be made, we recommend grabbing your friends and family and dedicating a whole day to biking the island! 
1. Bike by the St. Simons Island Pier 
Start your morning at the St. Simons Island Pier Village about the time fishermen cast lines from the St. Simons Island Pier. For a quick, grab-n-go breakfast, stop into Three Little Birds. If you're looking to sit down and grab a bite to prepare for the journey ahead, pop into Mallery Street Café for a classic and hearty breakfast. 
Once you've curbed your hunger cravings, it's time to hit the bike paths on St. Simons Island! Your biking adventure will begin when you head north down the sidewalk that runs parallel to the St. Simons Sound. You might spot cargo ships passing you by! Make sure to make a quick stop and catch the beautiful views of the St. Simons Island Lighthouse.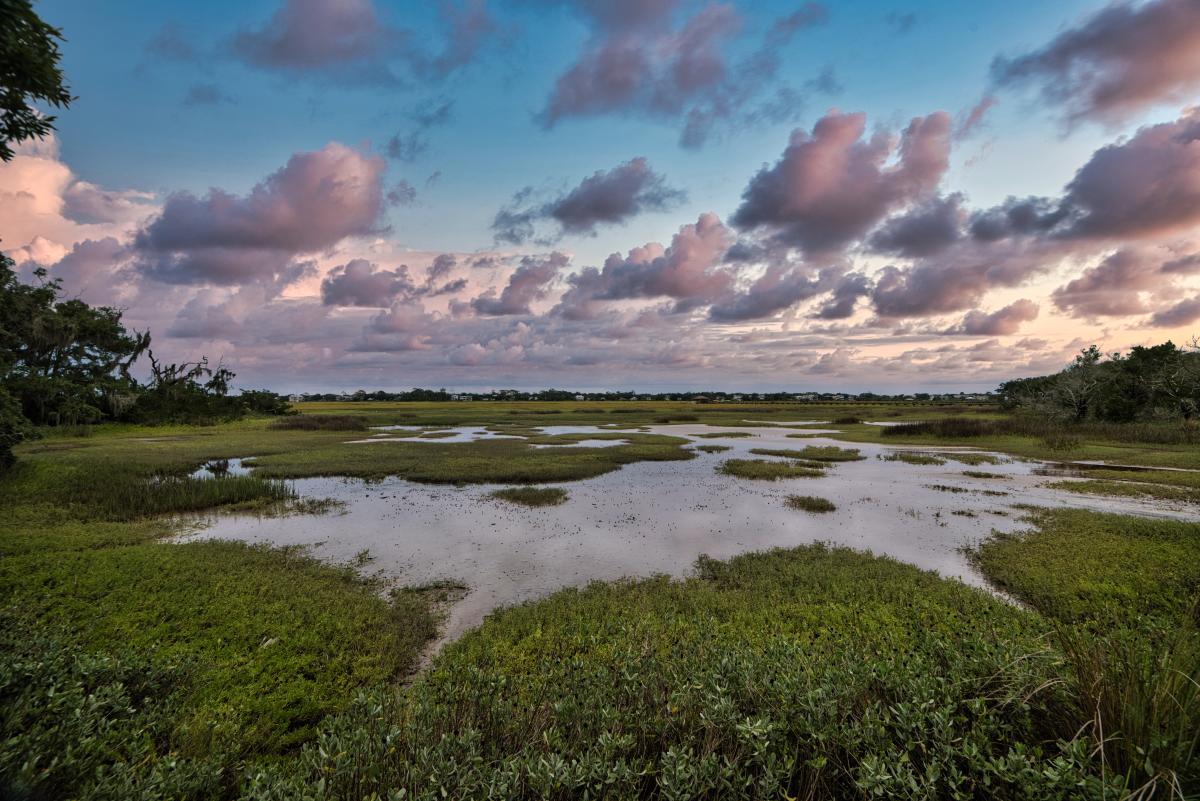 2. Discover Stunning Marsh Views
Cruise down Demere Road for a taste of colonial history: the Bloody Marsh Battle Site, where General James Oglethorpe fended off Spanish troops. Take in the scenic views of towering live oaks and unique Spanish moss as you bike along the shady sidewalks. If you choose, take a detour and test out the inviting St. Simons Island beaches! 
3. Grab Fuel in Redfern Village
Around midday, continue north on Frederica Road; hop off near Redfern Village for a gander at some of its shops. Stop into Viola's Market and browse antiques and accessories with an essence of coastal charm. You can also drop into Beach Cow Nut Co., and grab some to-die-for glazed pecans to snack on later or take with you as a souvenir.  
You'll also want to make sure you fuel up before you continue your journey. Grab a quick and fresh lunch at Golden Isles Olive Oil and shop their gourmet market, and don't leave Redfern Village without hunting for the two tree spirits that reside in the area! On your way out of the Village, treat yourself to a handcrafted sweet treat from Dulce Dough. 
4. The Best of Nature on St. Simons Island
Start pedaling north again on Frederica Road and stop at the John Gilbert Nature Trail a mile away, a 40-acre marsh-front property protected by the St. Simons Land Trust. Lock your rig on a bike rack and wander to the 200-year-old "John's Oak." Once you marvel in all its glory, it's time to get back on the St. Simons Island bike trails!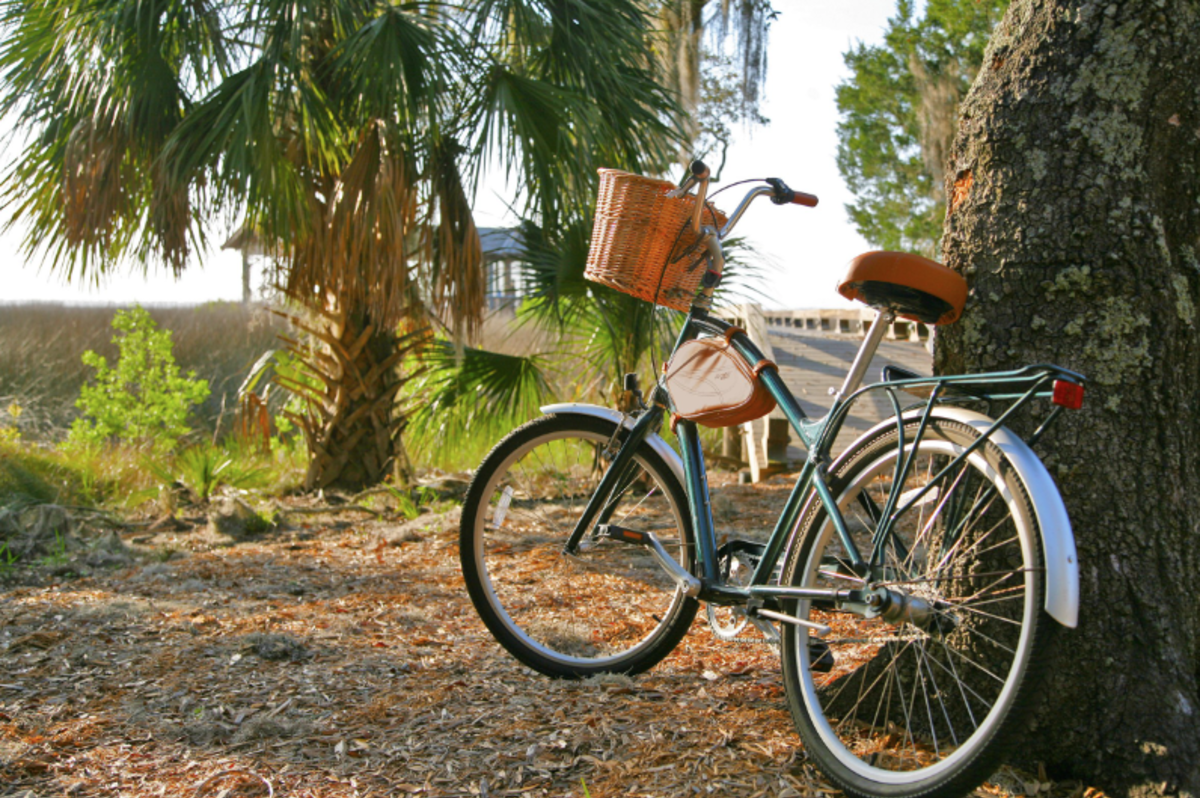 5. Explore St. Simons Island Parks
As you travel farther down Frederica Road, hang a right and catch a glimpse of the beautiful horses at Frederica Stables. Continue to make your way to Frederica Park, where you can then admire the fanciful Fairy Village. Take a moment to breathe in the fresh air, and relish in the natural allure of the Alice Richards Botanical Trail, where native plant species have been re-introduced to the land.  
6. Uncover St. Simons Island History
It's time for a blast from the past! Engage your inner historian with a stop at Christ Church, one of the most famed historic destinations on St. Simons Island. Soak in the charm of this notable spot as you traverse the beautiful cemetery, made up of graves of some of the island's first inhabitants. 
Then, cruise towards Wesley Gardens and appreciate two acres of native trees and plants, including over 4,000 azaleas that bloom each spring. Travel a little further to Fort Frederica National Monument and scout the tabby ruins of the thriving village that was once the first British settlement on St. Simons Island in the 1740s.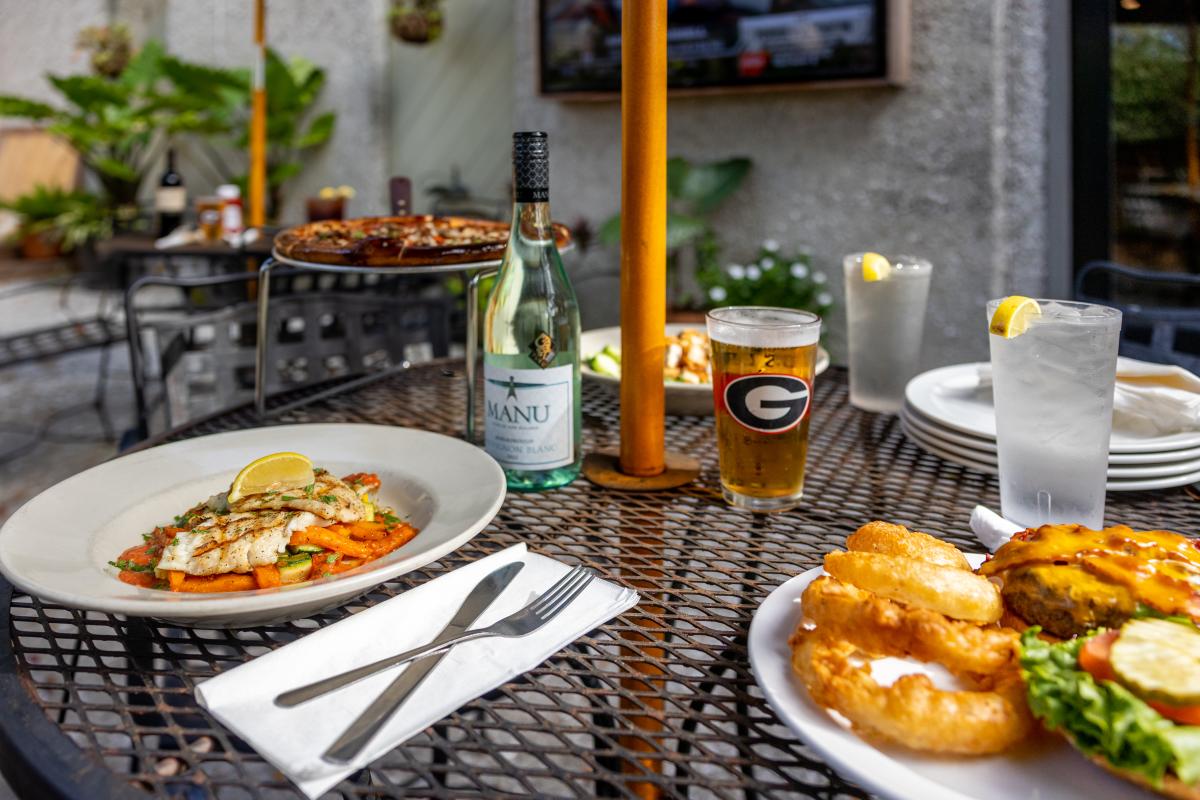 7. Dine on the Island 
Reward yourself and hoist a pint with the regulars who gather at La Plancha for made-from-scratch margaritas and reward yourself with family-inspired Latin classics and inventive creations of authentic Mexican food. We recommend you start off with an order of the Macho Nachos! 
Or replenish your energy with a delicious meal from Brogen's North. You'll have no problem finding something that sounds good whether that be fresh seafood, cheesy pizza, or a juicy burger. 
Give yourself a pat on the back, as you have now successfully biked across St. Simons Island! Turn in your wheels, and you're sure to have a great night of rest. Cheers to a satisfying ride!