The St. Simons Island Pier Village is a popular Golden Isles destination to spend time among both locals and visitors. Nestled next to the St. Simons Island Pier, Pier Village is not only packed with shops and restaurants to explore but is home to many events and other adventures.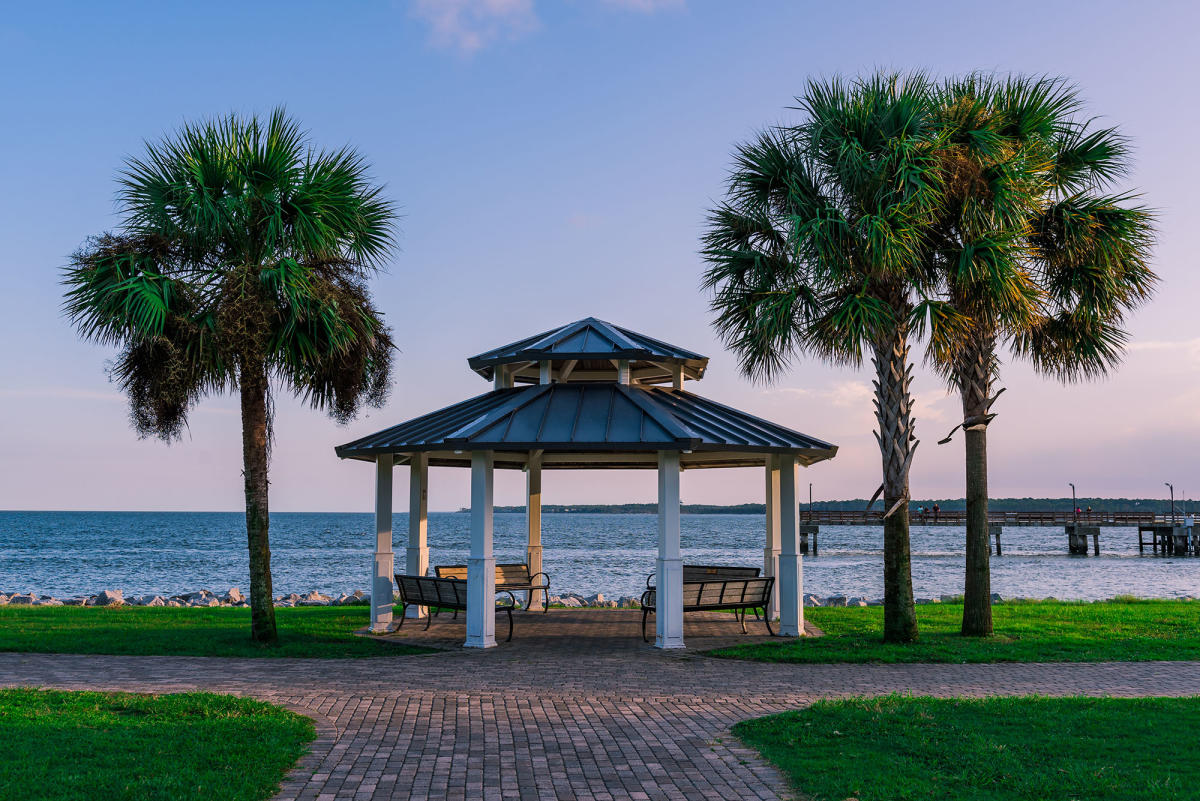 Take a stroll down the Pier to discover many of the things that make this such a special place to visit. With plenty of marine life in the waters surrounding St. Simons Island, you might see a local bottlenose dolphin splash from the pier or watch a pelican as it flies by. On a clear day, you can look across the sparking waters of Coastal Georgia to Jekyll Island and view Driftwood Beach from the pier. The benches along the Pier provide the perfect spot to observe your beautiful surroundings, watch for passing cargo ships or see a fisherman reel in their latest catch. You can enjoy the stunning views from the Pier at all times of day, but the sunrise and sunset are especially spectacular.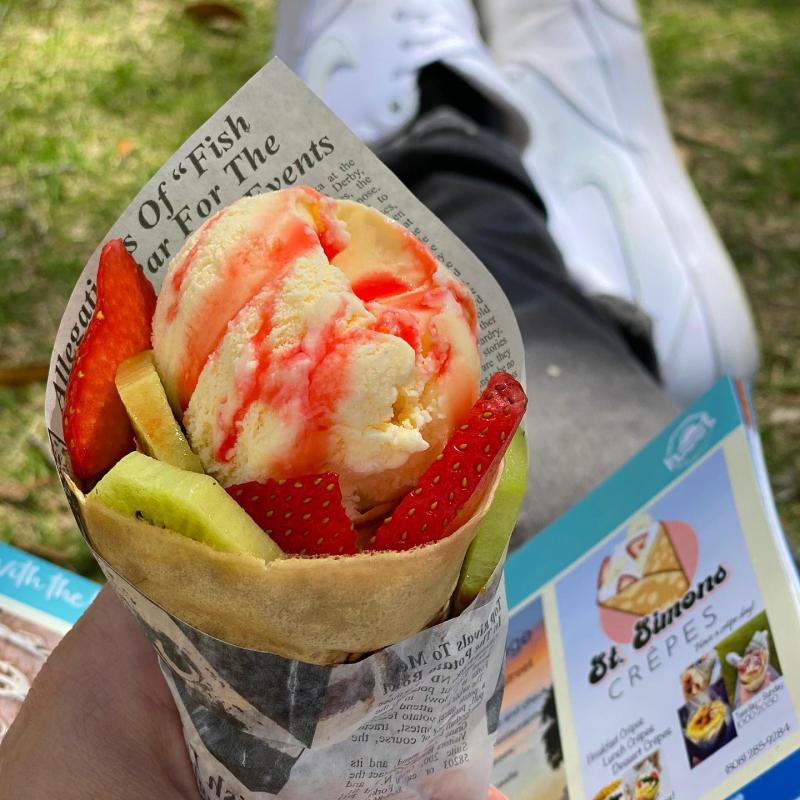 Where to Eat in Pier Village 
Along the streets of Pier Village are many restaurants, but here are a few to check out when your appetite kicks in: 
Palmers Village Café  
Start your day off with a hearty breakfast that won't disappoint from Palmer's Village Café. Try a unique southern coastal creation, many which feature legendary pimento cheese that comes from an original recipe. With a welcoming vibe and a menu ranging from omelets packed with flavor to mouthwatering banana pudding pancakes, you'll leave full and satisfied.   
Barbara Jean's 
Known across the region for its fresh crab cakes, Barbara Jean's is a staple lunch spot in Pier Village where you can enjoy a delicious home-style meal. This small-town casual restaurant serves seafood, fresh vegetables and baked from scratch breads. Some menu favorites include the "She Crab" soup and The Chocolate "Stuff" dessert. You can't go wrong with southern comfort food! 
Mellow Mushroom 
With a reputation for having the best pizza on the island, Mellow Mushroom is the perfect dinner spot that the whole family will love after spending the day adventuring around Pier Village. Choose from a variety of stone baked, hand tossed classic southern pizzas, all made with spring water crust and crafted from the freshest ingredients. Pair your pizza with a handcrafted cocktail or draft beer during happy hour, taking place every day from 2-6 p.m. and 9 p.m.-close. 
St. Simons Crepes 
Your taste buds will thank you after stopping into St. Simons Crepes for dessert. Located within the Pier Village Market, St. Simons Crepes brings something different to the island with special crepes rolled into a cone, so you can enjoy them on-the-go as you explore the village. With crepes featuring Nutella, various fruits, caramel and even cheesecake, you'll have a tough time picking just one. 
Frosty's Griddle and Shake
Whether you're just looking for a sweet treat or a full meal, Frosty's Griddle and Shake is a popular spot on St. Simons Island for delicious griddled burger stacks, chili dogs, onion rings and fried shrimp. They also offer a great selection of milkshakes and ice cream, the perfect treats to cool you down on a hot summer day in Pier Village!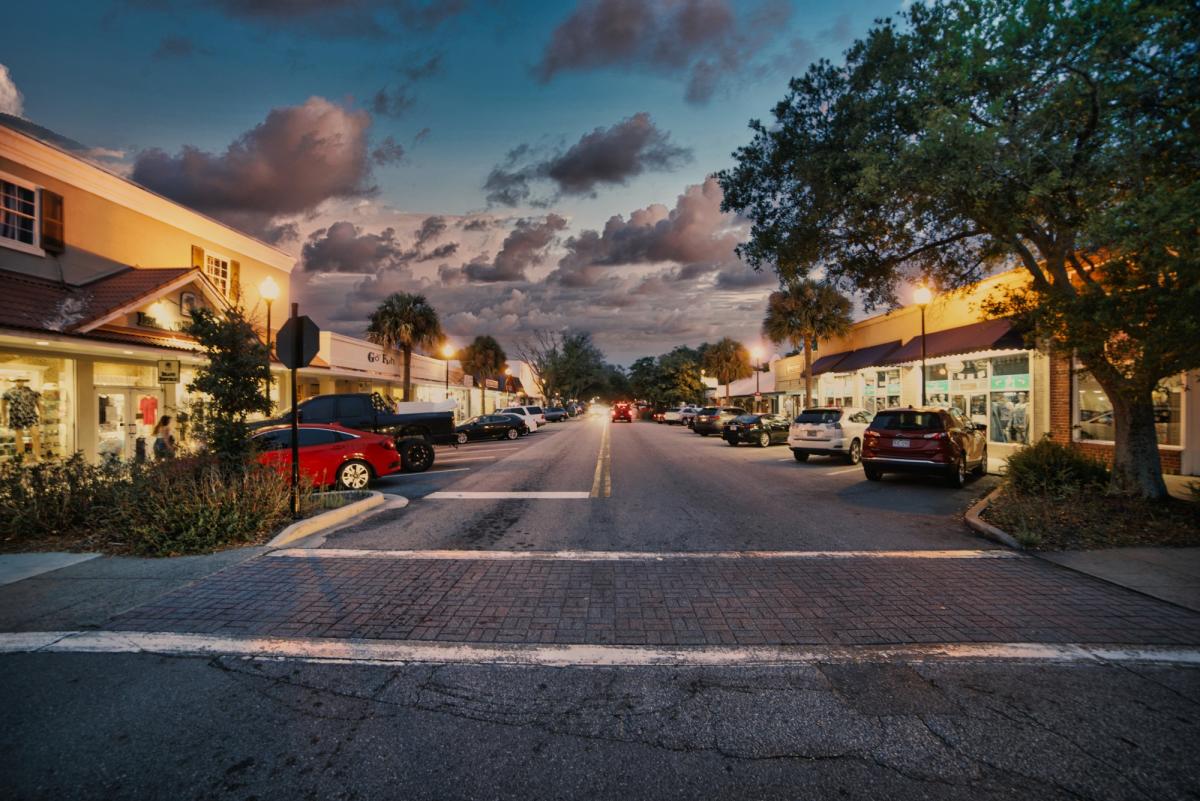 Where to Shop in Pier Village 
There's no shortage of shopping in Pier Village, and the time will easily slip away as you go in and out of all the stores along the village sidewalks. Make sure you stop into some of our favorites: 
Savannah Bee Company 
Bring some sweetness to your life with specialty honey from Savannah Bee Company. Shop from raw honeycomb, whipped honey and a selection of honey gifts. You can even find beauty and wellness products with real benefits derived from treasured honeybee hive ingredients. Be sure to check out their mead bar, where you can enjoy honey and wine tastings!
Lighthouse Museum Store 
Just around the corner from the St. Simons Pier is the Lighthouse Museum Store. Take a stroll through the store and shop from collectibles, keepsakes and gifts for all ages. There's plenty of one-of-a-kind items for you to pick from, and once you finish your shopping you can grab tickets for the St. Simon's Lighthouse Museum and nearby World War II Home Front Museum. 
Live Oak Store 
Not only is the Golden Isles Welcome Center your best source for information and maps of the area, but it is also home to the Live Oak Store. Filled with unique hand-picked items from local artisans and gifts for all ages, this is a great stop to shop for special souvenirs that will remind you of your visit to the Golden Isles. 
St. Simons Sweets
St. Simons Sweets is the sweets shop of your dreams! Located in the heart of Pier Village,  shop from fudge, pralines, cookies, brownies, gummies, various candies, gift items, and so much more! You can also order up a tasty cone or cup of ice cream, choosing from 23 different delicious flavors.
Hope's Boutique
Shop from the newest Southern styles at Hope's Boutique! At Hope's you'll find a broad selection of fashionable Womens clothing, including dresses, shoes, and accessories. Treat yourself to a new outfit while in the Golden Isles!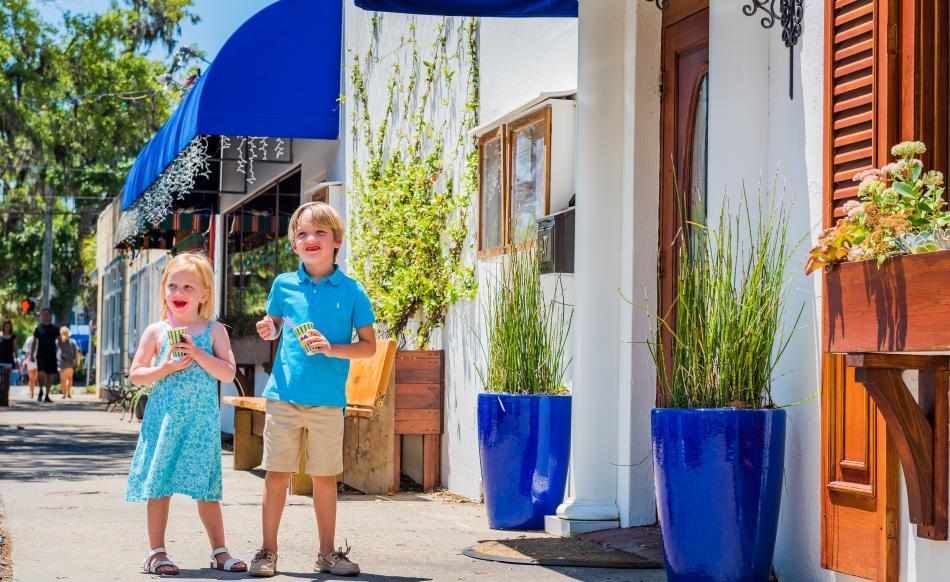 Things to Do in Pier Village 
There's plenty of ways to spend your time in Pier Village. If you're looking for things to do you've come to the right place.
Locate the St. Simons Island Tree Spirits 
Take part in a magical scavenger hunt across the island and locate all eleven tree spirits. These unique carvings represent the inner soul of each tree and are in arborist-approved places on the trees. The legend states that the faces of the tree spirits are of the lost sailors who passed at sea on boats made from St. Simon's Island oaks. Pick up a Tree Spirits map from the Golden Isles Welcome Center or download a copy.
Adventure to the Island Lighthouse 
You can't take a trip to Pier Village without adventuring to the Island Lighthouse. The St. Simons Lighthouse was built in 1872 and is one of the only five surviving light towers in Georgia. It houses the Lighthouse Museum which displays exhibits, artifacts and period rooms that reveal the history of the Island. Don't miss your chance to learn something new! 
Visit the Playground at Neptune Park  
With a beautiful oceanfront view, the playground at Neptune Park is not your normal playground. The park offers a casino, walking path, picnic area and a pool. There's plenty to keep you entertained, and the park's benches are the perfect rest spots to relax and take in the gorgeous views of the ocean. 
Cool Down with Fuse Frozen Yogurt
Nothing compliments a day in the St. Simons Island's Pier Village better than Fuse Frozen Yogurt! This self-serve frozen dessert shop specializes in premium frozen yogurt, sorbet, and gelato! Create your own dream dessert with all of your favorite toppings!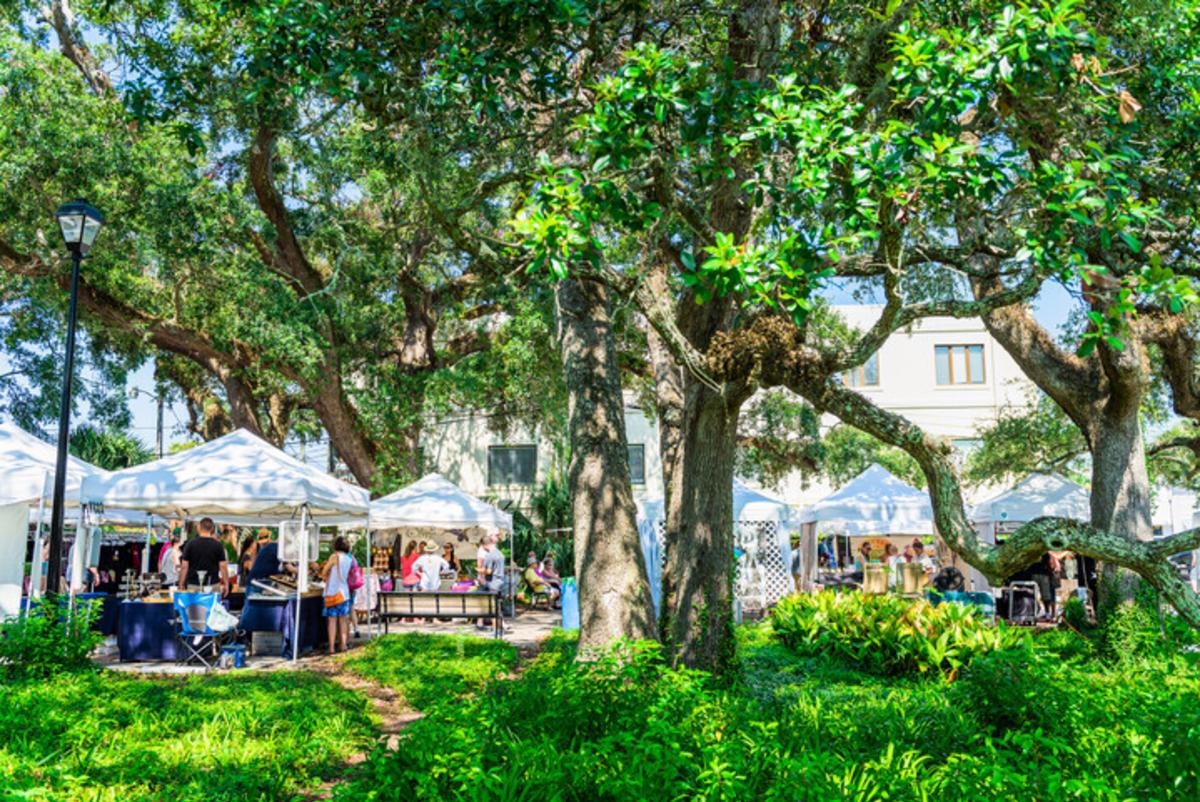 Events in Pier Village 
Pier Village is home to many repeat and annual events that you won't want to miss.
Crafts in the Village
 If you're visiting Pier Village on a weekend, you can shop for local and handmade items and celebrate art at Crafts in the Village, an event that takes place at Postell Park in Pier Village on select Saturdays and Sundays. Each event features 70 artists and crafters. You will have no problem leaving with something special like coastal art, décor, jewelry, skincare, food and so much more. 
4th of July on St. Simons Island  
Although there are plenty of ways to celebrate the 4th of July in the Golden Isles, the annual St. Simons Island Sunshine Festival in Pier Village is an island tradition you won't want to miss. The festival is family-friendly and features a 5K and 1-mile fun run, food, live music, and an exciting display of fireworks once the sun goes down!  
Chili Cookoff 
Calling all chili lovers! The annual Red Hot Rotary Chili Cookoff takes place the first weekend of March in Postell Park, located in Pier Village. This event welcomes hundreds of chili enthusiasts to put their chili-making skills to the test and show off their best and most special recipes.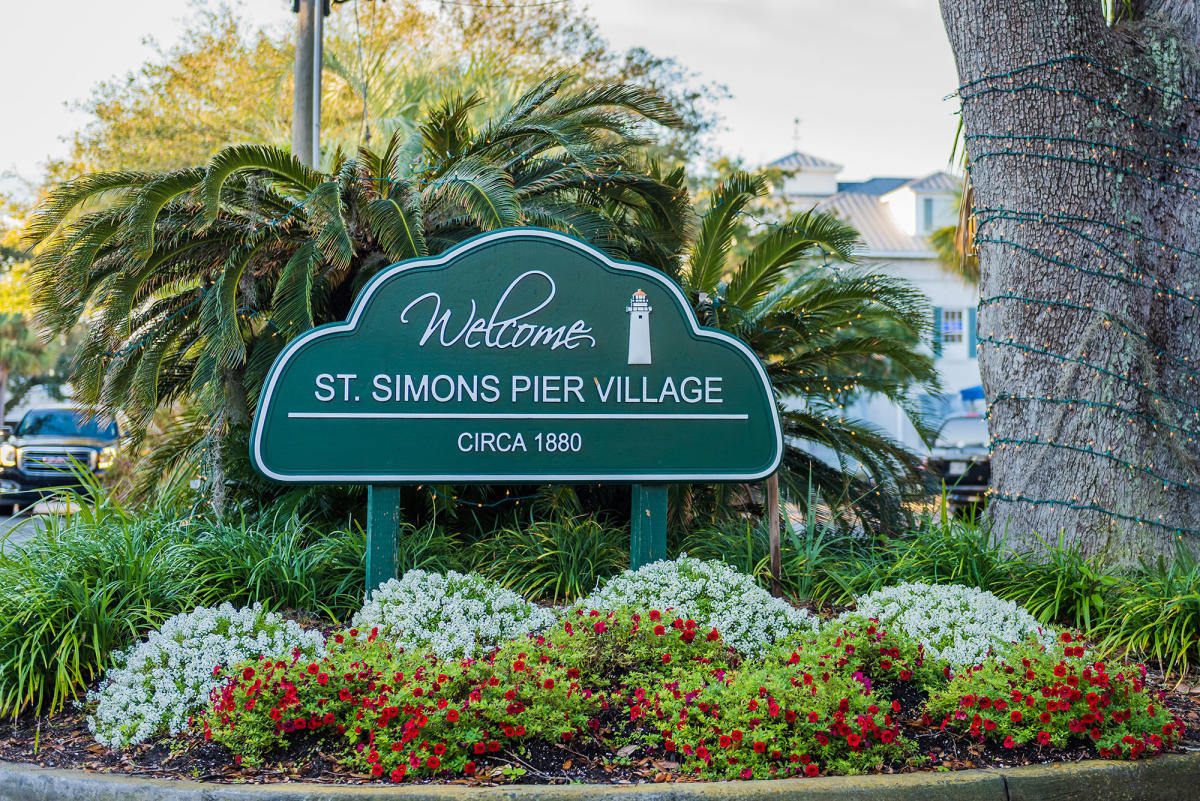 Add some adventure to your trip to the Golden Isles by visiting Pier Village and experiencing all it has to offer. With shopping, good eats, plenty to do and gorgeous scenery, you will leave with an abundance of new memories and an unforgettable experience. 
More Things to Do on St. Simons Island