The Golden Isles has something for everyone and is full of timeless adventures. For those families with young children, rest assured there are many kid-friendly activities to enjoy during your stay in the Golden Isles. However, we understand that no matter where you go the cost of entertainment can quickly add up depending on how many passes you have to purchase or how far you have to travel to get to your destination.
To ease your mind and help you stay within your travel budget while still finding a ton of family fun in the Golden Isles, we've identified 10 activities and attractions that are completely free to help you save money while making lasting memories with your family in the Golden Isles.
1. Beach Fun
With the weather warming up nicely, the Golden Isles beaches are special to both residents and visitors from around the world. Sunbathe, go for a run or build a sandcastle with kids. Explore the tidal pools where you may find hermit crabs, horseshoe crabs, or sand dollars. Wade in the water and splash in the waves of the Atlantic Ocean. No matter what activity you choose, we know you will enjoy our beaches. Forget something on your beach trip? Shark Bart is a beach delivery service that can get you what you need!
Golden Isles' beaches feature the ever popular "East Beach" on St. Simons Island, the picturesque Driftwood Beach on Jekyll Island, the unspoiled seven-mile beach of Little St. Simons Island and many more beaches to be discovered. Jekyll and St. Simons Islands' beaches are public while the beaches on Little St. Simons Island and Sea Island are for private guests only.
2. Biking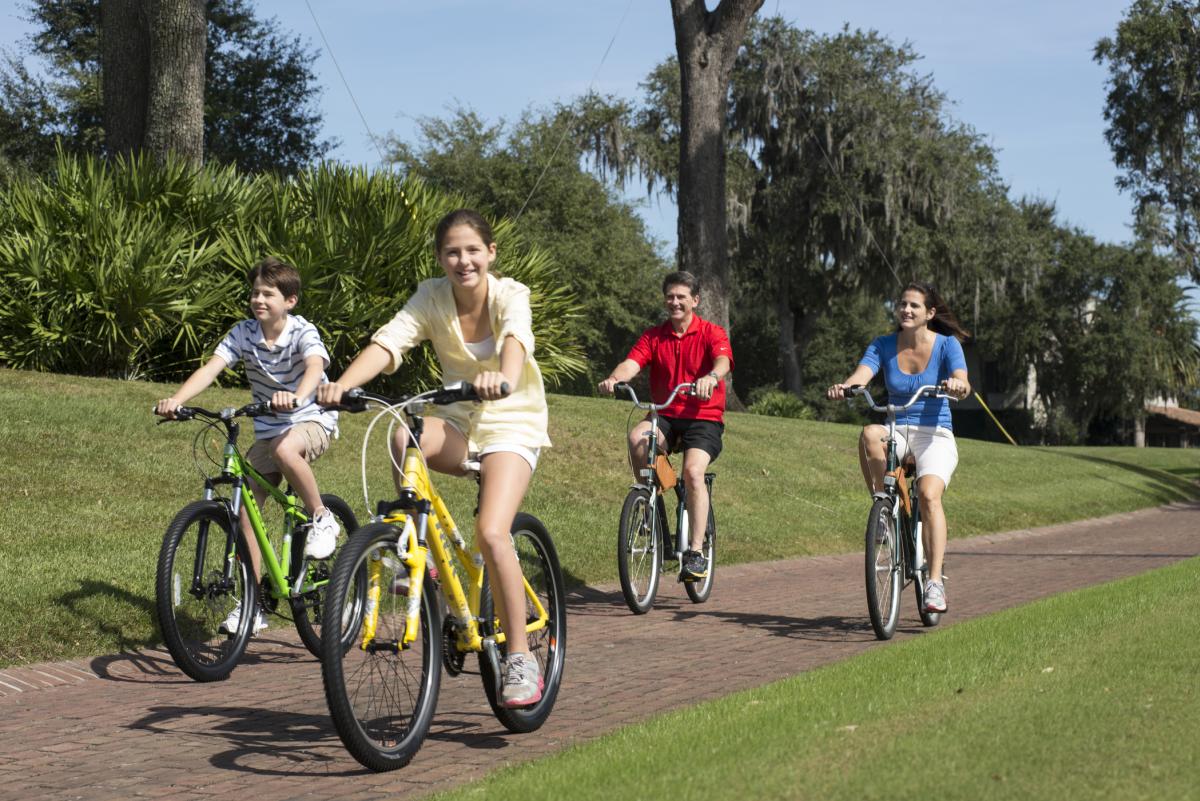 One of the most popular outdoor activities in the Golden Isles is bike riding. Jekyll Island and St. Simons Island both have bike paths that line almost every major street, providing easy and safe access to many historic sites, restaurants, beaches, and shops without the use of a car. Bike paths connect many of the islands' most popular sites along the St. Simons Island Trail System and Jekyll Island Trail System. You can even explore our many hard-packed beaches by bike to catch a glimpse of coastal wildlife and nature. If you don't already possess personal bicycles, there are multiple bike rental companies available for your convenience throughout the Golden Isles. In Georgia, protective helmets are required for any person under the age of 16 years.
3. Birding
Do your kids enjoy wildlife? If so, birding might be the perfect activity for your family! The Golden Isles comprise a vast network of rivers, marshes and barrier islands that provide habitats for hundreds of species of birds. More than 300 species of birds (75 percent of the total species of birds seen in Georgia) have been spotted along the Colonial Coast Birding Trail, of which locations in the Golden Isles are a part.
The Colonial Coast Birding Trail includes 18 sites along the Georgia coast, five of which are located in the Golden Isles: Gould's Inlet, Hofwyl-Broadfield Plantation, Jekyll Island Causeway, and Jekyll Island Beach at the North and South ends. Spring is a migration period for some species of birds, so if you're looking to experience a new wildlife adventure, then be sure to visit these sites along the Colonial Coast Birding Trail to explore these birding habitats with your kids. See how many different species the whole family can identify!
4. Disc Golf 
The Golden Isles Disc Golf course is located at Gascoigne Bluff on St. Simons Island. Gascoigne Bluff is a beautiful and unique setting amongst live oaks, whose ancestors are believed to have been used in the building of the U.S.S. Constitution nicknamed "Old Ironsides." The 6-hole course is slightly technical because of the low tree canopy and hole design that utilizes the very old live oaks as obstacles. You must bring your own discs/Frisbees to play. 
5. Hiking Trails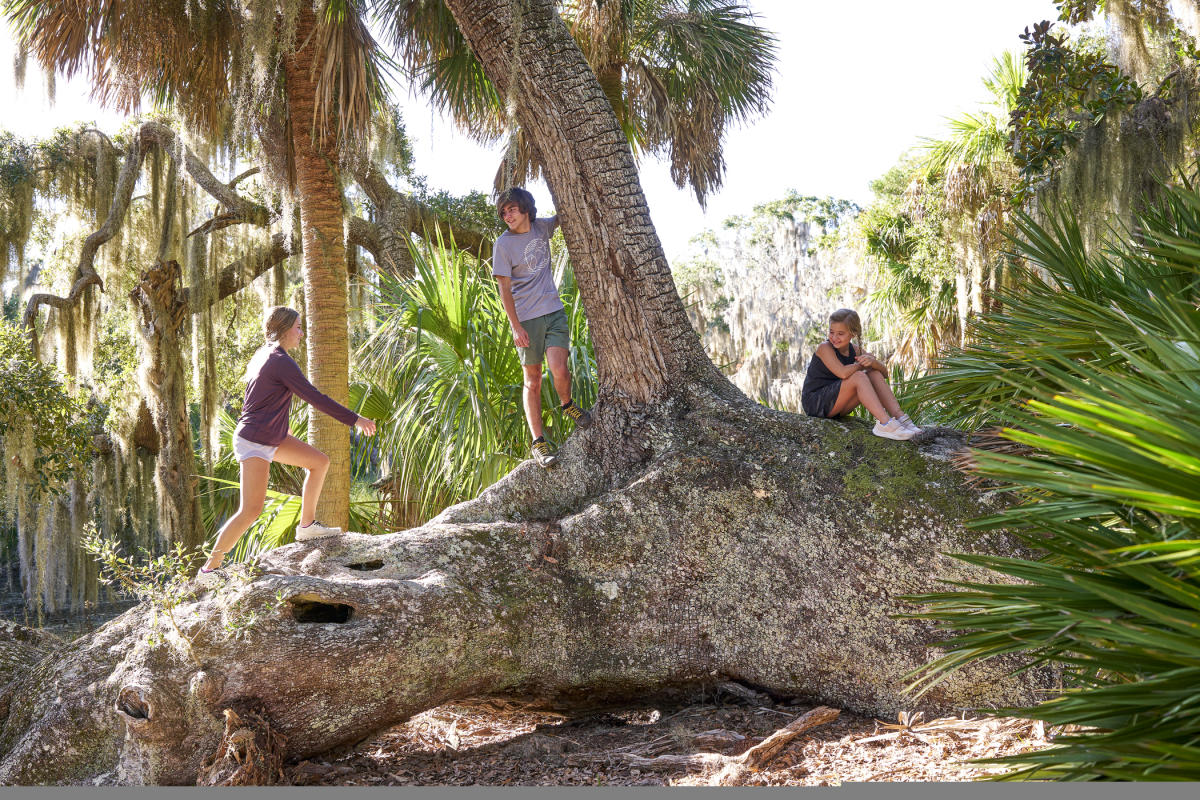 The abundance of nature trails located throughout the Golden Isles make walking or hiking an ideal way to see the area (and wear out the kids!). You can venture deeper into our natural surroundings hiking one of the many nature trails that wind through maritime forest and marshlands. Many of these nature trails in the area were donated by local organizations to not only provide safe access into the wilderness, but also to educate people about local wildlife, nature, and our unique environment. Remember, when exploring the outdoors it is recommended that you bring water, sunscreen, and bug spray—especially during the summer months.
6. Historic Attractions 
The Golden Isles is full of rich history and landmarks that trace the paths of the area's first explorers. There are a number of free historic attractions you can enjoy throughout the Golden Isles of Georgia. Some of our favorites are the Avenue of the Oaks, Cannon's Point Preserve and Christ Church. Find your family's favorite!
7. Picnicking
With picnic areas offering jaw-dropping views of the ocean, rivers, and marshes, as well as areas shaded by century-old live oaks, Georgia's Golden Isles are the perfect place to enjoy a family picnic. Our picnic areas can accommodate any size group with small rental pavilions, barbeque grills, and running water. Some larger groups choose to sit back, relax and enjoy their company while one of our local caterers fixes up a southern barbeque or seafood boil. Or, grab some tasty grab-and-go sandwiches from sammies. There are no charges for the use of the facilities unless you make reservations. (Reservations are optional but recommended for larger groups.)
8. Playgrounds
Playgrounds are located throughout Georgia's Golden Isles providing slides, jungle gyms, swings and other fun structures where children can play for hours.
Massengale Park is a nicely shaded picnic area and playground, located along Ocean Blvd on St. Simons Island, and it also serves as a popular beach access point to East Beach.
Neptune Park, located in Pier Village on St. Simons Island, offers an oceanfront walking path, two playgrounds, a large lawn (casino), grills, a shaded picnic area beneath towering live oaks and benches that overlook the ocean.
For more information regarding parks and playgrounds in the Golden Isles call Glynn County Parks and Recreation. (912) 554-7780
9. Skate Parks 
Skateboarding is a fun, recreational activity involving riding and performing tricks using a skateboard. You can choose from St. Simons Island's skate park located in Demere Park or its sister park in Brunswick at the North Glynn Recreation Complex. Each park has a different design and features to be rewarding for younger skaters and challenge intermediate and advanced skaters. Both parks include plaza elements such as stairs, ramps, rails, and ledges in addition to half pipes and bowl sections.
10. Tree Spirits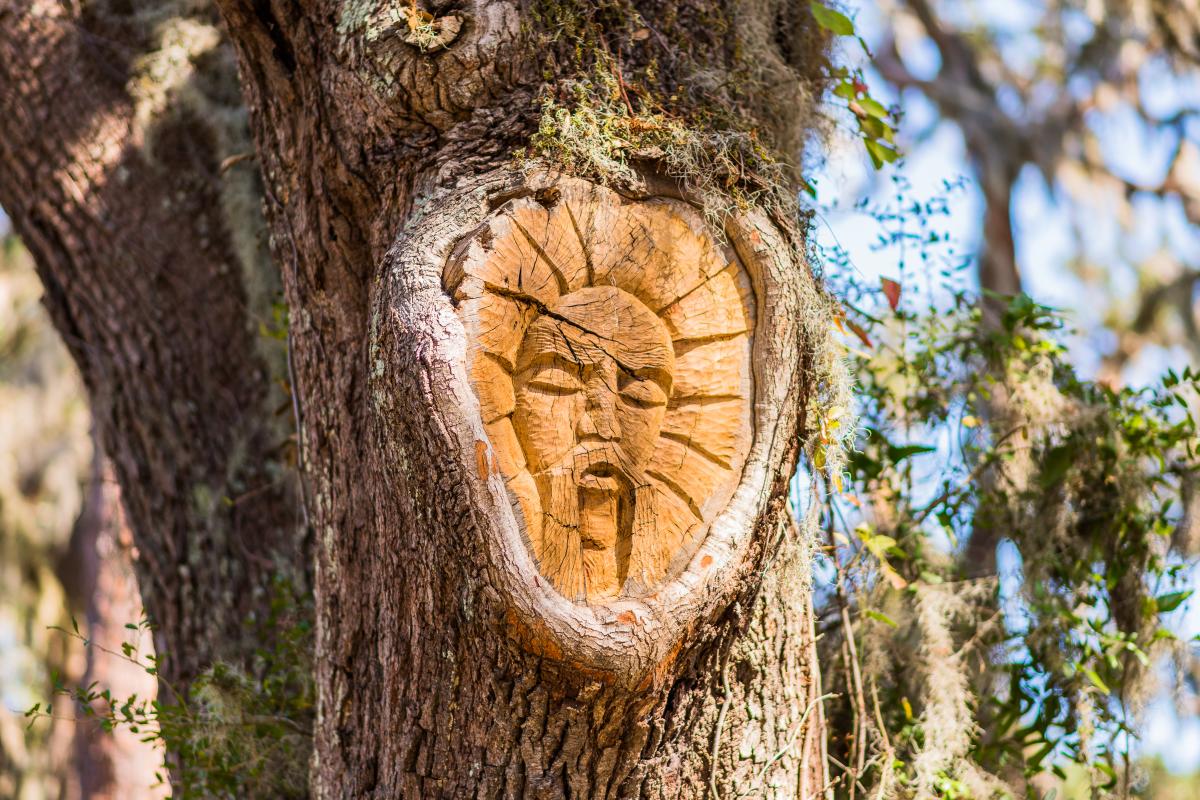 Take a tour among the trees or create a scavenger hunt for the kids at each location to search for the Tree Spirits of St. Simons Island. In-between two huge branches or from the stub of a long-vanished branch, you may see the unmistakable image of a weathered face.The images, created by skilled hands are surrounded by legends and tails of sailors, turtles, and even a mermaid! Cora the Mermaid is spellbinding creature who navigates loggerhead turtle hatchlings to and from the ocean shore with her sweetly hummed song. 
Stop by our Welcome Centers to pick up a Tree Spirit map, so you can embark on the Golden Isles most riveting scavenger hunt! 
Looking for more Golden Isles fun? Find more great things to do with kids in the Golden Isles of Georgia