A trip to the Golden Isles may include several of the area's popular outdoor activities, such as golfing, kayaking, boating, camping, fishing, sailing, and swimming. But sometimes visitors and locals like a break from the outdoors. With numerous options when it comes to both indoor and outdoor fun here in Coastal Georgia, people of any age can always find something new in the Golden Isles.
1. Visit a Local History Museum
The museums that the Golden Isles offer are not only great ways to have fun indoors, but they are also valuable learning experiences for visitors both young and young at heart.
Bring the whole family along and explore the St. Simons Lighthouse Museum, the Arthur J. Moore Methodist Museum, the World War II Home Front Museum, and the Mosaic Museum on Jekyll Island.
2. Check out local shops
If you love to shop, the Golden Isles is a great place for it. With an array of shopping districts featuring quaint boutiques, antique shops, and popular retail stores, there is something for all types of shoppers.
The shopping locations on St. Simons Island include Redfern Village, the Pier Village, Retreat Village, and the Shops at Sea Island. Jekyll Island offers locally owned shops in Beach Village, as well as hand-made artesian collections at Pier Road Shops in the Historic District. If you are looking for great choices for shopping in Brunswick, some of your options include the antique stores, galleries and boutiques along Newcastle Street in Historic Downtown Brunswick, Glynn Place Mall, Golden Isles Plaza and Glynn Isles.
3. Create a work of art
If you have a passion for art and creativity that soars, head over to one of our local art studios to make an original piece inspired by the natural beauty of the area. 
Get ready to get creative and paint your own pottery! The Tinted Tide is a mobile pottery painting truck that will come to your event. You can also order pottery to paint and they will deliver it to you. Or, check out their events calendar to find the mobile truck at community events. You won't want to miss out on this colorful fun!
4. Sample local spirits and brews
Discover Historic Downtown Brunswick and get a taste of locally brewed and distilled spirits. Stop into Silver Bluff Brewing, known and locally loved for their taproom and award-winning craft beer. Sample both year-round and seasonal brews and enjoy nearby food trucks and events. With an outdoor beer garden, TVs displaying sporting events and plenty of craft beers to choose from, Silver Bluff is the perfect hangout spot in Downtown Brunswick.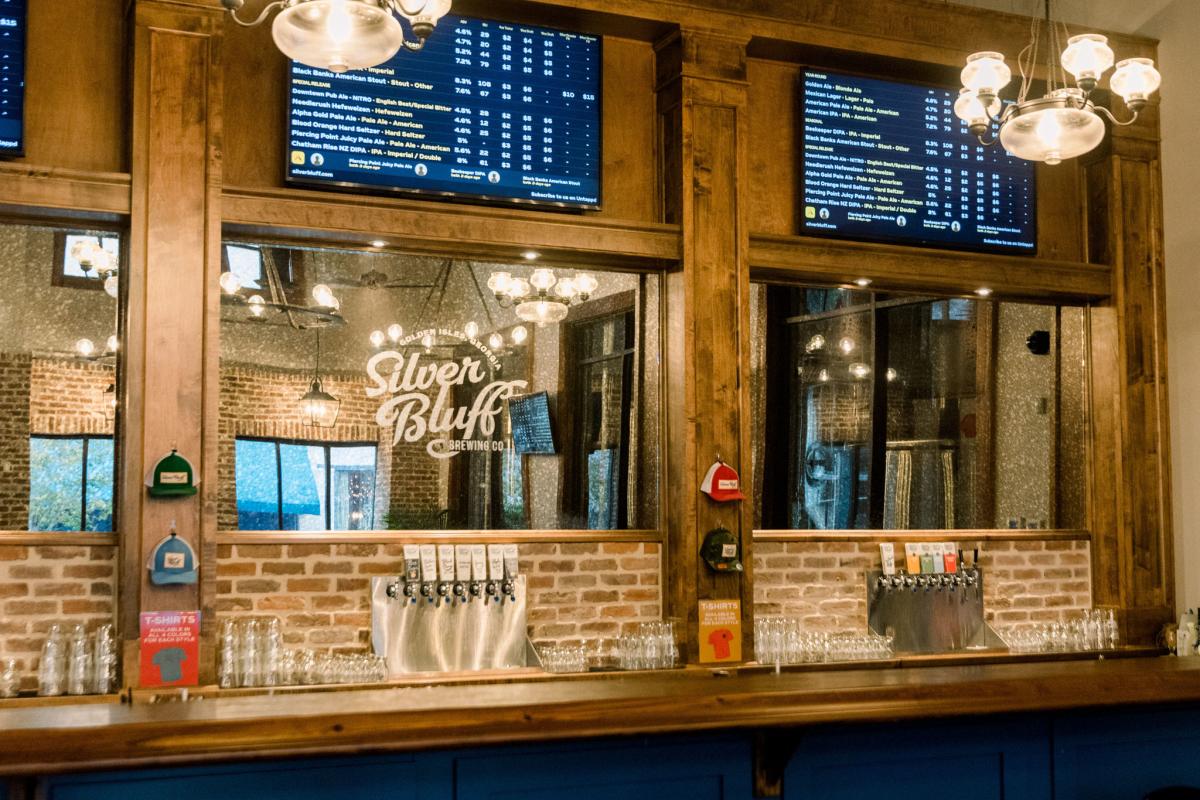 5. Go Rock Climbing at Brunswick Rocks
Bring the family to Brunswick Rocks located in Historic Downtown Brunswick and test your rock climbing skills! Rock climbing is the perfect indoor activity for when you want to be active and get a sense of adventure, but need a break from the beach! New to the Golden Isles, Brunswick rocks is a nonprofit bouldering gym with a fun and exciting environment where you can enjoy yourself and work on your rock climbing skills at the same time.
6. Swing into Action at the Topgolf Swing Suite
A great indoor activity that the whole family can enjoy while in the Golden Isles is a trip to the Topgolf Swing Suite. Featuring two simulator bays, the Swing Suite offers interactive games like Topgolf target games, Baseball Pitching, Hockey Shots, Quarterback Challenge, Zombie Dodgeball, and Carnival games. Compete with your family and friends of all ages! The suite is open daily and up to eight people can play at once. Make a reservation by calling (912) 638-5856.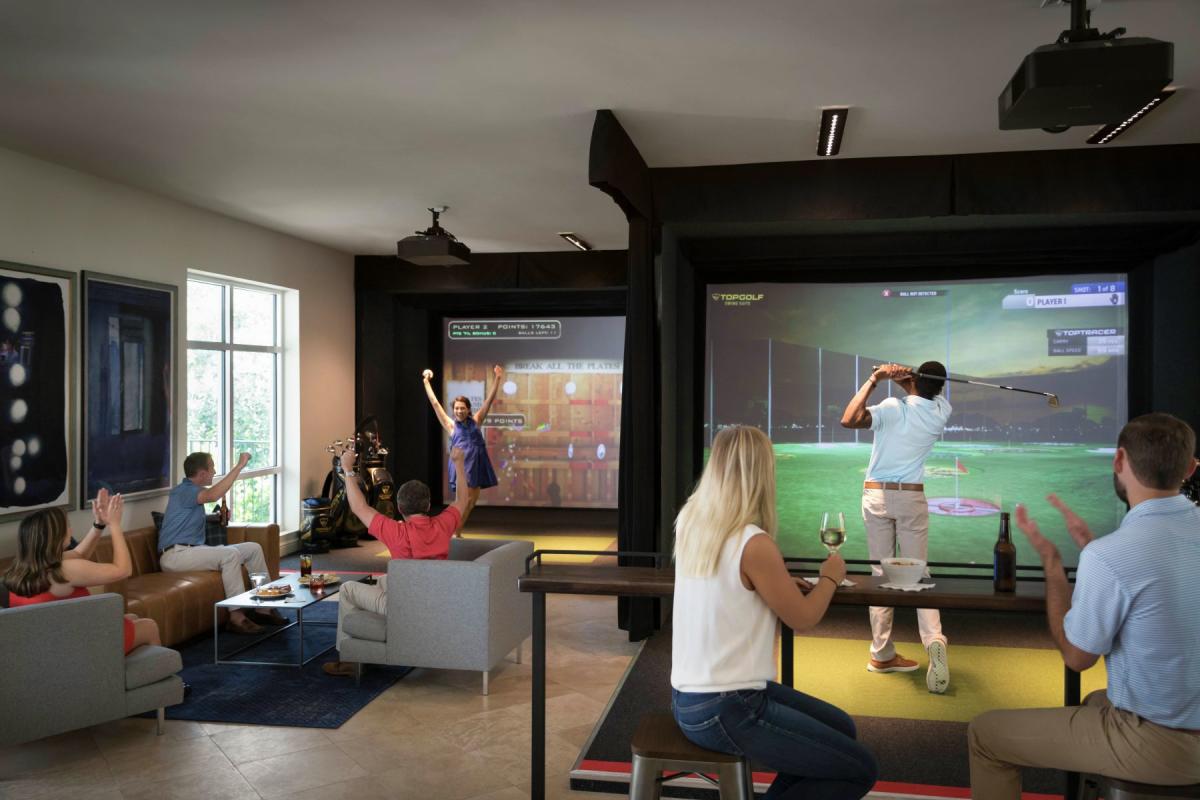 7. Spend a Day at the Theatre
Local theatre is an important part of the community in the Golden Isles and in the upcoming months, there are some spectacular performances that you will not want to miss. Seeing a live performance on the stage of The Historic Ritz Theatre in Historic Downtown Brunswick is an experience like no other. The Island Players also puts on a variety of plays, musicals, and shows in the Golden Isles.
There are also several different ways that you can view movies on the big screen in the Golden Isles. If you're interested in seeing currently released movies, then a trip of one of our two Georgia Theatre Company theatres (Glynn Place Stadium Cinemas 11 or Island Cinemas 7) would be a great choice.
If foreign and independent films are more your style, be sure to check out The Literary Guild of St. Simons which presents a series of films, free to the public, several times a month. Glynn County Parks and Recreation also screen family-friendly movies throughout the year.
Head to our events page to look for live performance schedules, movie dates and times.
8. Play Arcade Games at Pinball Palace
Test your luck by playing arcade games at Pinball Palace, one of the largest arcades in the southeast with over 120 pinball machines and classic arcade games! Play games like Pac Man, Donkey Kong, Asteroids, Tron, and more! Smaller children can even enjoy a huge bounce house. You can also play air hockey, bubble hockey and Foosball. All games are free with your paid admission.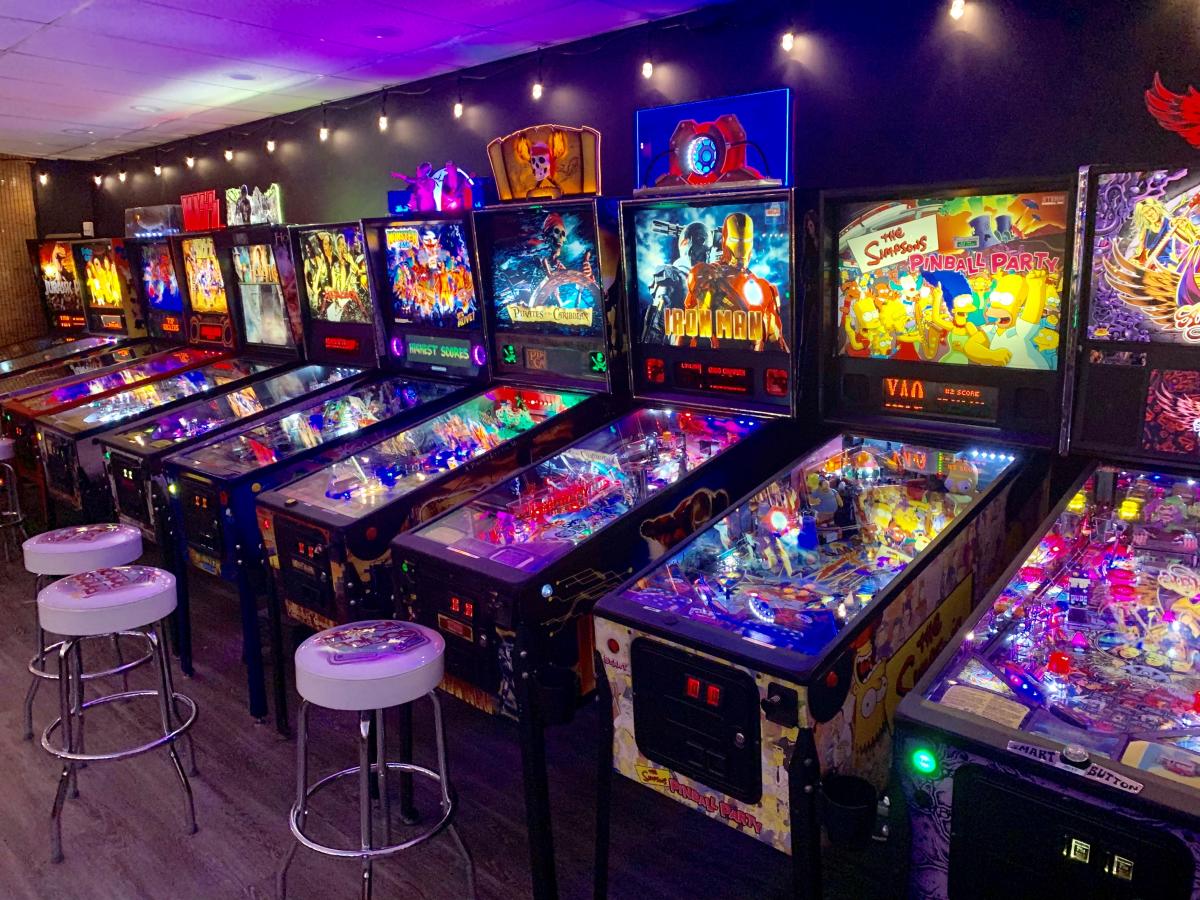 9. Cut Loose at Flipzone Trampoline Park 
Gather your friends and family and get ready to show off your best flips and tricks at Flipzone Trampoline Park! Get out all your energy and cut loose as you spend the day jumping on thousands of square feet of indoor trampolines and discovering other exciting attractions. You and your group will have a blast!