In the Golden Isles, we don't just eat to live, we live to eat. Any true Southerner will wholeheartedly agree that food is more than just a meal; it's a way of life. And with our prime location on the Georgia coast, many of our restaurants and festivals feature locally-caught and harvested ingredients that were in the ocean or garden just hours before finding its way onto your dinner plate.
Although summer is starting to wind down, the food scene in the Golden Isles is just beginning to ramp up. Each fall, a myriad of festivals that take place also pay homage to several of our tried and true local specialties—from Brunswick Stew to Shrimp & Grits and everything in between.
Make plans to attend one (or all!) of our food festivals this fall. Our mild climate means you'll also be able to enjoy several walks on the beach regardless of whether you visit in September or October. Take advantage of one of our lodging specials. Your stomach and wallet can thank us later.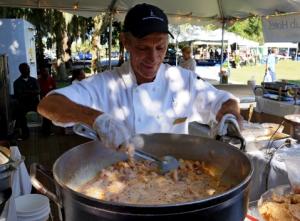 Since its first festival in 2006, the Wild Georgia Shrimp Festival has quickly become an annual tradition in the Golden Isles. Hosted on the grounds of the historic Jekyll Island Club Hotel, this weekend-long event is not one to miss.
Make your way from booth to booth as you sample and judge local chefs' and restaurants' spin on the low country classic dish Shrimp & Grits. All dishes feature fresh Wild Georgia Shrimp, which are sustainably harvested in our local waters.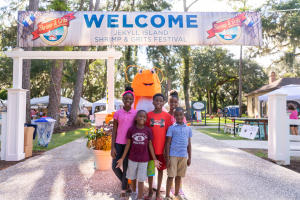 Other highlights include arts and crafts vendors, a craft brew tasting, live music, kids' activities and more – all among a beautiful and enchanting setting.
Don't forget to check out the many new sights and sounds on Jekyll Island! Their Beach Village, the island's newest shopping and dining district, is home to boutiques, a frozen yogurt shop, a specialty grocery store and more.
Hop on your bike and pedal down to Horton Pond, which opened earlier last year. The wildlife observation platform provides wonderful views of birds and even a few alligators. And across the street is Driftwood Beach, known for its picturesque and iconic pieces of driftwood that line the shore.
Shrimp & Grits Festival is free and open to the public. However, select events require tickets, which can be purchased here.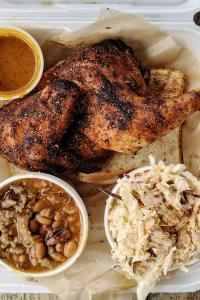 Sip, sample and savor your way through the soul of the south at the inaugural Firebox BBQ on the Bluff. There's no shortage of unique events, flavorful dishes or sumptuous cocktails at this weekend festival.
From the Southern Soul Barbeque Pitmaster Dinner on Thursday to the Saturday morning brunch on the bluff, you'll become a true barbeque expert. Signature events include the Firebox Oyster Cracker, a one-of-a-kind oyster roast complete with a traditional oyster stout by a regional brewery and smoky seafood dishes prepared specifically for this nighttime event.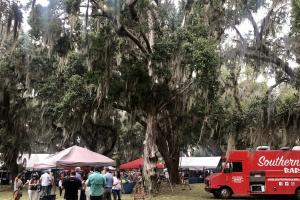 If nothing else, you'll definitely want to attend the Firebox BBQ on the Bluff on Saturday at beautiful Gascoigne Bluff. Spend the evening under the sprawling live oak trees as you meander from table to table sampling a menagerie of smoked meat, seafood and all the sides plus a whole lot more, all served by some of the best Pitmasters from around the South and beyond. Listen to live music, sip on award-winning spirits and enjoy the beautiful scenery found only at Gascoigne Bluff.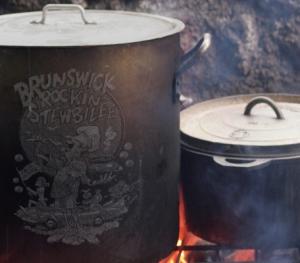 Brunswick is one of five towns staking claim to the original Brunswick stew, but we fervently believe our name-sake dish originated right here in Glynn County, Georgia. A mix of veggies and meat in a rich tomato base, Brunswick stew is so loved in the Golden Isles that we have an entire festival dedicated to it each fall.
Local and regional teams go head-to-head, or stew pot-to-stew pot if you will, each January in an all-out competition for the coveted title of Brunswick Stewmaster. Sure, it may not technically be during the fall, but there's nothing better than a warm and inviting bowl of Brunswick stew on a chilly day. It's all to our benefit, really. Festival attendees have the honor of helping decide who will win the People's Choice awards.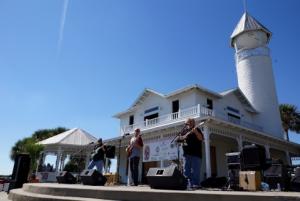 Held at Mary Ross Waterfront Park, this event is the quintessential Southern small town festival. The streets in Historic Downtown Brunswick close for the Stewbilee's car show and families stroll hand-in-hand as they make their way to the Park. Live music and the sweet smells of the stews waft through the crisp winter air.
Tickets are available at the door the day of the event or for presale at local businesses.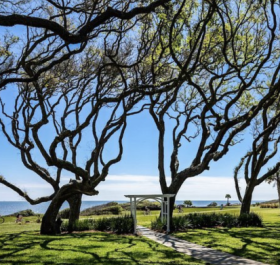 Learn about and taste Georgia's agricultural coast! Hang out under the live oaks on Jekyll Island for a one-of-a-kind agricultural and culinary experience you won't forget. Discover the rich history and diverse ecosystems that shape Georgia's coastal agricultural landscape, and gain a deeper appreciation for the farmers and fishermen who work tirelessly to bring food to our tables. This "pop up" picnic event explores Georgia Agriculture throughout our state.
Grab your friends and family and explore this connect between land and sea with a Georgia shrimp seafood boil, pre-event Shrimp Trolling excursion, educational beach walk tours, pristine beach swimming access, beach games, cash bar, and much more! This event takes place at the Beachview Club Hotel on Jekyll Island. 
All proceeds from the event will go directly to the Georgia Foundation for Agriculture. Tickets can be purchased online.