It's no secret that the Golden Isles is steeped in a rich history, including but not limited to, an ice age, Native Americans, military fanfare, plantations, millionaires, Presidents and more. 
Each year (22 years to be exact), the Coastal Georgia Historical Society presents their popular six-week history lecture series taught by local celebrity and history extraordinaire Buddy Sullivan. Mind you, this is not the boring history class you slept through in high school. With his passion for the Georgia coast and his lively presentations, Buddy keeps audience members on the edge of their seats, begging for more.
Given the opportunity to attend this year's lecture series, I felt like a kid on the first day of school. Arriving with a new notebook and a pencil, I was ready to become Mr. Sullivan's #1 student. I took more than three pages of notes on the first day and rather than write a 10,000 word synopsis of my experience, I'll just leave you with bits and pieces. (After all, you'll want to go hear Buddy Sullivan yourself.)
Week One: Ecological Characteristics of the Coast and the First 200 Years
You might be wondering how ecology plays into history (and I did, too). But as it turns out, it's important to understand how our islands formed and how the native flora and fauna affected the way of life for the islands' first inhabitants.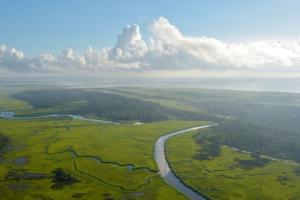 A very, very long time ago the islands of Coastal Georgia were formed as a product of the Pleistocine Ice Age. While that particular ice age occurred more than a million years ago, the larger islands, such as St. Simons, are estimated to be between 35,000–40,000 years old. The smaller islands, like Little St. Simons Island, formed from the larger islands and are believed to be about 5,000–7,000 years old. 
Now fast forward about a couple thousand years. The year is 1575 and two tribes of Native Americans call the Georgia coast their home: the Guale (pronounced Wall-E. Yes, like the Pixar movie) and the Mocama. Unfortunately we don't know very much about the Indians, but we do know they were the true Golden Isles locals. How so? You can find shell middens at Cannon's Point Preserve on St. Simons Island. Another Indian settlement was believed to have been located around the St. Simons Pier area at Mallery Park.
The Spanish took it upon themselves to Christianize the Native Americans and establish missions along the coast of Georgia (once referred to as the coast of Guale). A prominent mission formed at Fort King George in present-day Darien, about 10 miles north of Brunswick. This mission, called Santo Domingo Talejo, later moved to St. Simons Island at Cannon's Point and was renamed Asao. (Sound familiar? There is a neighborhood on St. Simons Island named Mission Asao.)
Artifacts from the Indian settlements and Spanish missions can be found at the American Museum of Natural History in New York City and Fernbank Museum of Natural History in Atlanta.
Week Two: Oglethorpe's Influence
Our beautiful state of Georgia was established in 1732 as the 13th original colony in America. Georgia was started as a proprietary colony, meaning it was a private venture as opposed to a royal colony which was managed by the royal family. A group of astute gentlemen formed the Trustees of Georgia and together they managed the affairs of the colony.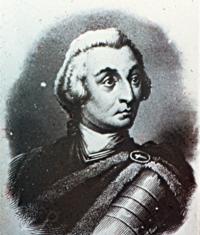 Enter General James Oglethorpe. If you grew up in Georgia, and especially coastal Georgia, you are familiar with Oglethorpe. However, I realize a few of you may not have had the pleasure of calling Georgia your home so I'll bring you up to speed.
James Edward Oglethorpe was born in England in 1696. Because of his military background, he was chosen to head up the Georgia settlement, which was extremely important since the Spanish had already staked their claim to Florida and were threatening to move their ventures up to Georgia.
In February 1733, the first settlers arrived at Savannah and a few years later, Oglethorpe decided to broaden his horizons to develop forts and towns farther south. Hello, Darien and St. Simons Island!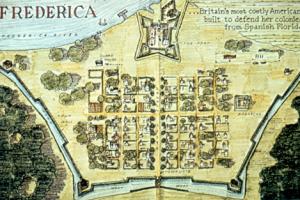 Fort Frederica and the town of Frederica were established in 1736. The fort and town were named for Frederick Louis, the Prince of Wales. A second fort was established on the south end of St. Simons Island and was aptly named Fort St. Simons. The fort was located at the present day Lighthouse and Pier area. An outpost was set up on Jekyll Island and was under the command of Captain William Horton. And just like Fort Frederica, you can also visit the ruins of the Horton House.
The troops at Fort Frederica sprang to action in July 1742. With the help of the Scottish Highlanders in Darien, Oglethorpe's men were able to defeat the Spanish at Gully Hole Creek and again during the Battle of Bloody Marsh. Although these were both minor skirmishes, both carry significance in saving the Georgia colony from the Spanish.
Here's the kicker of it all – this essentially boils down to a game of wits. Although the Spanish arrived at Gascoigne Bluff with 3,000 men ready to fight, they eventually retreated because they thought they were outnumbered (spoiler alert: they weren't). General Oglethorpe "accidentally" spilled the beans that British reinforcements were soon to arrive (another spoiler alert: he lied).
Following the successes on St. Simons Island, the colonies were able to reach peace with Spain. In 1754, the Trustees of Georgia turned the colony over to the crown and the forts were disbanded. A bad fire in 1758 destroyed the town of Frederica and it eventually became a lost town.
Week Three: The Plantation Era
Tobacco and cotton and rice – oh my!
When Georgia was originally founded, slavery was outlawed. However, following peace with Spain, the military aspects of the colony were no longer needed. Those who remained in Georgia complained of hardships and few ways to make money. And after seeing the success of rice cultivation in the Carolinas, Georgians decided to also give it a try.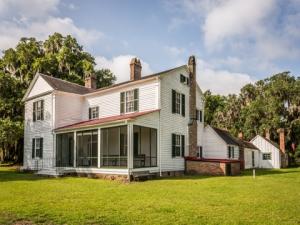 Due to the profitability and intense labor requirements of successful rice plantations, the ban on slavery was lifted. By the 1860 census, 96% of all rice grown in the United States was harvested in Georgia & South Carolina. Brunswick's Hofwyl-Broadfield Plantation successfully grew rice from the early 1800s until 1913. The site was given to the state of Georgia in 1973 and is now open to the public.
Now, let's recall week one's lesson about our ecosystem. Estuaries are critical components for growing rice. Once rice seeds are planted, the fields would need to be flooded for about 2-3 weeks. The tides of the rivers would provide the fresh water essential to growing rice. You might be thinking "but rivers don't have tides!" Because of our unique location on the coast, the rivers flowing from the north (Altamaha and Ogeechee rivers) actually have tidal swings.
While rice plantations were generally found between Savannah and Darien, cotton was truly king on St. Simons Island. James Spalding was the first to grow cotton on St. Simons at his Orange Grove Plantation, located at the present day Lodge at Sea Island.
You may be familiar with "sea island cotton." It's important to clarify that sea island cotton did not get its name from our Sea Island, but instead from the many islands the cotton was grown on. The first seeds came from the Bahamas and the plants thrived in the Golden Isles due to our temperate climate, dry soil and salt air. The black seed of the sea island cotton grew better, faster and produced higher quality cotton, which in turn brought a higher price at market. In its heyday there were 10-12 cotton plantations on St. Simons Island.
Although it is a dark part of our history, it's also important to talk about slavery. Firsthand accounts provide a look into what plantation life was like in the Golden Isles. Rice plantations adopted a "task system" for their slaves, meaning those who worked in the fields were assigned specifics tasks each day according to their skill level, age and strength. Once the slaves completed their tasks, they were allowed to finish and go home for the day. Due to the harsh conditions of working on rice plantations (i.e. higher mortality rate and rigorous work requirements), the new "task system" was meant to boost morale and raise productivity. However, I would think morale would be pretty low no matter what, and to add insult to injury, it has been said that Roswell King (who ran Pierce Butler's rice plantation near Darien) was a harsh task master.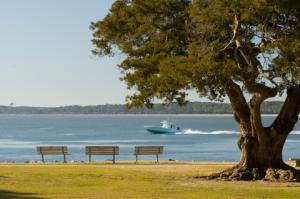 There were also plantation owners and slaves who had close-knit relationships. Neptune Small, who worked at Retreat Plantation, formed a strong bond with one of the owner's sons due to their close age. Neptune accompanied his master and confidant Henry Lord Page King as he marched across the country in the Confederate Army during the Civil War. When King was killed during a battle, it was Neptune who dutifully brought the body back to St. Simons Island, where it was buried at Christ Church. Because of his heroic and kind actions, the King family gave Neptune a piece of property on their plantation. A portion of the property was later sold to Glynn County and was turned into a popular oceanside park, Neptune Park.
To learn more about our African-American history, click here.
Thanks for embarking on this multi-century journey with me. Stay tuned for Part Two, where we will discuss exciting topics such as lumber mills, wars and the Jekyll Island Club Hotel. 
To learn more about the Coastal Georgia Historical Society, click here.
A special thank you to Buddy Sullivan for providing several of the images in this post.