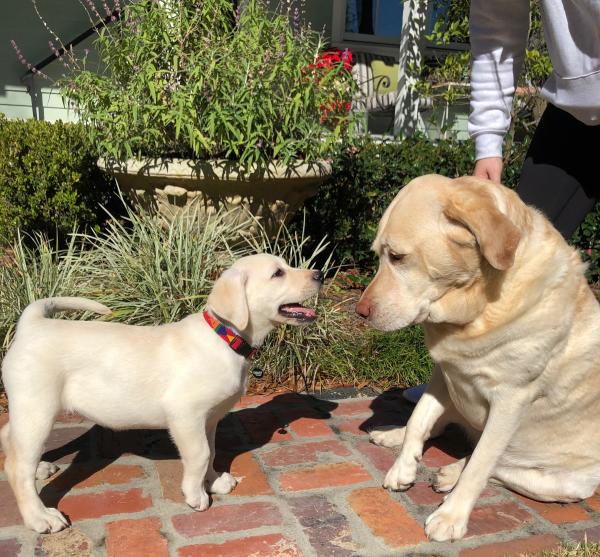 Hi! We're Ruby and Lola, two adorable yellow Labrador retrievers, if we do say so ourselves. Our moms both work at the Golden Isles Welcome Center, which means we are always in-the-know about what's happening around our town! 
Just like our moms, we love helping people learn about the Golden Isles, and we're always excited to recommend some of our favorite places to visit.
One of the questions we get asked the most is "What are the best things to do with our dogs while in the Golden Isles?" This is also one of our very favorite questions to answer! So, we decided to sit down with our moms and pull together a list of pet-friendly beaches, restaurants, shops, and hotels in the Golden Isles.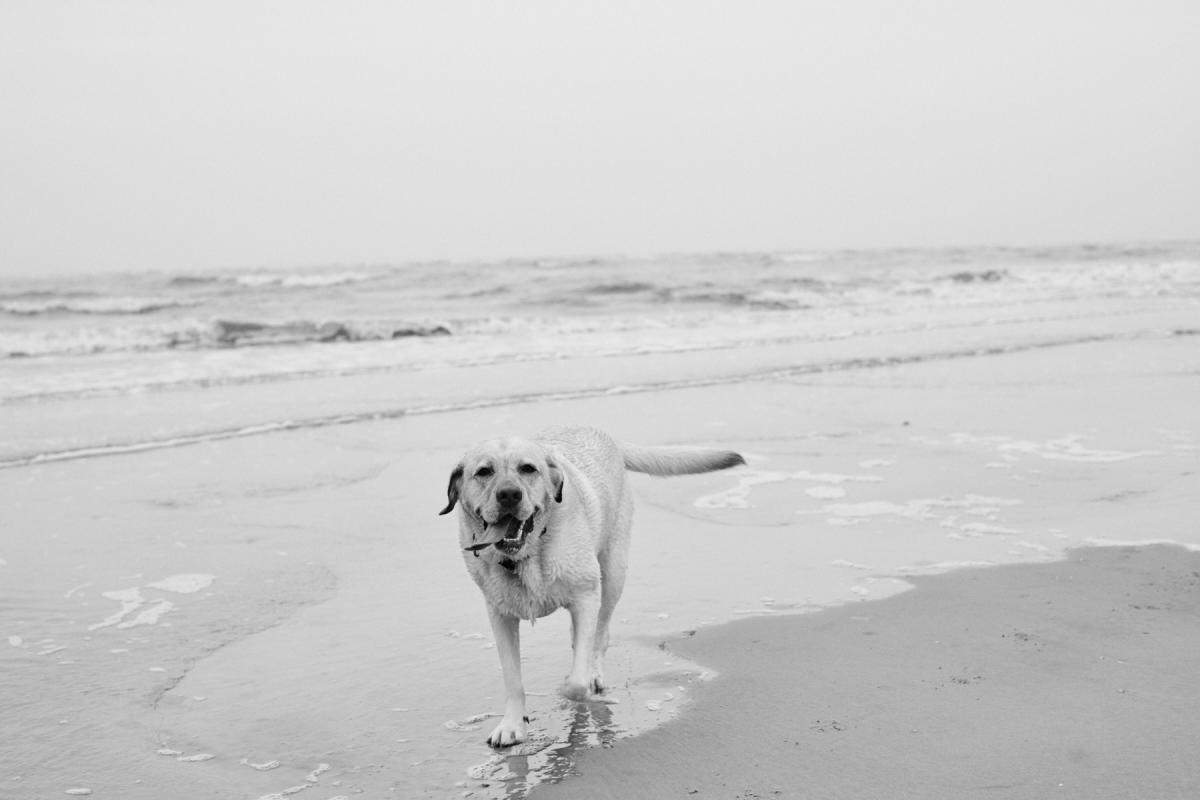 Dog-friendly beaches on St. Simons Island and Jekyll Island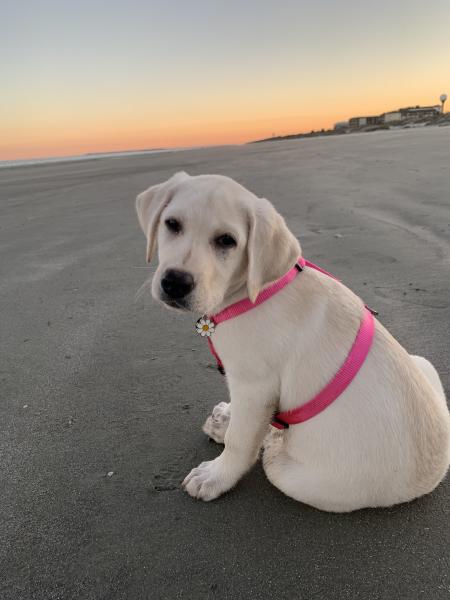 Lola: My mom and I love to visit Great Dunes Beach on Jekyll Island! We love this Jekyll Island pet-friendly beach because it's so big and there is always a lot of room to run and play. We especially like going to Great Dunes Beach because there is plenty of parking, restroom facilities, picnic pavilions, and even places to rinse off with showers. My mom especially loves this because I can get a bath before I get in her car to go home!
Ruby: I love it when my mom takes me to East Beach on St. Simons Island. We usually go early in the morning before it gets too hot outside, or we go in the evenings after I've had my dinner. We love walking along the beach at East Beach because regardless of whether the tide is low or high, there is always plenty of sand to walk on. This dog-friendly beach on St. Simons Island is a favorite for locals and visitors alike. I love when I run into families I met at the Welcome Center earlier in the day!
Pet Parent Pro Tip: During the summer months (specifically from Memorial Day in May to Labor Day in September), dogs are allowed on St. Simons Island beaches before 9:00 a.m. or after 6:00 p.m. It's the safest for us to visit during the early mornings or late evenings because it's not as hot or as crowded! For the health and safety of your dog and others, please adhere to these times. Dogs are allowed on the beaches any time of day from mid-September to late-May. Also, please make sure your pup leaves behind only footprints. Bring baggies to dispose of any brown sandcastles 😉 This helps keep our beaches and waters clean and safe for everyone to enjoy! You can find a full list of Georgia pet-friendly beaches here.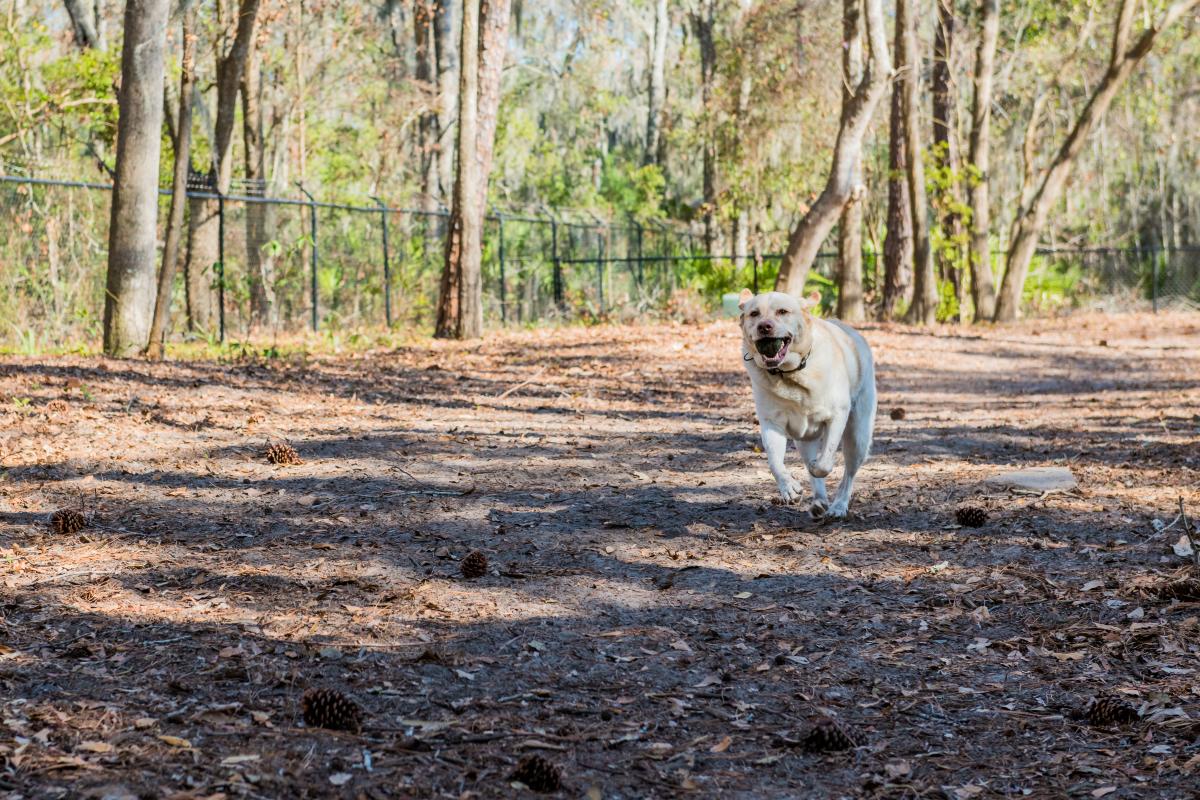 Dog parks in Brunswick and on St. Simons Island
Lola: After work, I usually beg my mom to take me to the dog park at Howard Coffin Park in Brunswick. Not only is it close to our house, but it's also really convenient for anyone traveling through Brunswick to St. Simons Island or to Jekyll Island. This Brunswick dog park is fully fenced in and is really fun for me to run around chasing after a tennis ball or other doggie friends I meet there! My mom likes it because it's easy to find and it's located right across from the famous Marshes of Glynn, a really beautiful scenic overlook.
Ruby: Although it's a bit of a drive, we love to visit the Frederica Dog Park on the north end of St. Simons Island. The dog park is a small part of Frederica Park, which has soccer fields, a running and walking track, restrooms, a playground, and even a secret fairy village! This will be really fun for my family down the road, especially since my very first baby sister will be born later this year. The dog park at Frederica Park is fully fenced in and it's shaded with all of the big trees close by.
Pet Parent Pro Tip: Here's a list of all dog parks in the Golden Isles!
Dog-Friendly Restaurants on St. Simons Island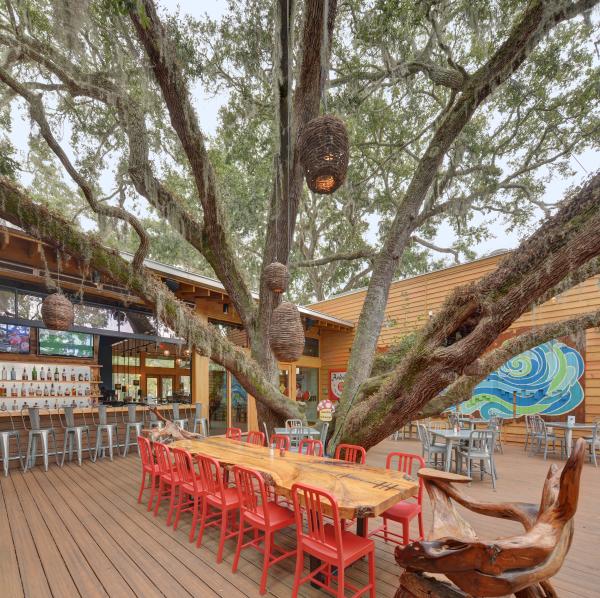 Ruby and Lola: After a full day at work with our moms, we love to walk from our Welcome Center in the Pier Village to either Mellow Mushroom or Brogen's South. Both pet-friendly restaurants on St. Simons Island have wonderful outdoor patios that are perfect for us dogs to lay down and relax in the shade. Our moms love taking us here because they get to take advantage of ocean views, live music, and good happy hour specials.
Pet Parent Pro Tip: You can find a full list of pet-friendly restaurants here. Most of these restaurants are extra friendly and usually provide us with a free bowl of water at our table!
Dog-Friendly Hotels in the Golden Isles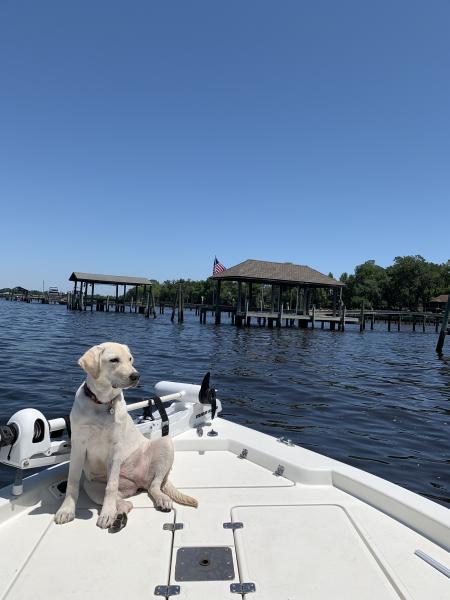 Ruby and Lola: Because we are beach dogs through-and-through, we love recommending pet-friendly hotels and vacation rentals that are either on or close to the beach! On Jekyll Island, we especially love the newly renovated Seafarer Inn & Suites. It's right across the street from the beach, meaning you can get an extra little walk before you get to the beach. Families with pets love staying at Seafarer Inn & Suites because of their onsite pool, greenspaces to run and play, and complimentary hot breakfasts. On St. Simons Island, we like to recommend the friendly team at Hodnett Cooper Vacation Rentals for any dog-friendly vacation rentals by the beach. Whether our visiting friends need a spacious house or a cozy condo, Hodnett Cooper always has a great selection of pet-friendly rentals to choose from.
Pet Parent Pro Tip: Double check weight limits and confirm any additional pet fees. Find a full list of pet-friendly hotels and rentals in the Golden Isles here.
We hope your family will consider bringing your four-legged family members on their next trip to the Golden Isles! With so many great dog-friendly beaches, hotels, and locals, there's really no reason to leave you behind!