Did you know there are more than 100 places to stay in the Golden Isles? With so many options, it may be daunting to pick the one you think you'll enjoy most. If you're looking for a luxurious room with a breathtaking view, we've pulled together four great hotels on St. Simons Island, Sea Island, Jekyll Island and Little St. Simons Island to help make your decision just a little bit easier!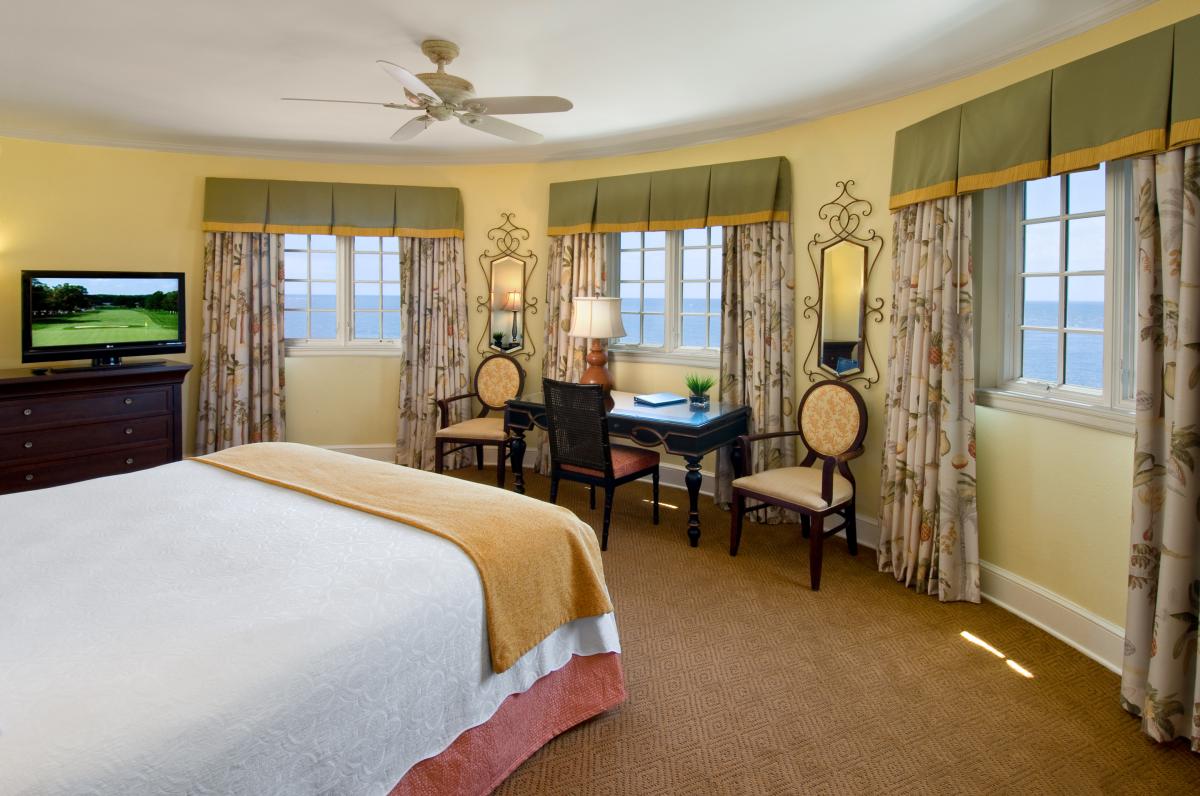 Governor's Suite, The King and Prince Beach & Golf Resort, St. Simons Island
Imagine waking up surrounded by views of the Atlantic Ocean beckoning you to start your day with a sunrise walk along sandy shores. Brew a cup of Starbucks coffee from the comfort of The King and Prince Resort's Governor's Suite before heading out. Afterwards, treat yourself to a delicious coastal breakfast at ECHO, King and Prince's onsite restaurant and one of the only oceanfront eateries on St. Simons Island. 
This one-bedroom suite features a two-story floor plan with a comfortable and well-appointed living room with a wet bar and half bath downstairs. Follow the curved staircase along the resort's iconic tower to reach the second story bedroom. Stretch out on the king size bed, enjoy a relaxing bath in the jetted tub and savor the views that you can't find anywhere else. This unique place to stay will not disappoint!
Learn more about the Governor's Suite.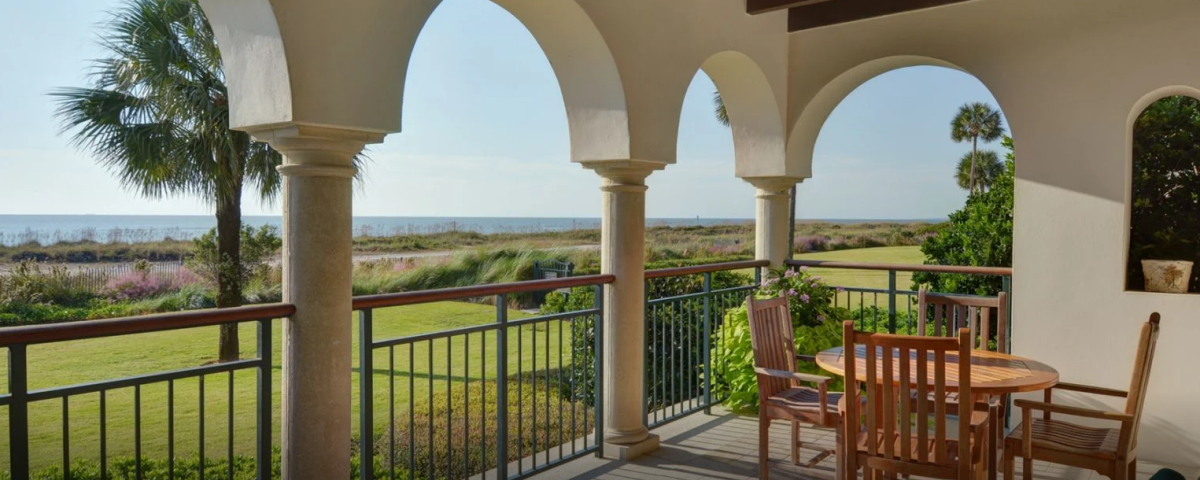 The Beach Club, Sea Island Resort
Sea Island's luxurious and private setting provides the ultimate beach vacation for those looking to truly unwind and relax. The resort itself offers five properties for guests to choose from, not including their impressive list of private cottage rentals found throughout the island. No matter what accommodations you're looking for, Sea Island has plenty of options that ensure an enjoyable and comfortable stay in the Golden Isles.
The Beach Club residences are perfect for those traveling with their families or in groups. With ample space, beautiful decor and easy access to the beach there's nothing not to love! Take advantage of the many amenities Sea Island is known for, including their Forbes Five-Star spa and multiple onsite dining options. If you're planning to visit between May and August, be sure to book a sea turtle excursion for the chance to witness these amazing endangered animals in their natural habitat. 
Learn more about Beach Club residences.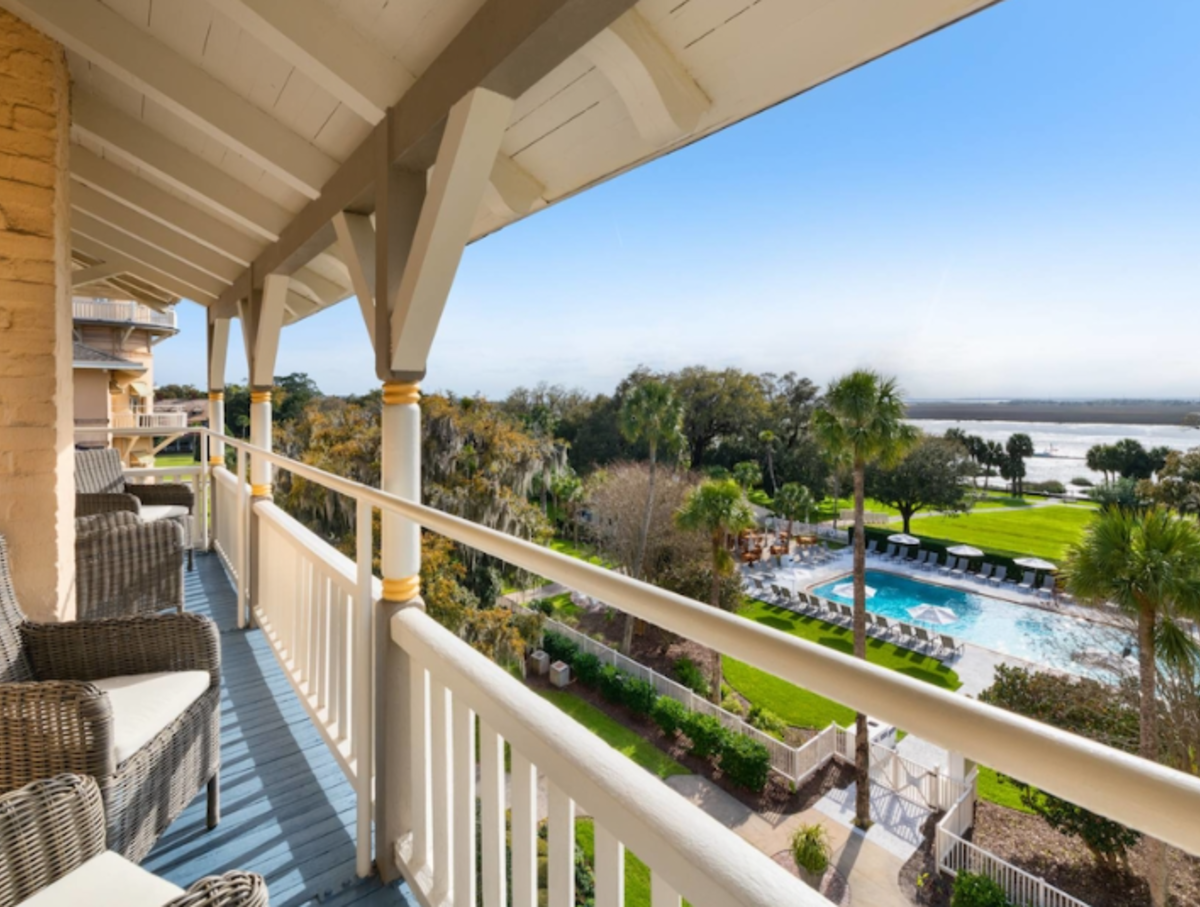 River View Suites and Parlors at The Clubhouse, Jekyll Island Club Resort
The Jekyll Island Club Resort is the perfect getaway for history buffs and foodies alike. Take in the rich history of this iconic hotel that dates back to the 1800s and imagine bumping elbows with the Rockefellers, Morgans and Vanderbilts as you meander the hallways and stroll through the perfectly-manicured gardens. Begin and end your day with meals prepared onsite at one of the Club Resort's several restaurants. The Grand Dining Room serves traditional favorites for breakfast, dinner and Sunday brunch. Opt for a more casual meal of local seafood served alfresco along the river at The Wharf. 
Rooms located within the Clubhouse offer some of the most spectacular views at the resort. Private verandas allow guests to enjoy views looking west toward the East River and the resort's Olympic size swimming pool. River view suites and parlors feature separate living areas and 516-714 sq. ft. of space to stretch out and relax. Who can say no to stunning view of the Golden Isles?!
Learn more about the River View rooms at Jekyll Island Club Resort.

Cedar House & River Lodge, Little St. Simons Island
There is truly no getaway quite like the serenity and untouched setting of Little St. Simons Island. With over 11,000 acres of undeveloped wilderness, somehow the smallest island in the Golden Isles feels like the biggest. Guests staying at The Lodge at Little St. Simons Island have access to the island's miles of trails, pristine beaches, multiple wildlife viewing platforms and many naturalist-led activities such as kayaking, fishing, and birding.
Little St. Simons Island has six cottages available for guests to choose from when planning their stay. Two of our favorites are The Cedar House and The River Lodge, both next door to one another. Both cabins feature four spacious, private guest rooms with a shared living room and large screened in porch (with a swinging daybed perfect for naps!). All guest rooms have large sliding glass doors that open onto the massive wrap-around porch with million dollar views of the sparkling rivers that meander through the marshes along the island. Plan an escape to Little St. Simons Island for an experience like no other.
Learn more about rooms at Little St. Simons Island.

Hotel Simone, St. Simons Island
We guarantee you won't be disappointed with St. Simons Island's newest boutique hotel, Hotel Simone. Located in the heart of the island, this luxury hotel not only provides phenomenal island views, but is just steps away from the beach, great dining, and plenty of activities. With cocktails available in the lobby bar and on the rooftop, private beach valet setup, complimentary cruiser pick up around town, and a complimentary European breakfast, a stay at Hotel Simone offers an unforgettable experience.