A Luxury Three-Day Weekend in the Golden Isles
The definition of luxury doesn't always have to mean "decadent;" in fact, in the Golden Isles, it simply means "doing it right" — as in finding time to escape for a three-day weekend where every moment is perfect, from the fluff of your pillow to the aperitif before a glorious dinner of Southern cuisine. Before we dive into this three-day itinerary, let's talk accommodations and dining.
Accommodations
On a mini-vacation such as this, few things are more important than where you start and end your day.
When many people think of the resorts in the Golden Isles, they often think of Sea Island, where The Cloister and The Lodge at Sea Island reside. Both are rated Five-Stars by Forbes Magazine, and Travel + Leisure placed both of them in the Top 5 in their list of "Best Resorts in the Continental U.S."
But there are several other accommodations fitting of the "luxury" mantle, and they each offer their own unique charms. Travelers seeking the finest amenities often delight in St. Simons Island's King and Prince Beach & Golf Resort.
Meanwhile, the legendary Jekyll Island Club Resort (the preferred getaway of J.P. Morgan and William Rockefeller in the late 1800s) provides guests with a high degree of comfort in a historic Victorian setting complete with tranquil gardens and fountains on its sprawling grounds.
For the perfect blend of nature and nurture, head to The Lodge on Little St. Simons Island for one of North America's most exclusive and luxurious eco-resorts, where 10,000 acres of undeveloped tidal wilderness is yours to explore.
Dining
If your idea of a luxury vacation starts with appetizers and ends with dessert then you've come to the right place. Across the Golden Isles, several restaurants — many of them specializing in the rich flavors of Southern cuisine — offer multi-course tasting menus that are ideal for a lavish night out. There are simply too many places to go to list here, so begin your search with our dining listings.
Day 1: Spa & Shop
It's the first of only three days, which means your primary objective should be to sink into "vacation mode" as quickly as possible. Fortunately, throughout the Golden Isles, you have several day spa options to choose from, with treatments ranging from a simple hour-long message to a decadent Balinese lemongrass lift. Many of the resorts listed above have on-site spa facilities, or you can check our listings of health and day spas, too.
After the spa, treat yourself to a little shopping. In Historic Brunswick, art galleries and antiques take center stage, but you can also browse several jewelry and clothing boutiques in the charming downtown. An equally eclectic mix of galleries and boutiques can also be found on St. Simons Island. One thing is for certain: most of these stores are independent and refreshingly local.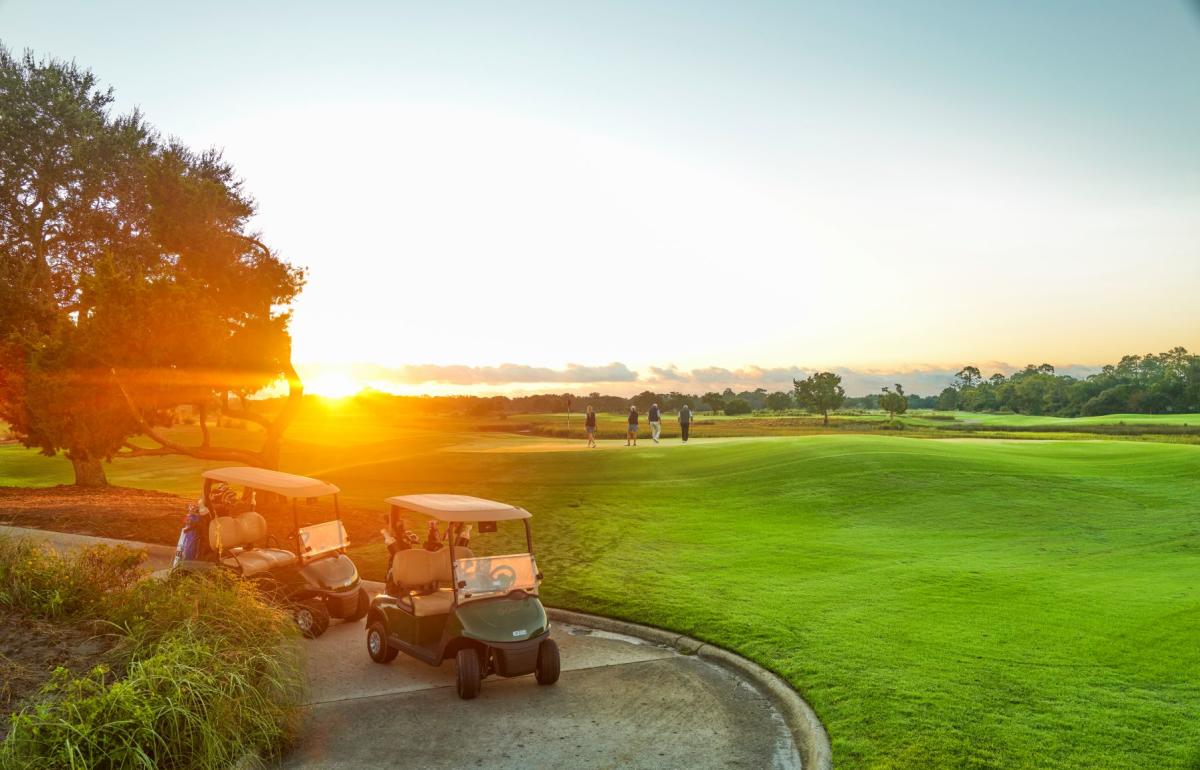 Day 2: Golf & Unwind
There is no mistaking that golf and the Golden Isles are inextricably linked. The annual PGA RSM Classic, formerly known as the McGladrey Classic, at the Seaside Course at Sea Island Golf Club has added a bit of cache to our golf scene. But even without this event, the Golden Isles would have a stellar reputation among amateurs and pros alike.
With 180 holes of golf throughout the area, it's entirely possible to squeeze in two completely different rounds of golf in a day — one in the early morning and a second tee-time in mid-afternoon. Begin your search for the best course by viewing our golf coverage.
Of course, 36 holes in a day can be fairly tiring, so Day 2 can also be an ideal day to take advantage of your resort's amenities or the Golden Isles pristine beaches for a little rest and relaxation on the sand. Our complete guide to beaches is a great starting point for finding the ideal beach.
Day 3: Get On the Water
For your final day of luxury, consider hiring a charter boat for a fishing, naturalist, or sailing excursion at sea.
Among the many coveted game fish that reside in the waters off the coast, anglers can actively pursue red snapper, tarpon, redfish, and striped bass depending on the season. Typical fishing charters last for a half-or full-day and can cover everything you need, including gear.
Perhaps viewing wildlife is more your speed. Several resorts and outfitters offer guided charters through the inlets and estuaries of the islands, where you can see an abundance of birdlife and learn about the unique estuarine ecosystem. As an added bonus, schedule your charter for sunset and witness the natural splendor of the Golden Isles in a whole new light. It's the perfect conclusion to your luxury weekend away.