World's Best Islands in the Continental US
Travel + Leisure Has Named the Golden Isles Among the World's Best Islands for Eight Consecutive Years
Nestled on the Georgia coast, midway between Savannah, GA, and Jacksonville, FL, lie four beautiful barrier islands - St. Simons Island, Sea Island, Little St. Simons Island and Jekyll Island - and their mainland port city of Brunswick. 
What a sight to behold - dramatic natural beauty virtually untouched by time. Miles of pristine beaches turn gold at sunset. An endless labyrinth of waterways winds through vibrant marshlands. This is the Golden Isles.
A place to stroll, to paddle and to savor, it's more than a beach vacation. It's a place to indulge in all the golfing bliss you can handle, or simply soak in the sunshine of the four radiant islands and the historic mainland city. The Golden Isles is a place to escape, settle into the rhythm of the tides and go at your own pace. Fill your days with historical attractions, decadent Southern cuisine and interesting guided tours.
With its unique landscapes and plentiful wildlife that beckon visitors to return for generations, it's no wonder Travel + Leisure readers voted the Golden Isles among the World's Best Islands in the Continental U.S. 
Discover Georgia's Golden Isles
HOW TO GET HERE
Traveling to the Golden Isles has never been more convenient. Whether you choose to arrive by car or by plane, you won't feel as though you've left home; you'll feel as though you're coming home. 
If you're planning a Georgia coast road trip, Interstate 95 provides easy access to the Golden Isles, as do U.S. highways 341 and 17. Take advantage of direct daily flights from Hartsfield-Jackson Atlanta International Airport into the Brunswick-Golden Isles Airport, where you can leave the bustle of city life and have your toes in the sand in just under an hour. Private flights can be accommodated at both the St. Simons Island Airport and the Jekyll Island Airport.
Fly nonstop into Savannah/Hilton Head International Airport (SAV), just an hour from the Golden Isles. Also recognized in Travel + Leisure's 2022 World's Best Awards, the Savannah/Hilton Head International Airport received top honors as the #1 Best Domestic Airport. Opt to fly into SAV to experience the airport's accessibility, check-in/security, restaurants/bars, shopping, design, cleanliness, and more.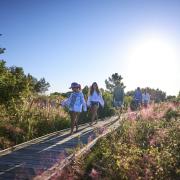 X
View Specials and Promotions
Don't miss great deals, offers, and packages to save on your trip to the Golden Isles!
Read More