Go at your own pace.
On the southern coast of Georgia, St. Simons Island, Sea Island, Jekyll Island, Little St. Simons Island and Brunswick have captured the hearts of many a visitor. Draped in a veil of Spanish moss and skirted by shimmering marsh grass, the region known as the Golden Isles has a reputation for enchantment—no matter the season. While the warmer months bring long, lazy beach days and dips in the nearest pool, sunny skies and comfortable temperatures year-round mean the spirit of summer lingers on. With highs in the mid-sixties in the "dead of winter," alfresco dining, wildlife exploration, and friendly golf tournaments are blissfully accessible, and whether you're hopping from island to island or hunkering down in your favorite spot, the Golden Isles are sure to win you over.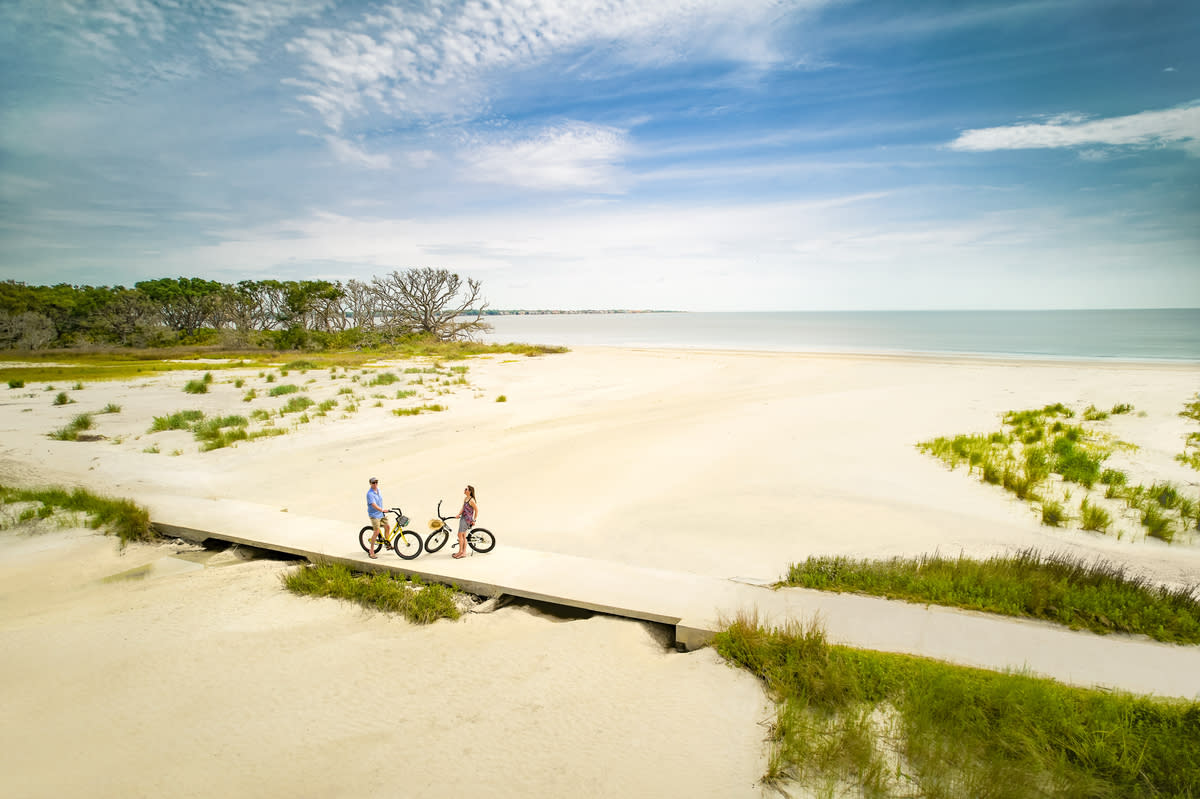 HOW TO GET HERE
Traveling to the Golden Isles has never been more convenient. Whether you choose to arrive by car or by plane, you won't feel as though you've left home; you'll feel as though you're coming home. 
If you're planning a Georgia coast road trip, Interstate 95 provides easy access to the Golden Isles, as do U.S. highways 341 and 17. Take advantage of direct daily flights from Hartsfield-Jackson Atlanta International Airport into the Brunswick-Golden Isles Airport, where you can leave the bustle of city life and have your toes in the sand in just under an hour. Private flights can be accommodated at both the St. Simons Island Airport and the Jekyll Island Airport. 
The Golden Isles Essentials
Before you embark on your perfect trip, add these can't-miss experiences to your itinerary
Experience the St. Simons Lighthouse
This centuries-old landmark offers unparalleled views of the coast, including rare sights of Jekyll Island and Brunswick, to anyone who braves its height. Learn more about the St. Simons Lighthouse.
Play a Round of Golf on Sea Island
Golf fanatics from all over the world travel to the Golden Isles for a chance to tee up on one of Sea Island Golf Club's three championship courses. Guests of the island have access to the links, as well as resident golf passes. 
Take in the History on Jekyll Island
On idyllic Jekyll Island, the rich history dates back some 3,500 years. Explore the historic homes, landmarks and museums for a fuller picture of the region.
Taste the Bounty on Little St. Simons Island
On Little St. Simons Island, a team of chefs prepare family-style meals for lodge guests using fresh seafood and produce sources directly from the island. Catch a fish during your stay? A chef can cook that to your liking, too.
Climb Aboard a Fishing Charter in Brunswick
The Golden Isles' surrounding waters are known for some of the best fishing in the South. Book a charter out of Brunswick to wrangle tarpon, skipjacks, shrimp and more.