Where peace and quiet is a way of life.
Along the Georgia coast, midway between Savannah, GA and Jacksonville, FL, lies a stretch of land that is like no other. With four beautiful barrier islands, St. Simons Island, Sea Island, Jekyll Island and Little St. Simons Island, and a historic port city, Brunswick, the Golden Isles of Georgia welcomes you to streets lined with centuries-old oak trees draped with Spanish moss and miles of sun-drenched beaches. 
Pristine stretches of marshes define the breathtaking landscape and create the appearance of a continuous stretch of land reaching out to the barrier islands. Each of the five unique locations offers a memorable setting, a variety of activities, and an inherent tranquility.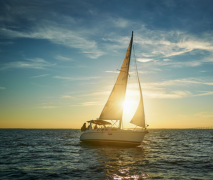 Request a Free Guide
Plan the perfect trip to the Georgia coast with our Golden Isles Visitor Guide. Find trip inspiration, must-visit sites, and experiences not to be missed.
Order Your Copy