Whether you're just embarking on your relationship, planning to pop the question, or celebrating a golden anniversary, the Golden Isles paints the perfect backdrop for a romantic weekend getaway. Couples have been flocking to our stretch of the Georgia coast for centuries, only to discover the captivating scenery and blissful ambiance.
So, what is it that makes the Golden Isles romantic? It's the small town charm and relaxed feel of the area. It's the way the calm, coastal breezes waft through the air, carrying the sweet smells of the salt water. It's the way you're treated as a long-lost friend at the local coffee shop, even though it's your first time visiting. It's the way the centuries-old live oak trees drape their majestic branches across the roads, forming a dramatic tunnel of leaves and Spanish moss. Most importantly, it's the way the Golden Isles quickly becomes a part of who you are and keeps drawing you back for years to come.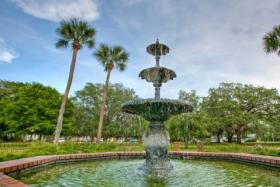 Travel + Leisure recently named St. Simons Island as America's Most Romantic Town, beating out places like Sonoma, CA and Telluride, CO. Joining St. Simons Island on the list is Brunswick, the only towns from Georgia to be awarded. From picnicking in historic squares dotted with Victorian homes to watching pods of dolphins swim gracefully through the St. Simons Sound, you'll be sure to fall in love all over again as you tour our tucked away corners of the Georgia coast.
Enjoy the natural beauty and allure of the Golden Isles with your loved one. Explore romantic packages together, or surprise your sweetheart with the words "Pack your bags! We are headed to the Golden Isles". Whatever your style, the Golden Isles is a great place to take a trip with the one you love. Each island is unique and offers a wide array of activities and attractions.
Discover romantic packages and specials throughout each of our towns.
Plan a Trip from the Heart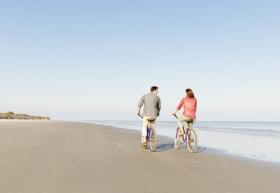 Leave the world behind and discover the slow pace of island time this Valentine's Day. Get off the beaten path, reconnect with nature, and take in the sights and sounds on a bike ride. Winding trails can be found on both St. Simons Island and Jekyll Island, with more than 50 miles of paved pathways combined. Bring your own bikes or choose from any of the bicycle rental companies to begin your romantic biking adventure—you can even find bicycles built for two!
Nothing can help you escape from reality quite like a leisurely walk on the beach. Picture it now: strolling hand-in-hand with the one you love, while playful gulls fly overhead and waves crash softly upon the glistening sand. Kick the romance up a notch with a horseback ride on the beach. Or if you prefer to stay off the sand, traditional horse-drawn carriage tours are available on Jekyll Island, where you can enjoy the rich heritage of the Historic District.
Even more relaxing are our many day spas located throughout the Golden Isles. Spend a morning or afternoon with a couple's massage, a quiet and tranquil experience that will help you both return home feeling rejuvenated.
Weekend Events
Get your heart pumping at Southeast Georgia Health System's annual Bridge Run across the scenic Sidney Lanier Bridge, which takes place on Valentine's Day. At 7,780 feet long, the Sidney Lanier Bridge is both a challenging and beautiful run with views of Brunswick, Jekyll Island and St. Simons from the top. Not for the faint of heart, this run is known as the "toughest 5k in Georgia."
Each month, local artists and vendors set up shop at Sea Island's Farmer's Market, located at their newest storefront, The Market on St. Simons Island. Meander from tent to tent, with your sweetheart in one hand and a warm cup of coffee in the other. Here you'll find handmade jewelry, locally grown produce, or the perfect birthday gift for that eccentric aunt you never know how to shop for.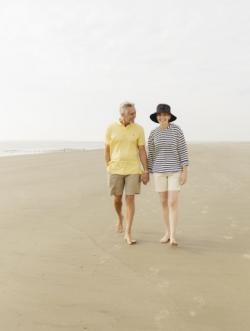 Top off the weekend by treating your loved one to a romantic dinner at one of our many acclaimed restaurants. Choose from waterfront locations with gorgeous views of the sunset, or opt for the cozy corner booth at a swanky bistro. Dine like royalty at the King and Prince's five course Valentine's Dinner with menu items accented with white truffles and not one, but two pieces of dessert.
In addition to the Golden Isles' favorite romantic activities, there are plenty of historical sites, fine dining, relaxing beaches and more for you and your beloved to enjoy. Browse our website to choose a town, pick a hotel, and reserve your island activities, and create the most romantic Valentine's Day yet.