Whether you're celebrating your anniversary or simply looking to spend quality time together, the Golden Isles provides seemingly endless ways to soak up a romantic weekend getaway with one another. Stroll hand-in-hand along miles of sunny beaches, enjoy the shade of ancient live oak trees at historic landmarks and dine under candlelight at upscale restaurants. Regardless of how you choose to spend your time together, it's guaranteed you'll leave feeling even more connected to one another. 
Plan the perfect couples' trip to the Golden Isles with this weekend itinerary to guide you along the way. 
Friday
As you arrive in the Golden Isles and take in the beautiful scenery, you can already feel your body relaxing. The sweet, salt air combined with the vast marshes create a sense of serenity and relaxation. 
Driving onto Sea Island and checking in at The Cloister is an experience in and of itself. The friendliness and hospitality of the Sea Island staff are truly unmatched. The opulence of the island and The Cloister will captivate you from the moment you set foot in the exquisitely-decorated lobby. Choose from a room in the Cloister Garden Wing for beautiful views of the perfectly landscaped gardens, or opt for an oceanfront room at The Cloister Beach Club to take in calm coastal breezes from your private balcony. All rooms at The Cloister are spacious, welcoming, and well worth the experience! Make this experience even more luxurious by hiring a chauffer from Martin's Vintage Rides.
If you're looking for a more budget-friendly option, but still want access to many of Sea Island's five-star amenities, The Inn at Sea Island is a perfect selection. With its convenient location on St. Simons Island, The Inn provides ample opportunities to explore all that St. Simons Island and Sea Island have to offer. (*Access to Sea Island amenities at an additional fee.)
For a luxury boutique experience, consider a stay at Hotel Simone, a new hotel located in the heart of St. Simons Island. Not only is Hotel Simone just steps from the beach, fine dining and activities, but the hotel features custom cocktails at the lobby bar and on the rooftop, a daily complimentary European style breakfast, private beach valet setup, and a complimentary cruiser pick up around town. This is the perfect place to stay to unwind and reconnect with someone special. Or, check out the nine differently designed rooms at Ocean Inn & Suites. Located 200 yards from the ocean and a short walk from the village, you'll have no issues going from the beach to exploring different shops and restaurants.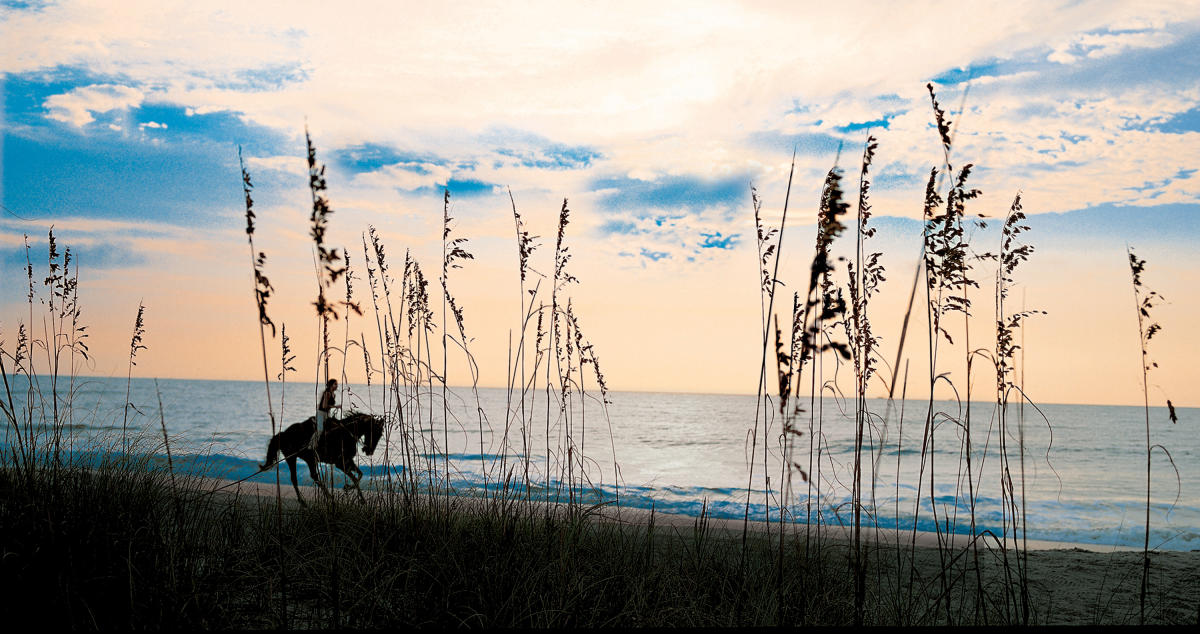 Saturday 
After a good night's sleep in your luxurious hotel room, you'll be well-rested and ready for a day of adventure with your sweetheart. Explore Sea Island's pristine beaches on a horseback tour with The Stables at Frederica. Meander along trails that wind through ancient maritime forests and upon sunny shores. Spot native wildlife, such as ospreys soaring through the skies in search of their next meal or even friendly bottlenose dolphins swimming along the Atlantic Ocean. This hour and a half tour will certainly be one of the highlights of your trip!
Grab a fresh, gourmet sandwich and pick up a bottle of wine at The Market at Sea Island. Eat alfresco or take your lunch with you for a romantic picnic at one of our parks and trails. And, if you're in need of a few souvenirs and mementos to commemorate your trip, The Market has a beautifully-curated selection of jewelry, apparel, and home decor to choose from.
Rent a pair of bikes from one of our bike rental companies to enjoy a leisurely ride around St. Simons or Sea Island for the afternoon. Stop into one of the island's shopping districts to do some window shopping, or to pick out a new outfit for dinner. Ronne's on Market Street is a locally-owned shop that caters specifically to women with a keen sense of fashion. 
Make dinner reservations at Georgia Sea Grill, one of the area's most popular fine dining restaurants with sensational cuisine and a great wine selection. You won't be disappointed by their delicious fresh seafood and upscale atmosphere.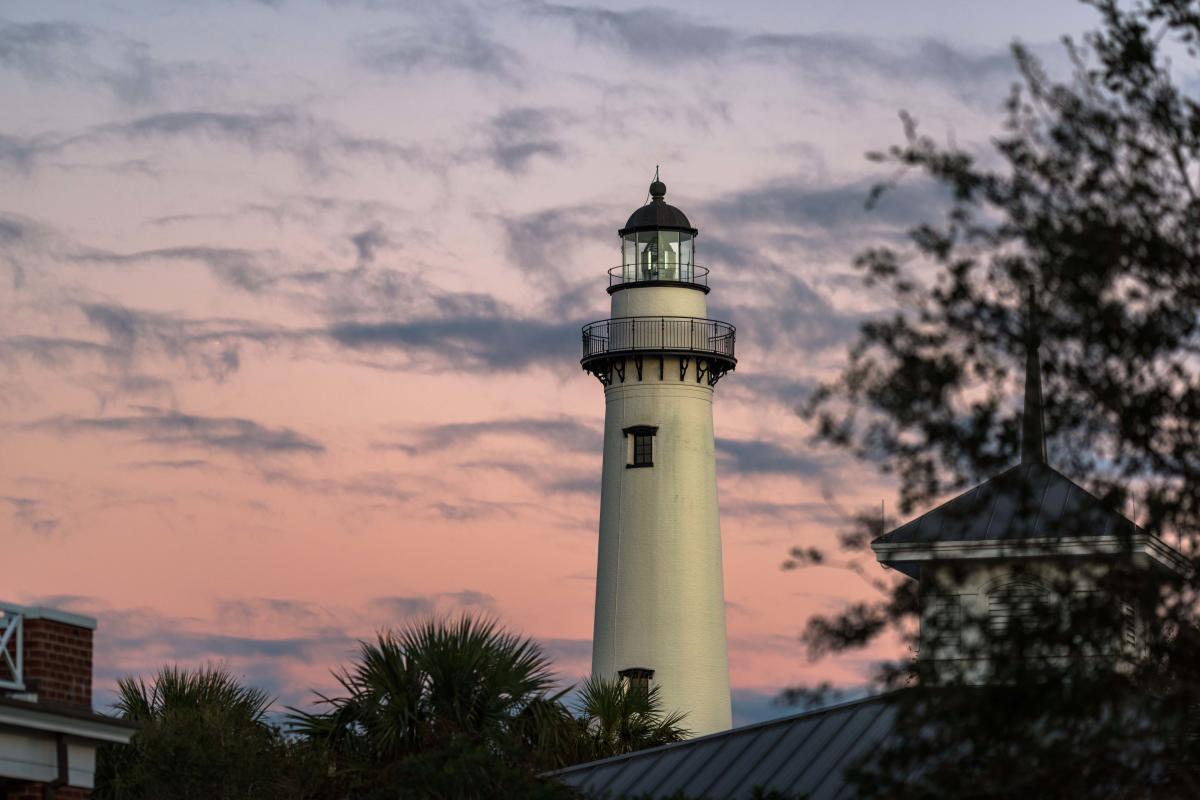 Sunday
Opt for an early wake-up call to enjoy your last morning with a sunrise walk along the beach. There's no better way to start the day than by strolling hand-in-hand with your significant other along the beautiful seashore as the sun begins to kiss the horizon. Search for shells, snap a few pictures, and enjoy a cup of coffee as you watch daybreak on the beach. If you're visiting in the summer months, you may even catch a glimpse of endangered sea turtles! 
Head to the St. Simons Pier Village for a casual Sunday morning brunch at Palmer's Village Cafe. Order a coastal spin on eggs benedict, pimento cheese grits, or a comforting short stack of banana pudding pancakes. Palmer's is a popular spot among locals, so you'll be dining in good company! 
Before hitting the road, wander down the sidewalk through Neptune Park toward the St. Simons Lighthouse. Stretch your legs, climb to the top and take in the gorgeous, sweeping views of St. Simons Island, Jekyll Island and even Brunswick off in the distance. Learn about local maritime history and soak up the last few moments of your romantic weekend getaway. To keep exploring the island, rent a Moke vehicle and spend the rest of the day sightseeing! 
It's no doubt that the Golden Isles is a haven for couples looking to spend uninterrupted quality time together. Here, you'll create memories to last a lifetime and hopefully even start a new annual tradition.