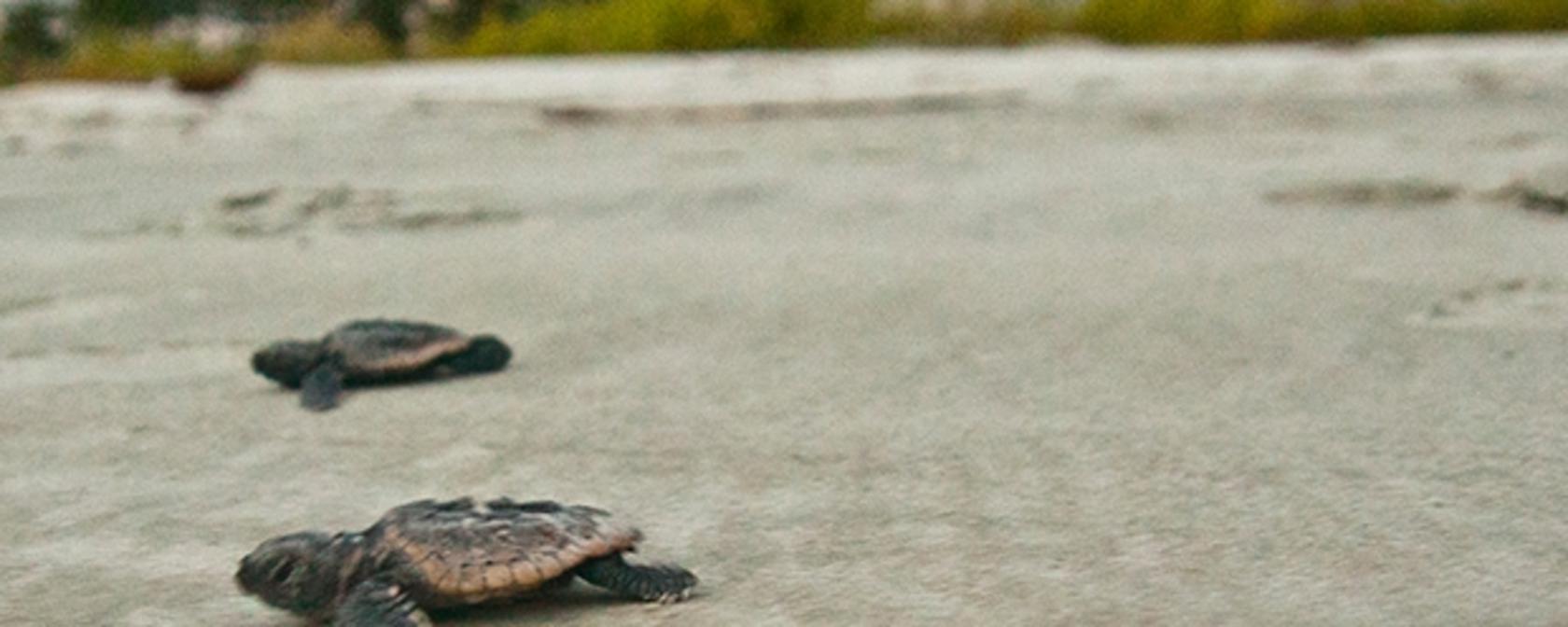 Salty sea waters meet beautiful sandy shores along the coast of Georgia. Here, you will find many unique species of animals living in and around our marsh and ocean waters. One animal that is truly becoming iconic to the Golden Isles is the sea turtle. With several different species of sea turtles and countless ways to witness and learn about this shelled creature, the Golden Isles makes the perfect trip for those who are interested in discovering all that there is to know about this exceptional animal.
In the upcoming spring and summer seasons, and practically anytime you visit the Golden Isles, there will usually be something sea turtle related that you can take part in. Please view our list below of a few ways that you can discover more about the sea turtles that inhabit our waters while vacationing in the area.
When can you do this? Earth Day weekend on April 3rd-5th, 2014
Sponsored by the Georgia Sea Turtle Center, the Shell-e-Brate Earth Day Festival is a fun filled event for the whole family to enjoy.This is a great opportunity to learn about the importance of recycling and what it means to protect the environment while also having a blast participating in turtle related crafts and activities, explore enlightening exhibits and seeing a variety of live animals that are native to coast.
Admission is free to this event with paid general admission to the Georgia Sea Turtle Center (Adults: $7, Children: $5).
When can you do this? Year round!
The Georgia Sea Turtle Center on Jekyll Island is the #1 go-to spot to educate yourself on what is perhaps considered the most iconic animal in the Golden Isles. Learn about the journey the sea turtle takes when venturing out to sea and view gallery exhibits focusing on the sea turtle. Or take a peek into the sea turtle hospital where you can witness sick and injured turtles that have been brought into the center for rehabilitation.
Admission to the Georgia Sea Turtle center is $7 for adults and $5 for children.

When can you do this? June 1st-July 31st, 2014
Turtle Walk programs start out with 30-35 minute presentations showcasing the history of sea turtles. Following the informative presentation, you will then take part in a guided tour along Jekyll Island's beaches on pursuit of a nesting sea turtle.
Admission for the turtle walk is $7 per person (members) and $14 per person (non-members). This price does not include general admission to the Georgia Sea Turtle Center. A combo ticket is also available for purchase with the fee being a $20 combined admission to the turtle center and the turtle walk.
When can you do this? May 17th, 2014
Help support and raise money for sea turtle research and rehabilitation by participating in this annual event that rings in sea turtle nesting season here in the Golden Isles. People of all ages and skill levels are encouraged to participate with the option of three different races: an Olympic Triathlon, a Sprint Triathlon and the traditional 5K race. It will be a day of fun, fitness and eco-based activities and exhibits. The race begins and ends at the Great Dunes Park on Jekyll Island.
To register for this event now, please click here.
When can you do this? Various weeks between June 2nd and July 18th, 2014
The Golden Isles offers a variety of camps for kids to take part in during the summer months. For children ages 6-12, Jekyll Island offers week long day camp that run from 10:00am-5:00pm, Monday to Friday.
Children will learn about the nature that surround and the animals that inhabit the Golden Isles, particularly the sea turtle. Diving deep into the history of the sea turtle, they will learn about conservation, biological characteristics and what threatens this beloved sea creature. In addition, a variety of different habitats including freshwater ponds, maritime forests, tidal marshes and the beaches will be explored. This is an exciting chance for kids to learn all about the coastal environment of the Golden Isles.
Cost is $225 per child. Please see full camp schedule for the summer 2014 season below:
Ages 6-9 years:
Week 1: June 2nd – 6th                                           
Week 3: June 16th-20th
Week 5: July 7th-11th
Week 7: July 21st-25th
Ages 10-12 years:
Week 2: June 9th-13th     
Week 4: June 23rd-27th
Week 6: July 14th-18th