Salty sea waters meet beautiful sandy shores along the coast of Georgia. Here, you will find many unique species of animals living in and around our marsh and ocean waters. One animal that is truly becoming iconic to the Golden Isles is the sea turtle. With several different species of sea turtles and countless ways to witness and learn about this shelled creature, the Golden Isles makes the perfect trip for those who are interested in discovering all that there is to know about this exceptional animal.
In the upcoming spring and summer seasons, and practically anytime you visit the Golden Isles, there will usually be something sea turtle related that you can take part in. Please view our list below of a few ways that you can discover more about the sea turtles that inhabit our waters—and do your part to assist in sea turtle conservation efforts.
Explore the Georgia Sea Turtle Center
When can you do this? Year round!
The Georgia Sea Turtle Center on Jekyll Island is the #1 go-to spot to educate yourself on what is perhaps considered the most iconic animal in the Golden Isles. Learn about the journey the sea turtle takes when venturing out to sea and view gallery exhibits focusing on the sea turtle. The Center serves as a rehabilitation facility for injured turtles and visitors have the opportunity to meet patients at the center, or view live feedings, daily.
The Georgia Sea Turtle Center is now operating under timed-entry admission. Visitors are highly encouraged to purchase admission online in advance of arrival to guarantee admission on the date and time of interest. Admission to the Georgia Sea Turtle center is $11.00 for adults and $9.00 for children. All children under 3 are free. Buy your tickets to the Georgia Sea Turtle Center here.
Spot a Sea Turtle
When can you do this? May through August
From May through August, bales of sea turtles flock to the shores of the Golden Isles for nesting season. During this time, female sea turtles lay eggs in what's called a "body pit." During your day at the beach, it's very common to see sea turtle tracks leading from the ocean to the dry patch of sand where their nest has been constructed—a sure sign that sea turtles are nearby. Though it may be tempting to touch these animals or view the body pit up close, it's important that you be conscious of your surroundings and do not disturb nesting sea turtles. Read about our incredible experience on a morning turtle patrol with our friends at Sea Island!
Resources are available to track the location of sea turtle nests each year. Check out a local nest monitoring system to see if any turtles may be nesting near you!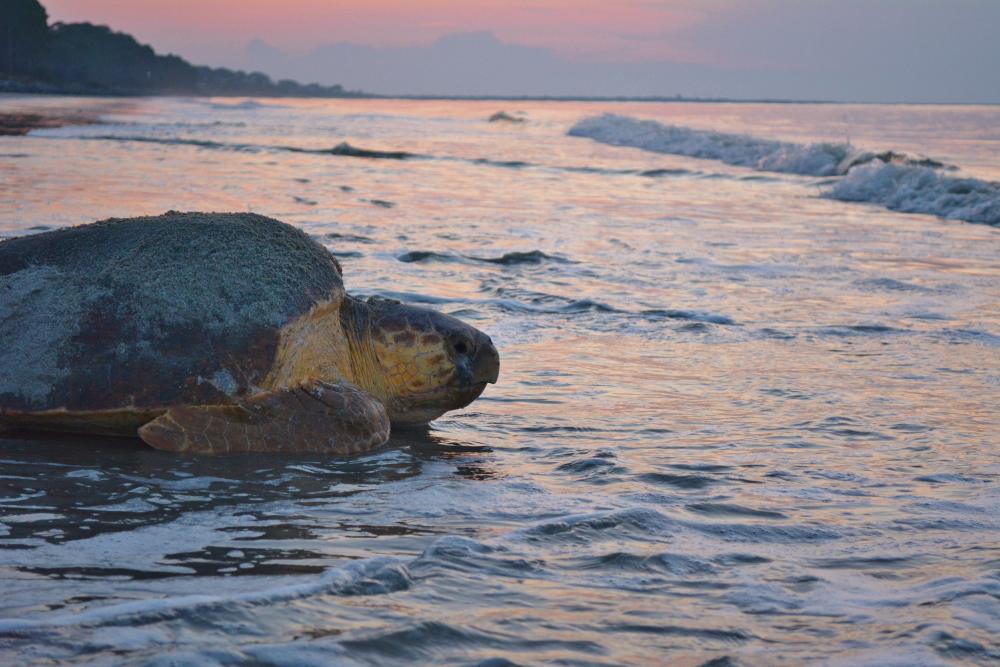 Enjoy an Evening Turtle Walk
When can you do this? June and July
Want to get a little closer to these nests? Enjoy a 2-hour guided Turtle Walk with sea turtle experts from the Georgia Sea Turtle Center. Programs begin with 30-minute presentation about sea turtles, current threats to their habitats and livelihood, and information about how you can help! Following the informative presentation, you will take part in a guided tour along Jekyll Island's beaches on pursuit of a nesting sea turtle. 
Sign up for a Turtle Walk here. Tickets cost $26.75, which includes admission to the Georgia Sea Turtle Center. There is a 10% discount for members of the Georgia Sea Turtle Center. *Please contact the Georgia Sea Turtle Center at 912-635-4444 for more information regarding COVID-19.
Attend a Sea Turtle Summer Camp
 When can you do this? June and July
The Golden Isles offers a variety of summer camps for junior scientists and sea turtle enthusiasts. Opt for a week-long day camp for rising 1st through 7th graders with programming centered on turtle biology, conservation and ways to protect these special animals. Campers will explore Jekyll Island's habitats, interact with Georgia Sea Turtle Center staff and volunteers, and learn all about the Golden Isles' natural wildlife. 
Traditionally, camp runs Monday through Friday and includes 20 hours of instruction, a visit to Summer Waves Water Park, daily lunch and one official camp shirt. *Please be aware sea turtle camp will not take place in 2022. Contact the Georgia Sea Turtle Center at 912-635-4444 for more information.