Anderson Fine Art Gallery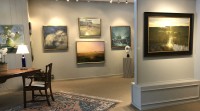 3309 Frederica Road

St. Simons Island, GA 31522
Details
Established in 1998, Anderson Fine Art Gallery has become the destination for high quality, original paintings. The gallery represents a very select group of full time professional artists working in genres that include landscape, still life and figurative paintings.
The Artist's Annex Gallery, located at 100 Sylvan Drive, suite #170 is where daily classes, open studio and instruction are available. The workshops are designed for the artist/painter that wants to further their skills by studying under the guidance of well-known artists instructors.
Local artists, Sherry Egger and Louise Eaton offer classes that focus on Fundamental Art Skills, taught in colored pencils, oil, acrylic and pastel. Sherry is a published artist who is comfortable with many mediums and is an exceptional artist and instructor. Louise Eaton has worked in oils, watercolor, acrylic, tempera, pen & ink, Acrylic and pastels. She has found pastels to be the perfect medium because it is direct, spontaneous and easy to work with. She has been teaching pastels and drawing classes for over 15 years. You are welcome to stop by the Annex for more information on workshops and instruction or contact the artists.
Artist's Annex 100 Sylvan Dr., Suite #170 Sherry Egger 912.506.2982 Email: gossamerpromise@hotmail.com Louise Eaton: 912.270.4313 Email: louiseart@comcast.net