Brunswick Landing Marina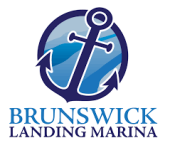 1701 Newcastle Street

Brunswick, GA 31525
Details
Brunswick Landing Marina is a 101-acre marina with approximately 347 wet slips and 100 dry slips and are able to accommodate vessels up to 225-ft in length. Our floating concrete docks are built tough and secured by 14" x 14" reinforced concrete piles.
Used by the US Navy until recently as a hurricane hole, we are surrounded by land on three sides which protects the docks and customers' boats from hurricanes. This unique geographic quality is why during hurricanes every one of the 347 slips at the marina are occupied.
Only 600-ft away is a growing mix of antique shops, specialty shops, art galleries, theaters and restaurants. With daily shrimping excursions heading in and out of Brunswick's harbor, there is plenty of fresh, local seafood to be had at Brunswick restaurants.
There is always something going on to keep you busy like yoga, movie nights, cocktail hour, free beer on tap, game nights, themed food parties, pot luck dinners, catered holiday meals, arts and crafts and so much more! This is your place to kick back and relax. Make yourself at home!
Amenities
General
Family Friendly:

Pet Friendly: