Jekyll Harbor Marina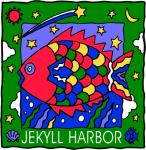 1 Harbor Road

Jekyll Island, GA 31527
Details
Located at Mile Marker 685 in southeast Georgia, the marina offers one of the finest stops on the east coast.  It is complete with 685 Seafood Restaurant, pool, hot tub and laundry.  It's just a short bicycle ride to the beach or historic district from the marina.  Access to Jekyll Harbor from offshore is provided by either the St. Simons Sound Inlet or St. Andrews Sound Inlet. Pull out your charts (NOAA chart no. 11489 or 11502) and see just how convenient Jekyll Island is for a layover while traveling the Intracoastal Waterway. Then come by and let us show you all that we have to offer.
The moment you enter the Jekyll Creek estuary, your surroundings change completely. This is one of the most peaceful areas you will ever find. Broad expanses of marsh grass line the ample channel of the winding creek. Here is the home of all kinds of wildlife, waterfowl, blue crabs, and one of the richest fish and shrimp areas on the east coast. The marina is beautiful with grounds that are full of Live Oaks that create a wonderful setting for the boaters to enjoy. The walkways, pool / jacuzzi, restaurant and barbecue grill area are all set in amongst these picturesque trees while overlooking the docks and the waterway beyond.
Visit the marina's website for more information.
Amenities
General
Family Friendly: